12 Gifts for the Book Lover in Your Life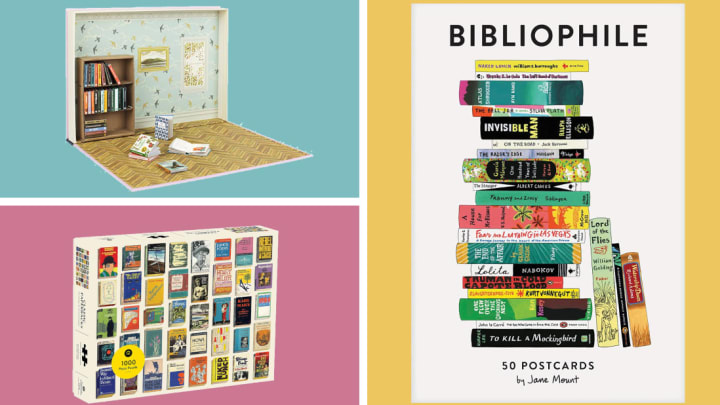 Uncommon Goods/Amazon / Uncommon Goods/Amazon
This article contains affiliate links to products selected by our editors. Mental Floss may receive a commission for purchases made through these links.
If you want to get the book lover in your life something more original this year than the same ol' paperback, the Mental Floss staff has compiled a list of literature-inspired gifts that go beyond the page. Check out what everyone suggested below for some potential shopping inspiration this holiday season.
1. My Miniature Library; $20
Uncommon Goods
This miniature set of 20 tiny books is perfect for the young bibliophile. Not only does it come with classic titles like The Owl and the Pussycat and Beauty and the Beast that readers can assemble themselves, it also has DIY volumes they can fill out personalize—and when they've completed their masterpiece, they can pop it on the included bookshelf. – Erin McCarthy, Editor-in-Chief
Buy it: Uncommon Goods
2. 'Floating' Bookshelves (set of Three); $30
Umbra/Amazon
It is a truth universally acknowledged that a bookworm in possession of a good book collection must be in want of a way to show it off. These "floating" bookshelves are a perfect way to make a few favorite volumes part of the decor. – Ellen Gutoskey, Staff Writer
Buy it: Amazon
3. Little Women Embroidery Kit; $35
RubySeppingsDesigns/Etsy
This Little Women embroidery kit comes with everything your bookworm will need to create a craft they'll treasure just as much as they love the classic tale—no previous embroidery experience required. – Kerry Wolfe, Staff Editor
Buy it: Etsy
4. Animal Character in Literature Wall Art Poster; $15
Curious Charts Commission/Amazon
For the reader who loves the fantastic beasts who roam the literary world, this illustrated poster will add a touch of animal kingdom whimsy to their walls. – K.W.
Buy it: Amazon
5. Classic Paperbacks 1000-Piece Jigsaw Puzzle; $17
Princeton Architectural Press/Amazon
This gift combines two great loves: classic books and puzzles. Whether your loved one has read all these before or they're looking for something new to dive into, this puzzle will make them feel inspired to pick up a book this holiday season. The Princeton Architectural Press provided me with a copy of this 1000-piece puzzle so I could check out the details up close, and I love that it has well-known titles like J.D. Salinger's Catcher in the Rye along with more obscure, yet equally enticing, titles like Lillian Smith's Strange Fruit. – Elaine Selna, Commerce Writer
Buy it: Amazon
6. Book Infinity Scarf; $20
Di Capanni/Amazon
Your favorite bibliophile can keep their neck warm and cozy while brandishing their love of books with this scarf that features a decorative design. It's available in seven different colors. – Jake Rossen, Senior Staff Writer
Buy it: Amazon
7. Lit Chat: Conversation Starters About Books and Life Cards; $16
Harry N. Abrams/Amazon
Getting two book lovers together and want to spark a conversation? Shuffle this card deck that poses interesting literary-related questions and see if they're on the same page. – J.R.
Buy it: Amazon
8. Tilisma Wooden Book Page Holder; $15
Irakli Tsignadze/Amazon
Your gift recipient may not know immediately what this is, but they'll soon recognize its genius. If they slip a thumb into the hole of this page holder and grip the spine of an open book with the rest of their hand, the pages will be held open for easier reading. – Kat Long, Science Editor
Buy it: Amazon
9. Cookbook Personal Library Kit; $21
Knock Knock/Amazon
We've all been doing a lot more cooking at home this year, and you may have borrowed a cookbook or two from your neighbors. Repay the favor with this personal library kit, which allows your gift recipient to label, check out, and loan their favorite cookbooks, just like in a real library. – K.L.
Buy it: Amazon
10. Bookbinding Kit; $45
cleverhands/Etsy
Readers who love physical books will appreciate learning how they're made. This bookbinding kit from Etsy comes with everything your book lover needs to make their own clothbound journal at home. It comes in a variety of colors and endpaper designs so you can gift a kit that matches the recipient's style. – Michele Debczak, Senior Staff Writer
Buy it: Etsy
11. The Hobbit Book Cover Purse; $44
TheOldCuriosityShopp/Amazon
The Etsy shop TheOldCuriosityShopp transforms faux leather purses to look like classic book covers. This accessory is perfect for the Tolkien fan in your life. – M.D.
Buy it: Etsy
12. Bibliophile: 50 Postcards; $15
Chronicle Books
For any old souls out there who still love to stay in touch by writing letters, this collection of 50 postcards based on classic book covers is a great fit. Titles like The Stranger, One Hundred Years of Solitude, A Clockwork Orange, To Kill a Mockingbird, and more are featured here, but they're all given a slightly unique twist, thanks to artist Jane Mount. And if your giftee isn't planning on actually writing any postcards in the near future, they can also take a scissor to these pictures and craft some DIY artwork for the home. – Jay Serafino, Special Projects Editor
Buy it: Amazon
Sign Up Today:Get exclusive deals, product news, reviews, and more with the Mental Floss Smart Shopping newsletter!