12 Products Mental Floss Readers Loved in 2020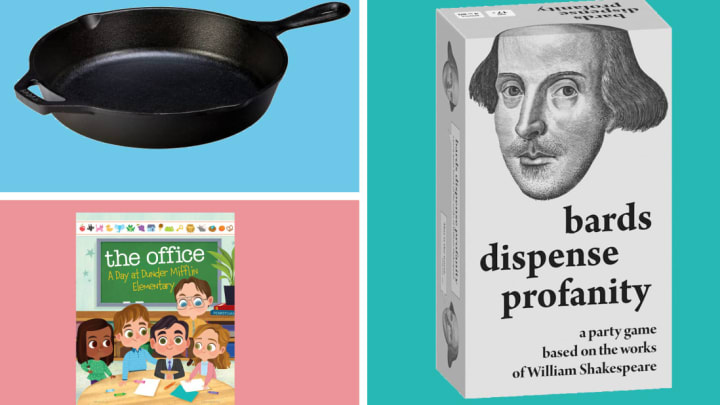 Amazon / Amazon
This article contains affiliate links to products selected by our editors. Mental Floss may receive a commission for purchases made through these links.
At Mental Floss, we're always trying to find the coolest (and sometimes weirdest) products from around the web to showcase for our readers every week, from a Baby Yoda Amazon Echo base to some surprisingly useful finger guards that can protect your hands from the dreaded scourge of Cheeto dust (technically known as Cheetle). We also went hands-on with a robot vacuum, tested out a personal growler keg, and even published a gift guide for that person in your life who can't stop talking about true crime. And to highlight the best of the best, we've compiled 12 products that our readers enjoyed (and bought) the most in 2020.
1. Essentials of Classic Italian Cooking; $27
Penguin Random House/Amazon
Marcella Hazan's Essentials of Classic Italian Cooking is a perennial favorite among Mental Floss readers, and it was again the top product of the year. In this timeless cookbook, you can try your hand at making ravioli, pappardelle, or pretty much any other classic Italian dish you can master at home. This is the same cookbook with Hazan's famous three-ingredient sauce for those nights you want a world-class meal but only have a teaspoon of motivation.
Buy it: Amazon
2. Apple AirPods; $129
Apple/Amazon
Headphones have become one of the most sought-after tech products now that so many of us are working from home. And it should come as no surprise that readers gravitated toward Apple's AirPods, which have become the industry standard in recent years.
Buy it: Amazon
3. iHealth No-Touch Thermometer; $30
iHealth/Amazon
As the pandemic continues, we need to keep ourselves and our loved ones safe. One tool that is easily accessible is this no-touch iHealth thermometer, which sports a 4.5-star rating on Amazon.
Buy it: Amazon
4. The Office: A Day at Dunder Mifflin Elementary; $12
Little Brown Books/Amazon
It's been nearly 10 years since The Office went off the air, but despite its age, the show is still fresh in the minds of audiences. Some fans may even want to start getting their kids into the series, and this book is probably the easiest way to do it. The Office: A Day at Dunder Mifflin Elementary reimagines the show's cast as grade-school students, complete with illustrations and a valuable lesson or two thrown in for good measure.
Buy it: Amazon
5. Periodic Table of the Elements Poster; $10
Palace Learning/Amazon
This illustrated Periodic Table of the Elements poster is another longtime Mental Floss favorite. It was created by Boeing software engineer Keith Enevoldsen, who makes it easy to figure out what each element actually does by providing a drawing of where they can be found in our lives.
Buy it: Amazon
6. Practically Impossible Jigsaw Puzzle; $23
ExpressItBest/Amazon
Made of 150 clear pieces, give yourself a real challenge by trying to put this puzzle together. Better yet, give this to a loved one and see how they handle the pressure.
Buy it: Amazon
7. ComfiLife Seat Cushion; $23
ComfiLife/Amazon
As 2020 has shown us, working from home can be a real pain. This 4.4-star seat cushion from ComfiLife can help fight off the sore back (and backside) that comes with the WFH life, thanks to its gel memory foam design and sturdy construction.
Buy it: Amazon
8. Phone Tripod; $12
UBeesize/Amazon
Another testament to how working from home has shaped our buying habits, this phone tripod stand is designed for getting the best angle during a Zoom call or for recording quick videos.
Buy it: Amazon
9. Bards Dispense Profanity; $25
Why So Ever/Amazon
A more literary take on Cards Against Humanity, Bards Dispense Profanity is a party game that contains 100 "mock-serious" prompts and 375 answer cards copied word-for-word from Shakespeare's works. The goal is to match the prompts with the most absurd lines from Shakespeare to create some profane one-liners.
Buy it: Amazon
10. Lodge Pre-Seasoned Cast-iron Skillet; $15
Lodge/amazon
Cast-iron skillets are always best-sellers at Mental Floss, and in 2020, readers gravitated toward this 4.6-star-rated model from Lodge. At 10.25 inches across, it's perfect for meals for one or two people, and can be used to sauté, fry, bake, and more.
Buy it: Amazon
11. Cinephile; $18
Cinephile/Amazon
Cinephile aims to test the mettle of any film aficionado with five play types that are designed for different skill and difficulty levels. Best of all, the cards themselves feature original illustrations of classic movie characters and actors by artist Steve Isaacs.
Buy it: Amazon
12. Thermacell Bug Repeller Lamp; $27
Thermacell/Amazon
Send those pesky mosquitos running (well, flying) with a product that doesn't require any spray and won't leave you smelling of chemicals. This portable lantern uses a heat-activated repeller system that keeps bugs at least 15 feet away from you (and your precious plate of food).
Buy it: Amazon