Become a Wizard in the Kitchen With This Official Dungeons & Dragons Cookbook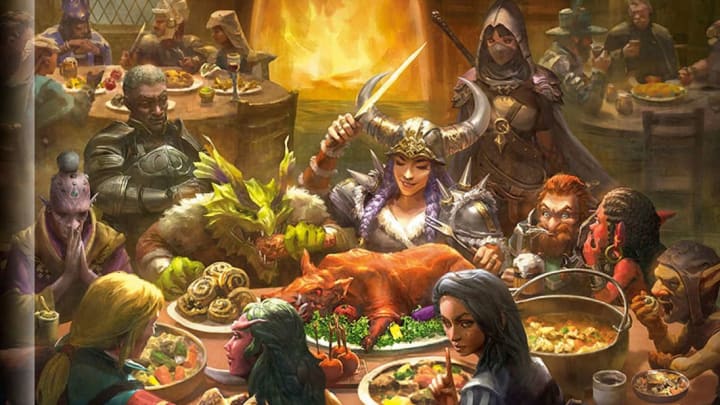 Amazon / Amazon
This article contains affiliate links to products selected by our editors. Mental Floss may receive a commission for purchases made through these links.
Put away your 20-sided dice and break out your chef's knife. Ten Speed Press has released an official cookbook based on Dungeons & Dragons called Heroes' Feast, so you can cook up meals inspired by the classic role-playing game at home.
All 80 recipes in Heroes' Feast: The Official D&D Cookbook are rooted in the magical world of the game, meaning there are bound to be dishes in this book that appeal to your individual character, no matter what their race or alignment may be. The collection includes snacks, such as elven bread and savory hand pies, in addition to heartier fare like amphail braised beef and drow mushroom steaks. There are even recipes for beverages that would fit right in at a fantasy tavern, like evermead, potion of restoration, and goodberry blend.
"From the D&D experts behind Dungeons & Dragons Art & Arcana comes a cookbook that invites fantasy lovers to celebrate the unique culinary creations and traditions of their favorite fictional cultures," the book's description reads. "With this book, you can prepare dishes delicate enough to dine like elves and their drow cousins or hearty enough to feast like a dwarven clan or an orcish horde."
Heroes' Feast: The Official D&D Cookbook is currently available for $15 from Amazon.
Sign Up Today: Get exclusive deals, product news, reviews, and more with the Mental Floss Smart Shopping newsletter!