The Most Comprehensive Beer Poster Ever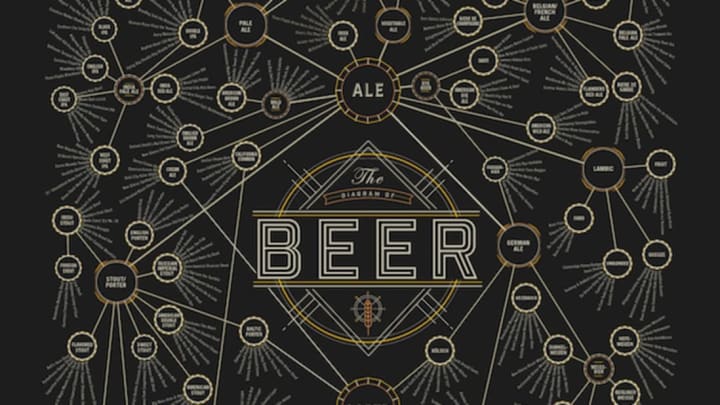 Pop Chart Lab / Pop Chart Lab
Pop Chart Lab is full of enough gifts and paraphernalia to keep even the biggest beer snob occupied for hours. In fact, their first-ever print was the 18" x 24" Very Many Varieties of Beer, which was later expanded to include even more brews on the 24" x 36" Very Very Many Varieties of Beer. But even that wasn't enough, so they debuted Magnificent Multitude of Beers, a gigantic 60" x 40" poster that includes over 500 styles of beer.
For people with wall space to spare, these ever-expanding prints are perfect—but others want all the info in a tighter package. "One of the most common requests we get, especially from New Yorkers with limited wall space, is whether they can get the dark style of the Very, Very Many Varieties of Beer print at a smaller size," says the creative team. "We decided to do one better and redesign it entirely, resulting in a print with far more beers than ever before, at a smaller size, along with a darker color palette and a fun new title treatment."
That print, the 18" x 24" The Diagram of Beer, turned out to be their most comprehensive ever with over 600 specific brews diligently diagramed into over 100 styles. You can check out the finished product below. Click to enlarge it and have fun exploring!
Pop Chart Lab