This Week's New Comics: Nimona, Wuvable Oaf and more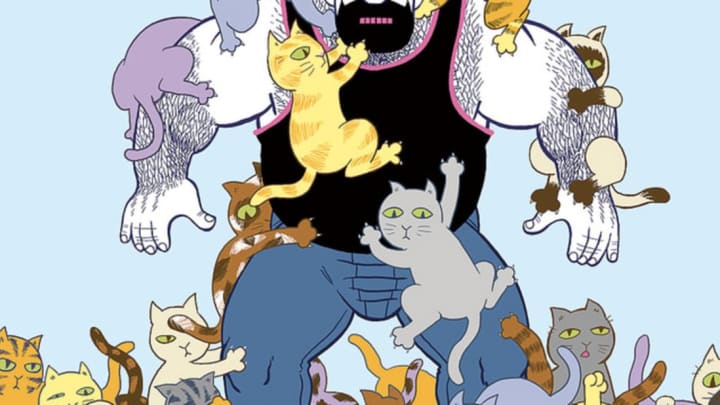 Ed Luce/Fantagraphics / Ed Luce/Fantagraphics
Every week I write about the most interesting new comics hitting comic shops, bookstores, digital, and the web. Feel free to comment below if there's a comic you've read recently that you want to talk about or an upcoming comic that you'd like me to consider highlighting.
1. Nimona
By Noelle Stevenson
Harper Teen
Noelle Stevenson's wildly popular Nimona was one of my picks for most interesting comics of 2014 when it concluded its critically acclaimed and award-winning two-year run. In that remarkably short period of time, Stevenson has become one of the most important cartoonists writing for teen and pre-teen girls thanks to both Nimona and the hit comic Lumberjanes, which she co-writes.
This week, Nimona makes its debut in print as a graphic novel from Harper Collins' line of teen books. If you haven't already read it online, you're in for a fun time. It's about a mischievous and snarky young girl named Nimona who uses her powerful shape-shifting abilities to get a job as a sidekick to a super-villain named Lord Ballister Blackheart. The comic is full of memorable one-liners and wonderfully stylized artwork, but at its heart it is all about relationships.
You can read more about Nimona at Stevenson's website.
2. Wuvable Oaf
By Ed Luce
Fantagraphics
While mainstream comics publishers are making great strides to be more inclusive of gay characters, they're really just playing catch-up with indie comics. Yet, even in the pretty LGBT-friendly world of indie comics, there isn't really anything else out there like Ed Luce's Wuvable Oaf. Not only does it star one of the most charming and likable gay characters in comics, it also features a cross-section of gay subculture that doesn't get much play in other media.
Luce has been self-publishing Wuvable Oaf for a few years now and has built a loyal following, and prestigious publisher Fantagraphics is releasing a hardcover collection of the series this week. Although this is his first comics work, Luce has a confident and accomplished drawing style and a knack for character design, obviously based on his keen observational skills.
Fans have long described this as the "gay Scott Pilgrim," and now Fantagraphics describes it as a "gay Sex and the City." Both comparisons are apt. It's the story of the ongoing romantic exploits of Oaf, a gentle giant and former professional wrestler who now makes and sells toy animals stuffed with his own body hair. When he lays eyes on his own "Mr. Big," a diminutive but aggressive lead singer for a metal band named Eiffel, it's love at first sight for Oaf.
Fantagraphics has a preview of Wuvable Oaf here.
3. Injection #1
By Warren Ellis, Declan Shalvey and Jordie Bellaire
Image Comics
The team of Warren Ellis, Declan Shalvey, and Jordie Bellaire received nothing but praise for their run on Marvel's Moon Knight, reinventing the character and giving him a look that stood out from other superhero comics. Fans lamented that their run only lasted six issues, but hopefully they will be reassured that the team has already reunited for a new ongoing series that looks to hit some similar notes to the weird sci-fi/horror/crime atmosphere of Moon Knight.
Injection is very much a Warren Ellis comic. It's about a group of English renegades, hackers, scientists, and downright crazies who are the world's only hope against an encroaching weirdness that they themselves may be responsible for unleashing. Ellis weaves into all his comics bits of esoterica, and with this effort he'll be exploring the "connections between deep history and the future, folklore and technology." Shalvey was known primarily as a cover artist (and a great one at that) until he wowed everyone with his sequential art on Moon Knight, and Injection may end up being the series that solidifies his career. It doesn't hurt that superstar colorist Jordie Bellaire is providing the moody atmosphere with her colors.
Check out the Injection Tumblr for some haunting images and in-progress sketches.
4. Thor #8
By Jason Aaron and Russell Dauterman
Marvel Comics
For eight issues now, readers of Marvel's relaunched Thor have been in the dark about the identity of this new female hero that has taken over the hammer from the mysteriously disgraced previous Thor. Now, finally, her secret will be revealed. Actually, if you've been paying attention, her identity has already been leaked via an article on New York magazine's Vulture blog, and has been all over the internet as of yesterday. 
***SPOILERS***
The reveal itself is not a big deal, which may be why Marvel let it out of the bag early. If you haven't been following the storyline and only have cursory knowledge of Thor and his supporting cast, you can probably guess who it is: Jane Foster. What is a big deal is that it's been previously established in recent comics that Foster (Natalie Portman's character from the movies, by the way) has breast cancer. When she becomes Thor, her disease goes away, but when she turns back into herself the cancer progresses.
5. Control Room
By Jed McGowan
Secret Headquarters
Jed McGowan is an interesting, up-and-coming cartoonist publishing small-press comics that always deserve a look. I wrote about his work back in 2013 when he released the short comic "Hawaii," a beautiful geographical history of the formation of the Hawaiian islands. His latest is another mini-comic called "Control Room" that features his signature style and tells a dark, nearly wordless science fiction tale of family and loss amidst the desolation of Mars.
Like in "Hawaii," McGowan achieves a retro style through a combination of hand-made art and digital coloring. You can read "Control Room" here or purchase a print edition from Secret Headquarters.