Bob Ross Jigsaw Puzzles Are a Happy Little Way to Relax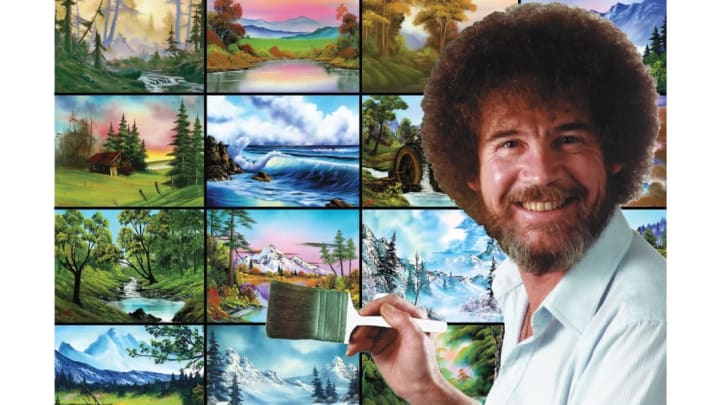 Discover the joy of puzzling. / Toynk
This article contains affiliate links to products selected by our editors. Mental Floss may receive a commission for purchases made through these links.
Since jigsaw puzzles and Bob Ross paintings both help people relax, it seems like a Bob Ross jigsaw puzzle would have twice as much therapeutic value. Thanks to Toynk, you can now test out that theory for yourself.
As The Pop Insider reports, the toy company recently released a collection of eight puzzles based on Bob Ross's tranquil landscapes. There's a painting for just about every kind of nature enthusiast. One puzzle features the northern lights above snow-capped mountains ($20), while another shows an indigo river reflecting the night sky ($20). There's also a covered bridge leading into a lush forest ($20); a snowy winter vista complete with evergreen trees and a log cabin ($20); and two sunny scenes with all the trappings of the great outdoors.
Nice enough to frame. / Toynk
If you can't decide which landscape is your favorite, Toynk has two puzzles each comprising a grid of 16 Bob Ross originals. One features Bob Ross's signature across the center, and the other features an image of the artist himself, paintbrush in hand. (He also sports his iconic perm, of course, though the real-life Ross wasn't a fan of the hairdo.)
Which landscape is your favorite? / Toynk
Each 28-inch-by-20-inch puzzle contains 1000 pieces, so assembling one could take longer than it would to paint your own version of the picture. And if you decide to play old episodes of The Joy of Painting in the background as you puzzle, even better.
[h/t The Pop Insider]