One Artist Solves the Pothole Problem With Delightful Ice Cream Mosaics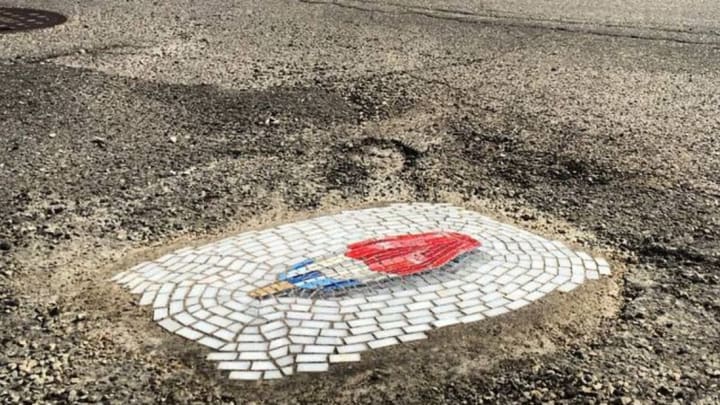 Jim Bachor, Facebook / Jim Bachor, Facebook
In a new project called "Street Treats," Chicago artist Jim Bachor took to the streets and repaired potholes with beautiful mosaics of ice cream. Just in time for summer, Chicago and Jyväskylä, Finland found their pothole problems replaced with frosty treats. 
This is not Bachor's first time installing mosaics into potholes: his previous work—which included mosaics of flowers, serial numbers and pretty renderings of the word "pothole"—led him to start a Kickstarter to ask for funding for this year's additions (since he obviously can't sell this public art for profit). The artist explained on the crowdfunding site that the goal is to "create mosaics that speak of modern things in an ancient voice," and that each pothole piece costs about $100. He successfully raised over $4,600, so Chicago residents can look forward to quite a few extra colorfully filled holes.
If you live in Chicago or Jyväskylä (where Bachor is participating in their "end of winter" festival), be sure to keep your eyes peeled for these subtle works of art. 
[h/t: LaughingSquid.com]