Super Podcasts About Comics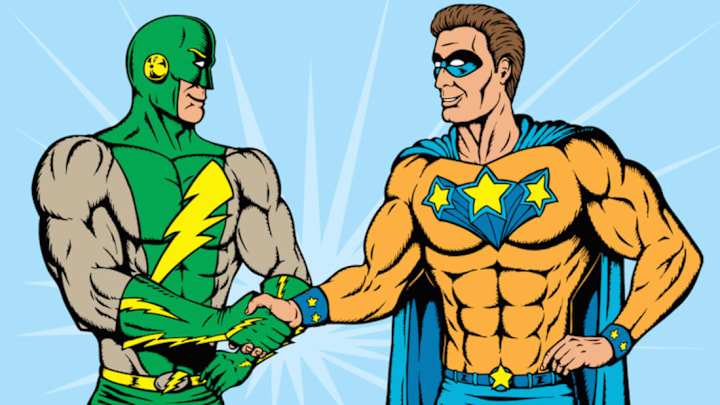 iStock / iStock
Every eight minutes, a comic-book podcast is born.
OK, so I may be exaggerating—but not by much. As a longtime comics enthusiast, I've been excited, and a bit intimidated, by the flood of podcasts devoted to the medium. This week I share some of my favorites, that cover everything from mainstream books to indie work to comic-based movies and TV shows.
Apologies to any shows I omitted; I could have listed 100, but I didn't want to scare you. For more recs, including crash courses in music, food, and TV podcasts, head to the archive.
"I LIKE THE NEW STUFF."
iFanboy: Pick of the Week. For years iFanboy has been an ideal source for telling me which new books are worth my hard-earned cash. The hosts have a good rapport, and I trust their taste. They also deliver special eps anytime something newsworthy comes along, like Netflix's Daredevil or Avengers: Age of Ultron.
This Week in Marvel/Women of Marvel: If you crave Marvel news, head straight to the source. Marvel.com's This Week in Marvel covers comics, movies, toys, and every other sector of the Marvel Universe. Guests have included big names like the Avengers cast and folks you never realized loved comics, like singer-songwriter Ryan Adams. Want more? Women of Marvel is hosted by some of the company's female execs and features smart discussion and Q&As.
Oh, Comics!: Panels.net's weekly podcast includes a well-curated roundup of news and recommendations. Hosts Preeti Chhibber and Paul Montgomery have varied tastes and can easily veer from a chat about the latest happenings in the DCU to a small press gem.
PW Comics World: More to Come: For years I've enjoyed reading what Heidi MacDonald and Calvin Reid have to say about comics, so hearing them each week is icing on the cake. The podcast is full of news and exclusive info from two of the best comics journalists working today.
Wait, What?: Each time I listen to this podcast from Jeff Lester and Graeme McMillan, I feel like I'm eavesdropping on a phone call between two BFFs. Wait, What? has an enthusiastic following, but even if it didn't, I get the sense the guys would be having this lighthearted weekly comics convo anyway.
The Midtown Comics Podcast: As a former New Yorker, I'm partial to this show hosted by the shop's staff. Episodes feature interviews with everyone from Brian Michael Bendis to Scott Snyder to Brian K. Vaughan. (Oh, my!) They also take listeners' questions, no matter how geeky.
Word Balloon: John Siuntries' long-running podcast has been going strong for about 300 episodes, in which he has interviewed folks from all corners of the comics world: artists, writers, editors, critics. Eps can run long, but perhaps that's because Siuntries' conversational style makes guests think they're just hangin' one-on-one on his back porch.
The NerdSync Podcast: Devoted to today's comics culture, this high-energy podcast spends more time on comic-based movies and TV series than books. Recent eps have spotlighted Avengers: Age of Ultron (of course), The Walking Dead, and DC-based versus Marvel movies.
"I LIKE THE RETRO STUFF."
Fat Man on Batman: Even though Kevin Smith's podcast includes up-to-date info on Batman comics, films, TV shows, and the like, at its core is its host's deep, lifelong love of the character, which is why I'm sticking it under the "retro" tab. Sometimes he chats with artists, writers and actors associated with the franchise; other times he just banters about Bruce Wayne with a pal.
The Thought Bubble Podcast: Hosted by journalists Joanna Robinson and Dave Gonzales, this podcast does a commendable job of separating comics news from rumors and answering listeners' burning questions. Though they both know their stuff, their love of pop culture makes the show accessible for casual comics readers, too.
Major Spoilers: These guys also discuss new books, but I'm sticking them here because they often delve into great moments, characters, and debates in comics history. Don't get mad at them for spoiling; I say anything published more than 10 years ago can't be spoiled, anyway!
Rachel and Miles X-Plain the X-Men: Several mental_floss readers told me to check out this podcast, and I'm glad I did. In each episode, hosts Rachel Edidin and Miles Stokes decipher everything X-Men, from complex characters to confusing subplots. The dynamic duo does a great job of appealing to relative X-Men novices (like myself) along with their fellow diehards.
"I LIKE THE INDIE STUFF."
Inkstuds: I'm a longtime fan of Robin McConnell's podcast, in which he interviews some of the most influential folks in comix (a word that refers to more independent, innovative work). Recent guests have included influential artist and writer Scott McCloud and eps recorded on the road in New York, London, and elsewhere. (If you like what you hear, consider buying the Inkstuds book of interview transcripts.)
Make It Then Tell Everybody: Several of my favorite cartoonists have appeared on Dan Berry's interview show: Hope Larson, John Porcellino, Renee French, Jeffrey Brown, Alec Longstreth, on and on. Berry shares my enthusiasm for innovative comix and I find myself nodding my head in agreement as I listen.
The Comics Alternative: Hosts Derek Royal and Andy Kunka bill themselves as "two guys with Ph.D.s talking about comics," and it's their scholarly banter that makes them stand apart from all the other "dudes chattin 'bout comics" podcasts. They focus on indie books, but I've also learned a lot from them about webcomics and manga.
"I LIKE THE ALL-AGES STUFF."
Kids on Comics: Father and Son Comic Book Talk: In each episode of this charming show, a father and his two school-age sons chat about awesome comics they read each week. The guys have great taste, and their gleeful conversations may remind you why you got into comics in the first place. (The last couple episodes were recorded during their family vacation to Disney World, so the boys are especially pumped.)
"I MAKE THE DANG STUFF!"
Less than Live with Kate or Die: In addition to making some pretty cool comics (like Edward Scissorhands for IDW), Kate Leth makes a pretty cool podcast. She blends interviews with news about her own work, so each episode feels like a mini cartooning class.
Paper Wings: Hosted by artist Chris Oatley, comics writer and creator Lora Innes, and Marvel storyboard artist Justin Copeland, this show aims to help listeners perfect their craft (and be able to make money from it). Interviews generally go a little more in depth here.
Making Comics: Gutter Talk: This podcast comes from MakingComics.com, a site that offers resources related to drawing, writing, inking, lettering, distributing, selling, promoting … and on and on. Episodes get up close and personal with creative folks about how the heck they do what they do.