This Week's New Comics: A-Force, Ultimate End, Optic Nerve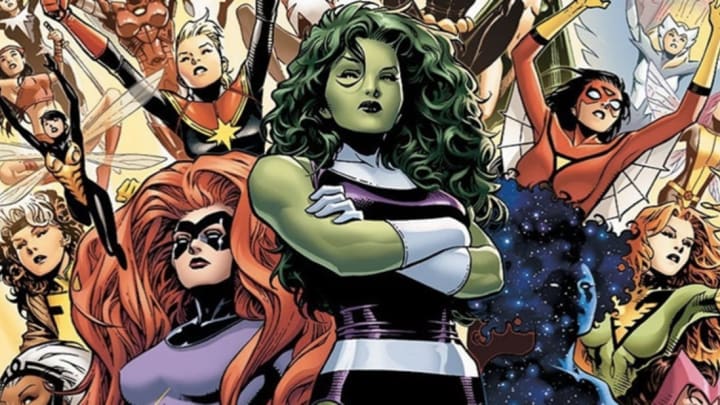 Jim Cheung/Marvel Comics / Jim Cheung/Marvel Comics
Every week I write about the most interesting new comics hitting comic shops, bookstores, digital, and the web. Feel free to comment below if there's a comic you've read recently that you want to talk about or an upcoming comic that you'd like me to consider highlighting.
1. A-Force #1
By G. Willow Wilson, Marguerite Bennett, Jorge Molina, Craig Yeung, Matt Milla and Laura Martin
Marvel Comics
You may already be familiar with A-Force, the new all-female Avengers book, from its announcement a few months back on ABC's The View (Marvel's go-to program for promoting comics that they think will appeal to women). Or maybe you read the scathing but unhelpfully dismissive review in The New Yorker by Jill Lepore (with the help of a couple of 10 year old boys who obviously aren't the target market for this). The heated online reaction to that review from comic fans sparked a rebuttal by the comic's writer G. Willow Wilson that was a thoughtful and composed defense of the book.
The thing that wasn't clear from this book's early PR is that it is indeed part of Marvel's Secret Wars crossover in which the universe as we know it has been destroyed and is replaced with a new reality where Marvel characters live on a planet called Battleworld. A-Force takes place on a Battleworld island nation called Arcadia that is protected by a team of heroines that consists of She-Hulk, Captain Marvel, Medusa, Spider-Woman, Storm, Wasp, Dazzler, and others.
This comes from a top-notch team that includes Wilson, whose work on the hit Ms. Marvel has propelled her to the top of Marvel's creative talent. Plus, who wouldn't want to read a comic with a lineup of superheroes like this?
2. Ultimate End #1
By Brian Michael Bendis, Mark Bagley, Scott Hanna and Justin Ponsor
Marvel Comics 
A-Force isn't the only Secret Wars tie-in this week. We'll be seeing a number of crossover books in the coming weeks, but for many fans the most significant aspect of this event is the end of the Ultimate Universe. Begun fifteen years ago as a separate line of comics intended to appeal to new readers, the Ultimate Universe ended up being the blueprint and inspiration for today's Marvel movies. Over the years, it inevitably became bogged down with its own continuity and its sales slipped, but to the very end it aggressively found new ways to differentiate itself from the more familiar classic universe.
Now, writer Brian Michael Bendis and artist Mark Bagley (who got the whole ball rolling in 2000 with Ultimate Spider-man #1) return to close out the world they helped create with a 5-issue mini-series called Ultimate End. While one of the classic "rules" of the Ultimate universe has always been "dead is dead," it's likely that some elements—most notably Miles Morales—will still find their way into the post-Secret Wars Marvel.
3. Optic Nerve #14
By Adrian Tomine
Drawn & Quarterly 
This year, Drawn & Quarterly celebrates its 25th anniversary, and Adrian Tomine, one of its most influential and acclaimed authors, celebrates his 20th year of publishing Optic Nerve. Tomine is part of the indie-comic pantheon—alongside people like Dan Clowes, Chris Ware, Jaime and Gilbert Hernandez, and Charles Burns—and it is an event any time he releases an issue of his one-man anthology comic (usually about one every year or so).
In recent issues of Optic Nerve, Tomine has  stretched himself formalistically, trying out autobiographical stories in gag strip formats and allowing his signature crisp inking style to loosen up significantly. His realistic observational tales of dating and self-discovery have grown up with him into tales of parenthood and self-reflection. Issue #14 includes two short stories, one about a father struggling to be supportive of his child and the other about a man revisiting his past through the places he once knew. Like with all Optic Nerve stories, these will eventually find their way into a graphic novel collection later this year.
D&Q has more information about the book here.
4. Incidents in the Night 2
By David B.
Uncivilized Books
David B. is one of France's most revered cartoonists, best known in North America for his award-winning graphic novel Epileptic about his brother Jean-Cristophe's losing battle with epilepsy. His most recent work is a multi-part existential detective story called Incidents in the Night, and its second volume is being released in English by American publisher Uncivilized Books.
The first volume of Incidents began when the author himself, David B., awoke from a dream about a book called Incidents in the Night and began searching the bookstores of Paris for it, eventually ending up in the fantastic shop of Mr. Lhôm. By the end of book one, David B. wrote himself out of the story with a surprise cliffhanger that saw him murdered. Now, book two opens with another weird twist as David B.'s deceased brother Jean-Cristophe (the subject of Epileptic) appears as a character in the story and is enlisted in the search for the author's whereabouts.
This is a dreamlike book that meanders into all kinds of territory like ancient history and the occult, but it is primarily concerned with books and bibliophiles. David B. is a masterful cartoonist whose black and white style pulls in elements from across art history (ancient Greek symbols, Babylonian carvings, cubism, psychedelia) to tell this unusual tale.
You can learn more about the book at the publisher's website.