10 Graphic Tees Perfect for Women's History Month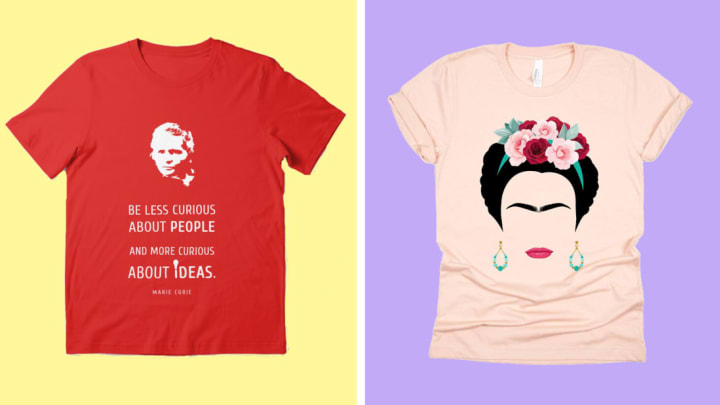 madphilosopher, Redbubble; MilaDesignCreations, Etsy / madphilosopher, Redbubble; MilaDesignCreations, Etsy
This article contains affiliate links to products selected by our editors. Mental Floss may receive a commission for purchases made through these links.
Few things are more versatile than graphic tees. Not only are these wardrobe essentials incredibly comfortable, but they also afford you the opportunity to wear your passion and personality right on your sleeve (literally, in some cases).
In honor of Women's History Month, we've rounded up some of the best graphic tees to add to your wardrobe. The best part? Each of them highlights some of the world's most accomplished women, from Ruth Bader Ginsberg to Frida Kahlo and more. Plus, they're all $30 and under.
1. Great Women of Science Tee; $21
geeksweetie/Redbubble
This cotton-polyester blend shirt showcases a dozen of the most acclaimed women in STEM, including Marie Curie, Rosalind Franklin, and several others you may (or may not!) have heard of.
Buy it: Redbubble
2. Women of Art History Tee; $30
softbiology/Redbubble
This slightly sheer, silky tee features a loosely cropped, somewhat-boxy silhouette. It's printed with some of history's most influential women artists and iconic subjects, including Rosie the Riveter and Frida Kahlo—but more on the latter below.
Buy it: Redbubble
3. Frida Kahlo Tee; $25
MilaDesignCreations/Etsy
The famous woman artist is personified on this fun graphic tee, which comes in five colors to choose from. Several reviewers also note the shirt's super-soft, lightweight feel.
Buy it: Etsy
4. Maya Angelou Tee; $12
KaliasCollection/Etsy
At under $20, this Maya Angelo tee—featuring the poet's famous words "Still I Rise"—makes the ideal addition to any spring wardrobe. It's available in nine colors, each of which reviewers report are incredibly soft.
Buy it: Etsy
5. Marie Curie Tee; $25
madphilosopher/Redbubble
As one of the most noteworthy scientists of all time, Marie Curie is undoubtedly worth celebrating every month of the year. This graphic tee perfectly captures Curie's unwavering spirit, punchy personality, and devotion to her work.
Buy it: Redbubble
6. Jane Austen Tee; $18
ChallengecoinStore/Etsy
You've likely read Jane Austen's Pride and Prejudice at least once in your life. But if you're the type to do a yearly re-read of this Regency-era classic, you can honor your love of all things Austen with this cheeky graphic tee.
Buy it: Etsy
7. Feminist Icons Tee; $21
candhdesigns/Redbubble
When you can't choose just one feminist icon, wear 12 of them at once. From Jane Goodall to Michelle Obama to Malala Yousafzai, this shirt features a dozen of the world's most prominent women, both past and present.
Buy it: Redbubble
8. Feminist Girl Gang Tee, $21
thefilmartist/Redbubble
This graphic tee features a more contemporary style complete with minimalist-inspired silhouettes of many of the leading ladies we've already seen on this list, alongside equally important figures like Susan B. Anthony, Angela Davis, and Ida B. Wells.
Buy it: Redbubble
9. Katherine Johnson Tee; $19
baileymcintosh/Redbubble
Loved Hidden Figures? Fascinated by NASA mathematician—and all-around trailblazer—Katherine Johnson? If both answers are "yes," then this shirt was designed with you in mind. It features a minimalist illustration of Johnson along with one of her most relatable quotes.
Buy it: Redbubble
10. Gloria Steinem Tee, $23
W.W.G.D.? Shop/Redbubble
Ms. Steinem is arguably one of the most influential women in modern history, and this tee perfectly encapsulates her bold style and enduring influence.
Buy it: Redbubble
Sign Up Today: Get exclusive deals, product news, reviews, and more with the Mental Floss Smart Shopping newsletter!