Why She Wrote: A Graphic Novel-Inspired Look at the Lives and Drives of History's Trailblazing Women Writers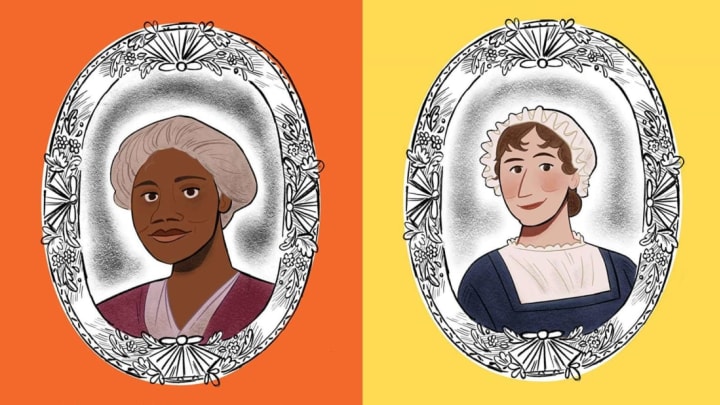 Alice Dunbar Nelson and Jane Austen. / Kaley Bales/Chronicle Books/Amazon
This article contains affiliate links to products selected by our editors. Mental Floss may receive a commission for purchases made through these links.
In 1835, Charlotte Brontë took up teaching at West Yorkshire's Roe Head School, where she herself had been a student several years earlier. To say she disliked the gig would be an understatement.
"Am I to spend all the best part of my life in this wretched bondage," she wrote in her journal in August 1836, "forcibly suppressing my rage at the idleness, the apathy, and the hyperbolical and most asinine stupidity of these fat-headed oafs, and on compulsion assuming an air of kindness, patience, and assiduity?"
What she really wanted to do was write, which, as we know, she eventually did. But it wasn't an easy road, in large part because she was a woman. Poet laureate Robert Southey once told her that "literature cannot be the business of a woman's life, and it ought not to be."
How Brontë ended up proving Southey wrong is one of many fascinating stories about female writers recounted in Why She Wrote: A Graphic History of the Lives, Inspiration, and Influence Behind the Pens of Classic Women Writers. It's the brainchild of Lauren Burke and Hannah K. Chapman, hosts of the podcast Bonnets at Dawn. After originally envisioning the podcast as a way to compare and contrast Jane Austen and Charlotte Brontë, they quickly realized how much they didn't know about other beloved women writers—and how much the writers themselves were influenced by those who came before them. You can't, for example, do justice to Frankenstein author Mary Shelley's literary trajectory without talking about the work of her mother, Mary Wollstonecraft.
Other authors include Jane Austen, Ann Radcliffe, George Eliot, and more. / Chronicle Books
The podcast expanded in scope, and Why She Wrote is a reflection of its mission. With the book, however, readers get to learn about each writer through a series of charming illustrations by Kaley Bales. The result is a work that pretty much transcends genre: part comic book, part narrative nonfiction, part scholarly analysis, and more. It covers 18 authors in total, divided into chapters based on (what else?) why they wrote. For Beatrix Potter, Frances Hodgson Burnett, and Louisa May Alcott, the primary motivators were "Protection and Profit." Anne Lister, Emily Brontë, and Elizabeth Barrett Browning, all found under the "Private Lives" section, used writing as a way to look inward. Mary Wollstonecraft, meanwhile, falls under "Activism as Art," a category also occupied by Alice Dunbar Nelson and Frances E. W. Harper.
Harper, born in Maryland in 1825, utilized her writing skills to support the abolitionist movement in every way she could. In the 1850s, she even used profits from her successful poetry collection to help enslaved people travel north along the Underground Railroad. Her work was just as critical after the Civil War, when former white allies started speaking out against giving Black Americans the right to vote before women. Harper's speech at the National Woman's Rights Convention in 1866, titled "We Are All Bound Up Together," became a pioneering example of intersectional feminism long before the term existed. "We are all bound up together in one great bundle of humanity," she said, "and society cannot trample on the weakest and feeblest of its members without receiving the curse in its own soul."
Bales's illustrations help bring Harper's story to life in a way that graphic novel lovers, and young readers in particular, will appreciate. They also help her and the rest of the writers depicted in the book seem like actual people, rather than shadowy figures behind pens or women who only exist in the two-dimensional land of static historical portraits and grainy old photos.
You can see what we mean for yourself in the excerpt about Harper below. The full book, which will be released on April 20, is currently available on the Chronicle Books website and Amazon.
Chronicle Books
Chronicle Books
Chronicle Books
Chronicle Books
Chronicle Books
Chronicle Books
Chronicle Books
Chronicle Books
Do you love reading? Are you eager to know incredibly interesting facts about novelists and their works? Then pick up our new book, The Curious Reader: A Literary Miscellany of Novels and Novelists, out May 25!