11 Products to Beat the Heat This Summer
Working from home certainly has its perks—but with warmer weather right around the corner, sitting at your desk indoors for eight hours a day, five days per week, can seem daunting (not to mention potentially sweaty).
To help keep you cool throughout the summer months, we've rounded up 11 summertime essentials from Amazon. From small-but-mighty desk fans to your very own personal ice cream maker that will make all of your coworkers jealous, they're sure to elevate your WFH experience.
1. Honeywell Quiet Set Personal Table Fan; $24
Stay cool as you work with this Honeywell table fan. At just 13 inches tall, it's the perfect size for almost any desk and comes with four power settings to choose from. It also features an automatic shut-off timer.
Buy it: Amazon
2. Takeya Deluxe Cold Brew Coffee Maker; $20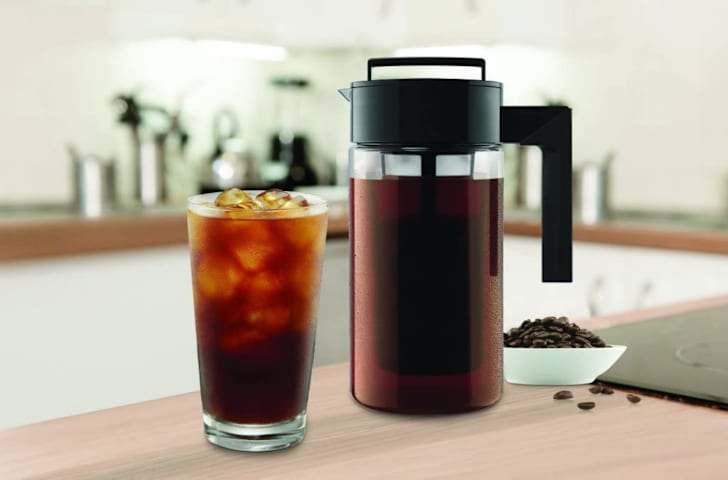 Skip the trip to Starbucks and enjoy a fresh batch of cold brew from the comfort of home. This pitcher comes with a built-in fine mesh filter and produces four servings of chilled coffee at a time. All you need to do is tinker with your preferred cold brew recipe before throwing it in the fridge overnight. Other highlights include an airtight lid and a non-slip silicone handle.
Buy it: Amazon
3. Cuisinart 2-Quart Automatic Frozen Yogurt, Sorbet, and Ice Cream Maker; $70
One of the best parts of being an adult? Eating ice cream anytime you want—even in the middle of the workday. Fortunately, this gadget from Cuisinart lets you make your own anytime you feel a craving coming on. The whole process takes less than 30 minutes, and you can even use the machine to make fresh sorbet or frozen yogurt.
Buy it: Amazon
4. Sukeen Cooling Towel (4-Pack); $17
These reusable towels, which are made with a breathable microfiber material, can keep you cool for up to three hours at a time. To activate, simply soak a towel, wring it out, and snap it. It even comes with a waterproof plastic clip-on pouch so you can wet it before any strenuous activity. While you can use it after going to the gym or on a hike, no one will judge you if you wrap one around your neck at the end of a marathon of Zoom meetings.
Buy it: Amazon
5. UrChoice Nano Facial Mister; $7
If you ever feel sweaty at your desk, spritz some cool water on your face with this rechargeable mini facial mister. It's even equipped with a built-in mirror, a 20ml water tank, timer, and automatic shut-off function. A USB charging cord is also included (it takes about one hour to charge, according to the manufacturer).
Buy it: Amazon
6. Lebice Popsicle Molds Set; $9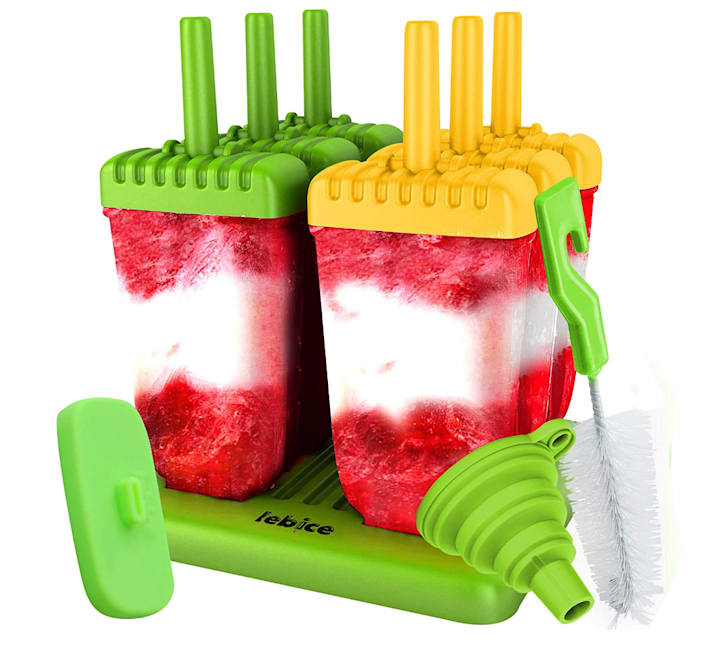 Easily make your own ice pops in whatever flavors you choose using this six-piece set. The BPA-free plastic molds are even dishwasher-safe for easy cleanup. (Read: No need to spend your whole lunch break wiping everything down by hand.)
Buy it: Amazon
7. Simple Modern Classic Insulated Tumbler; $25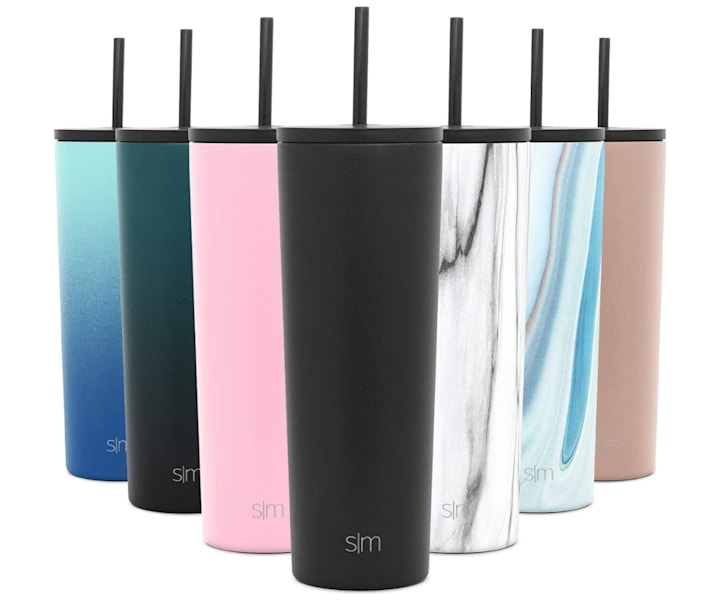 This 28-ounce insulated tumbler from Simple Modern—complete with a matching straw and lid—has garnered over 34,000 Amazon reviews with a 4.9-star average. Its powerful vacuum insulation and durable stainless-steel construction are designed to keep drinks cold (or hot) for hours on end. Choose from over two dozen colors and patterns.
Buy it: Amazon
8. NatraCure Cold Therapy Socks; $25
According to the manufacturer, these reusable cold therapy socks are engineered to relieve foot pain and inflammation, but they can also be a cool treat at the end of a long, hot day. The soft and stretchy nylon material offers added comfort, while the chilled gel packs provide a unique cooling sensation. They're currently sitting at a 4.4-star rating on Amazon after more than 4300 reviews.
Buy it: Amazon
9. Cool Time Wearable Cooling Neck Wraps; $25
These cooling neck wraps can be worn for up to two hours after just 20 minutes in the freezer. That's long enough to power you through your mid-morning or late-afternoon slump.
Buy it: Amazon
10. ESARORA Ice Roller; $13
This ice roller can calm, soothe, and relieve dry skin, puffiness, redness, and headaches. And if you're sweltering in your tiny home office, just roll it on your neck, arms, and face for an instant cooldown.
Buy it: Amazon
11. Dyson Air Multiplier Table Fan; $272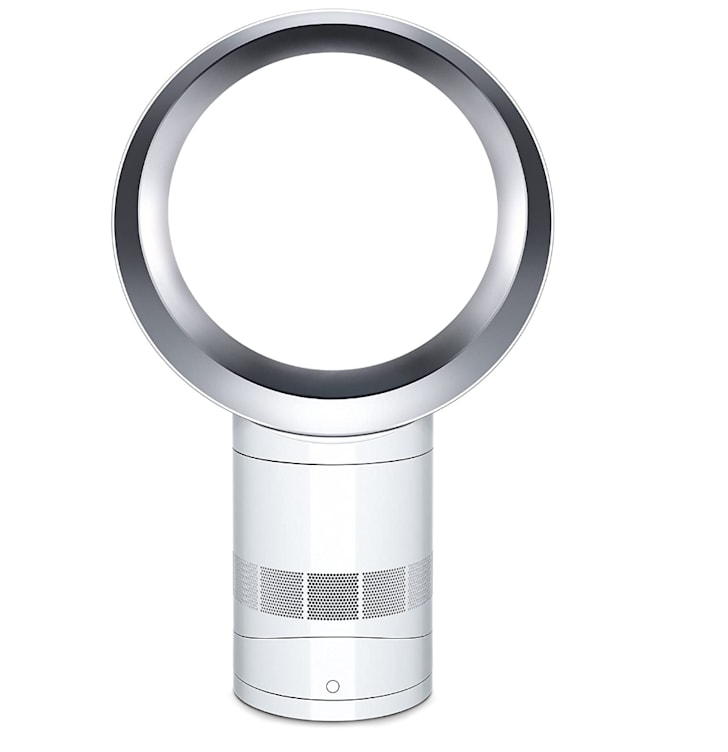 Despite its high price tag and small size (it's just 10 inches tall!), this innovative, remote-operated Dyson table fan utilizes unique technology to create a powerful stream of cool air without sharp blades and loud noises. It also has a built-in sleep timer with pre-set intervals ranging from 15 minutes to nine hours. Choose from 10 airflow settings.
Buy it: Amazon
Sign Up Today: Get exclusive deals, product news, reviews, and more with the Mental Floss Smart Shopping newsletter!