LEGO and Adidas Have Teamed Up to Create the World's Coolest Sneaker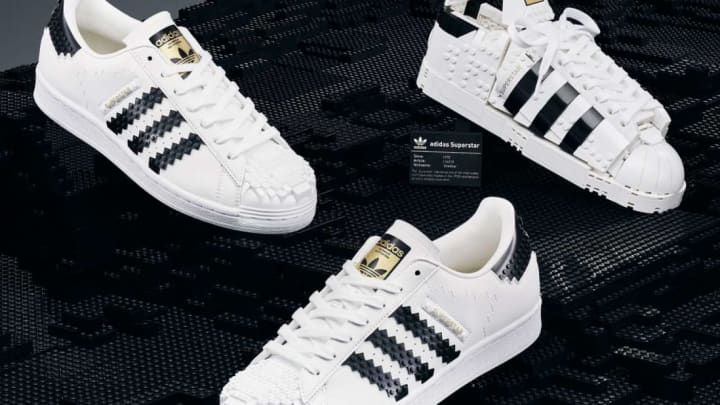 One of these things is not like the others. / The LEGO Group
This article contains affiliate links to products selected by our editors. Mental Floss may receive a commission for purchases made through these links.
Considering how much it hurts to step on a LEGO, the idea of LEGO sneakers might make your feet tingle unpleasantly.
But the cool new kicks from LEGO and adidas are just made to look like they're built from LEGO bricks, not to feel like it. From a distance, the shoe looks like an adidas Superstar, the classic white-and-black sneaker that debuted as a basketball shoe in 1969. Upon closer inspection, you can see that the three black stripes and heel tab are shaped and textured like LEGO bricks, and the rest of the shoe features LEGO-inspired design elements, too. There are also other versions of the shoe in kid sizes with brightly colored accents.
The superstar of Superstars. / The LEGO Group
The collection will be available online through adidas's website starting July 1, with the adult Superstar retailing for $170. It's not the only exciting LEGO-adidas mash-up set to be released on that day: The brands are also debuting a Superstar sneaker that is made of LEGOs—for building rather than wearing, though real shoelaces are included. You can construct the 731-piece creation as a left or right shoe and customize it with bricks from your own LEGO stash.
Your dog will probably chew on this, too. / The LEGO Group
When you're finished building, the toy shoe will measure about 10.5 inches long, and it comes with a display stand so you can showcase it like a bona fide sneakerhead would. If you do add some bells and whistles, be sure to share your creation on social media with the hashtag #builtbyoriginals. You can order yours for $80 through LEGO's website on July 1.