Toss, Slice, and Chop Salad Ingredients With This One Simple $15 Tool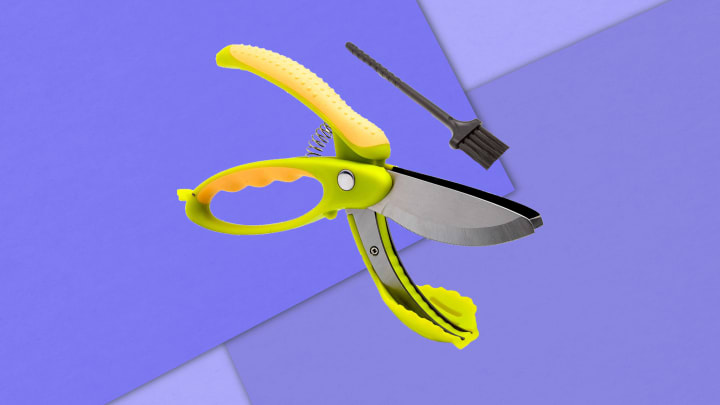 This versatile gadget is a must-have for salad lovers. / Gravity Products / Amazon / Dony / iStock / Getty Images
This article contains affiliate links to products selected by our editors. Mental Floss may receive a commission for purchases made through these links.
Whether you're eyeing it as a main dish or as a side, the beauty of a good salad is that all of your favorite ingredients can be combined into one convenient bowl. But, that simplicity can turn into a hassle when you have to get out multiple cutting boards, bowls, and plates to prep different vegetables, proteins, and greens. You can cut down on all of that extra kitchenware with these multi-functional salad scissors that aim to take some of the headache out of your next meal.
There's a reason why a kitchen tool like this has been popular on social media platforms like TikTok. The $15 Gravity Chopper takes scissors—one of the unsung heroes of the kitchen—and utilizes the ergonomic design for easy salad prep. It does this by using stainless steel blades with serrated edges to chop fruits and vegetables directly in the bowl, making prep work as easy as possible. You can also use the tool to slice tomatoes and hard-boiled eggs evenly. After chopping up all your salad ingredients, the tool can be used as tongs to give your salad one final toss before you're ready to serve.
The Gravity Chopper / Gravity Products / Amazon
The whole thing is intuitive to use and easy to handle—all you're really doing is squeezing. Once you're done, you can lock the blades shut and safely store the product away in your utensil drawer. You can also use this accessory for salsas and when chopping fresh herbs, or put it to work on premade salads to chop everything down to your preferred size.
The Gravity Chopper also has a 4.2-star rating on Amazon, and many reviewers say it's made making salads much easier. "My family likes to chop salad into small pieces and this is a fast and convenient way to do so," one customer wrote. Another raved: "Used this to cut lettuce, cherry tomatoes and celery. This gave nice small pieces within a short time!" Many shoppers also claim this gadget has helped them eat better. "I have doubled the amount of salads I eat now that I have this," one user wrote.
Get the Gravity Chopper on Amazon for $15, and while you're at it, consider grabbing a salad spinner if you haven't invested in one already.
A version of this article originally ran in 2021 and has been updated to reflect current pricing.