Recreate Your Favorite Punny Specials With the Bob's Burgers Cookbook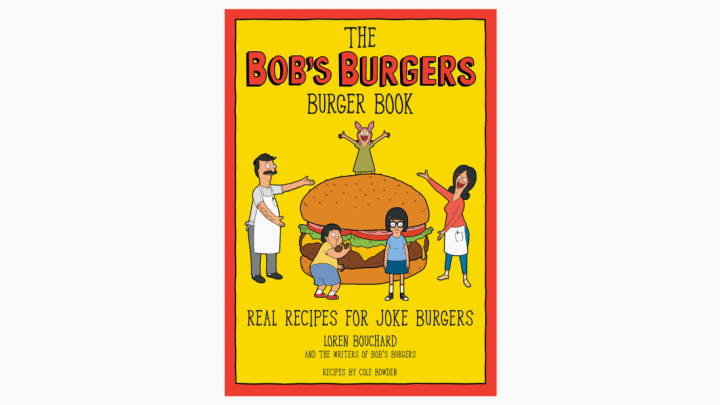 Hyperion Avenue/Amazon / Hyperion Avenue/Amazon
This article contains affiliate links to products selected by our editors. Mental Floss may receive a commission for purchases made through these links.
If you prefer your puns served between two buns with a side of fries, the official Bob's Burgers cookbook should be your favorite summer grilling companion.
A few years back, engineer, amateur cook, and blogger Cole Bowden started a cult-favorite Tumblr blog called the Bob's Burger Experiment to recreate the witty burgers from the show at home. Working with the series's creator and producer, Loren Bouchard, Bowden translated his blog into a full-blown cookbook full of recipes inspired by the punny specials featured on Bob's "Burger of the Day" wall. Here, you'll learn how to craft burgers from the show like "Bleu is the Warmest Cheese Burger," the "Bruschetta-Bout-It Burger," and the "I Know Why the Cajun Burger Sings Burger" in the kitchen or out on the barbecue.
In addition to the ingredients and instructions necessary to pull off each dish, the recipes also include the season and episode each burger was featured in, so you can watch and dine along with your favorite customers in the show. Full of the show's signature humor and warmth, the book not only includes recipes, but also showcases the Belcher family's quirks and charm.
Get the cookbook here to begin your burger journey.
Sign Up Today: Get exclusive deals, product news, reviews, and more with the Mental Floss Smart Shopping newsletter!