Make Meal Prep Even Easier With These 12 Kitchen Accessories Under $20
Cooking at home is the responsible, adult thing to do, but it can also be tedious, messy, and far more difficult than simply ordering a $25 sandwich on your phone. It doesn't have to be such a drag, though, especially with the right tools in place. So, no matter if you're an aspiring home cooking enthusiast or just want to take some of the work out of meal prep, these simple gadgets can help make the process a little easier without busting your budget.
1. OXO 3-in-1 Avocado Slicer; $10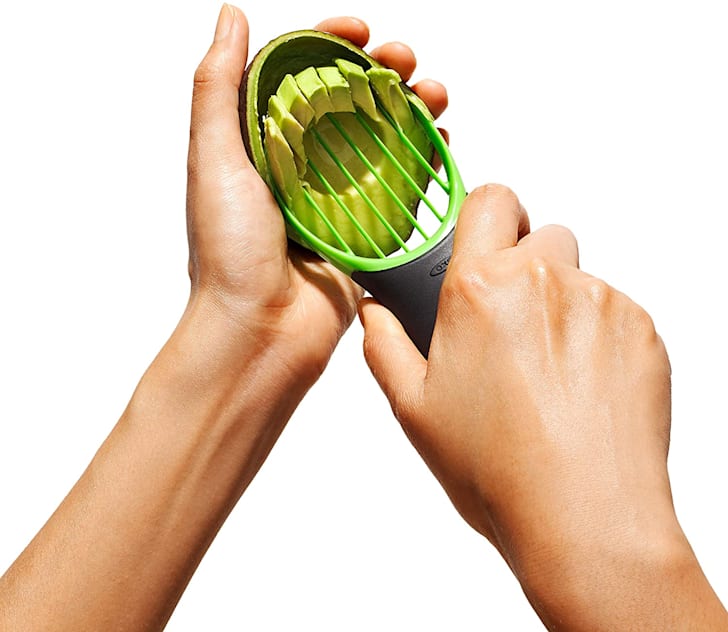 Whether you're prepping some guacamole or just need something to slap on top of a burger or sandwich, this avocado accessory is the easiest way to get it done. It can peel, pit, and slice without a ton of effort, and it's incredibly durable for something that only costs around $10. Plus, since it's mostly made from hard plastic, it's safe to handle and easy to clean.
Buy it: Amazon
2. Pineapple Corer and Slicer; $13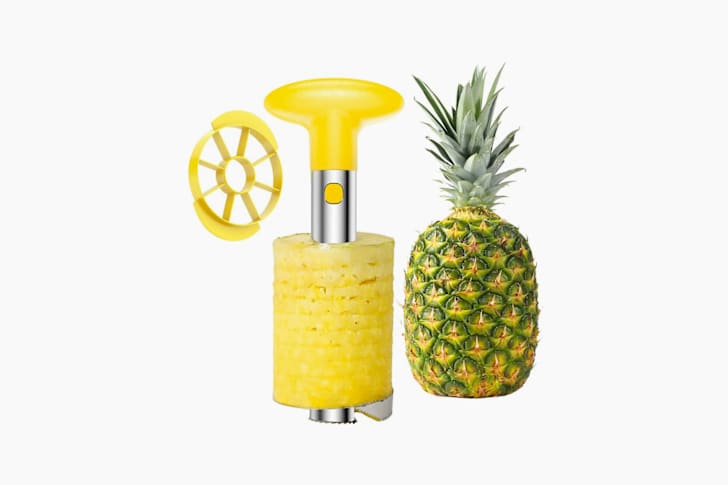 If you've ever just stood in front of a whole pineapple and had absolutely no clue how to cut into it, then this tool is perfect for you. This gadget helps you quickly peel, core, and slice a fresh pineapple into perfectly shaped rings. Not only does it prepare the fruit, but it keeps the shell intact, so you can channel your inner food stylist and use it as a vessel for an eye-popping fruit salad.
Buy it: Amazon
3. Meat Masher and Tenderizer; $10
This silicone tool is great for tenderizing meats, mashing potatoes, stirring batters, and more. It's also heat-resistant up to 450°F, so you can use it at pretty much any point in the cooking process. The curved, plastic "blades" won't cause any damage when you run them along the sides of your pots and bowls, and the streamlined design makes it easy to hand-wash the whole thing when you're done.
Buy it: Amazon
4. Silicone Utensil Rest with Drip Pad; $11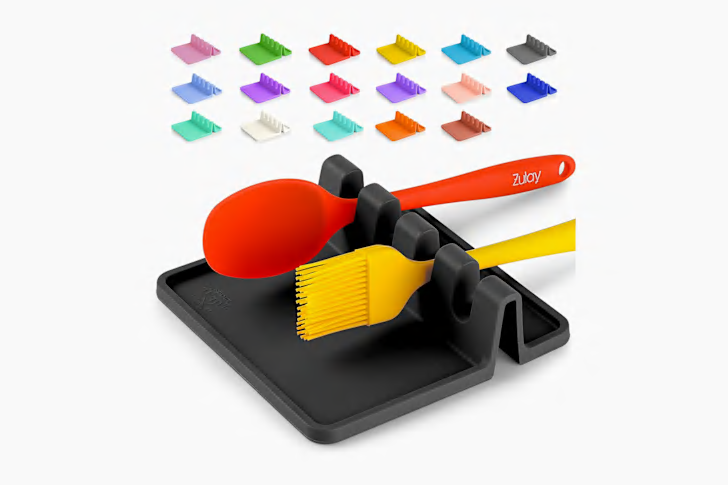 Never stress about a dirty countertop again with this simple cooking tool. This spoon rest is made of heat-resistant, BPA-free silicone and has compartments to hold up to four spoons and spatulas while cooking. The base is designed to prevent any excess sauce or grease from dripping onto your countertop to minimize mess.
Buy it: Amazon
5. Clip-On Silicone Colander; $10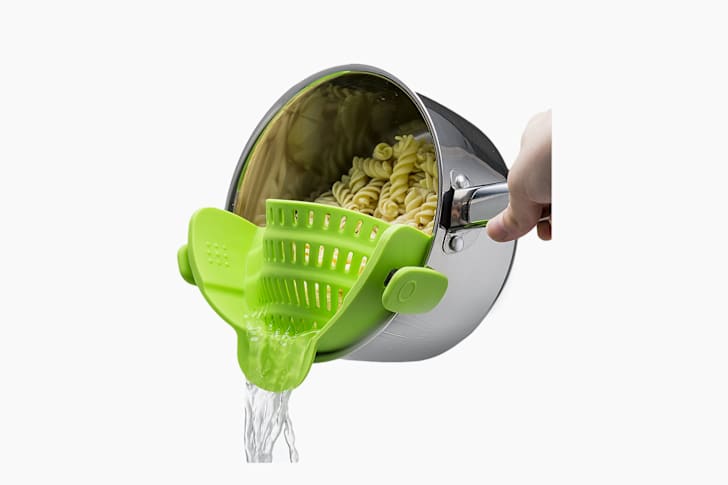 A great space saver, this clip-on colander is about a quarter of the size of a traditional colander and can be used on almost all round cookware and bowls. It's great for draining pasta, removing grease from cooked meats, and washing grains, and it's compact enough to slip easily into a drawer.
Buy it: Amazon
6. Multi-Purpose Scraper and Chopper; $10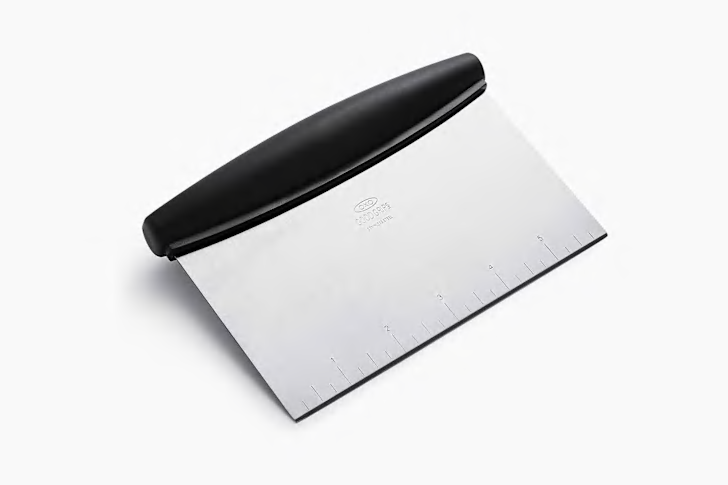 Commonly used in baking for working and cutting dough and scraping baking sheets, this handy tool is also great for chopping vegetables and transferring them into pans and bowls (ideal for both omelets and salad night). The stainless-steel blade includes measurement markers for ease of use and is dishwasher safe.
Buy it: Amazon
7. Olive and Cherry Pitter; $14
If you're tossing some cherries into your next fruit salad (or cocktail), grab this pitter to make the job even easier. Complete with a splatter shield that prevents unwanted juices from getting loose, this $14 accessory is precise enough to remove pits while keeping the meat of the cherry or olive intact. The comfortable, non-slip handle also helps absorb pressure for easy use.
Buy it: Amazon
8. Cob Corn Stripper; $8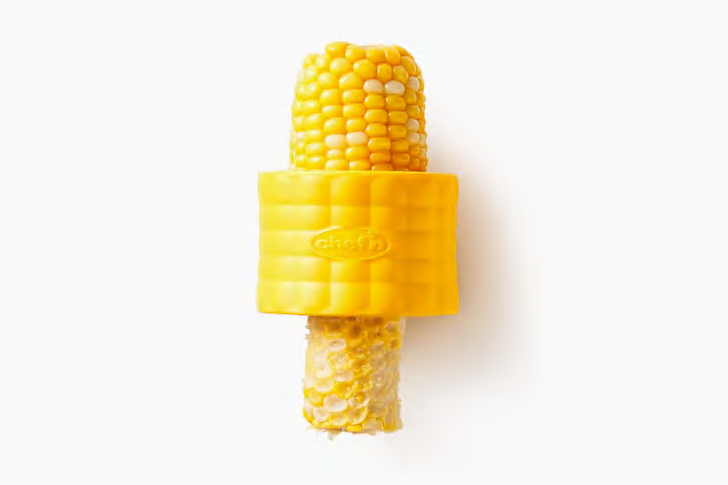 Next time you want to some fresh corn from the cob, grab this tool, fasten it, and give it a little twist. The stainless-steel blades will strip the kernels in seconds, leaving you with a bowl of corn to put in salads, soups, and any number of meals.
Buy it: Amazon
9. Palm Vegetable Peeler; $7
This compact, ergonomically designed vegetable peeler helps you quickly and safely prepare whatever produce you need. The gadget slides onto your finger and fits into your palm, so you'll have a sturdy handle on the situation while keeping your fingers protected from any blades. It also features a steel potato eye remover to rid your life of sprouts and other unwanted bits.
Buy it: Amazon
10. Vegetable Spiralizer; $10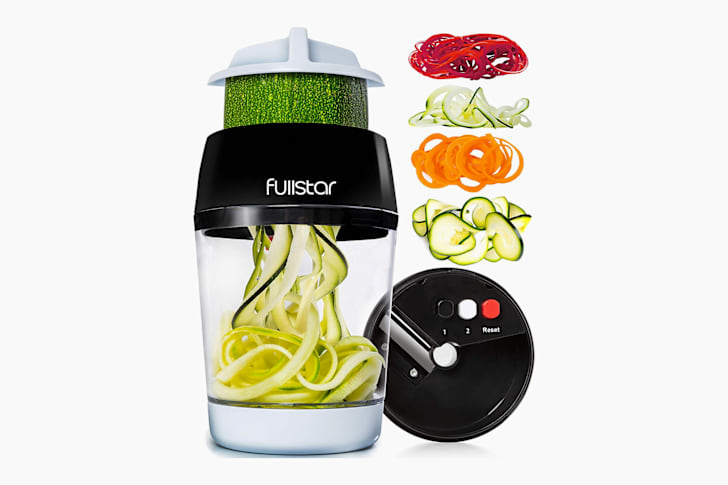 A pocket-sized spiralizer is great for small kitchens and to take on trips. This tool comes with four different blade options for various shapes, and the finger guard keeps your hands safe. It works best with carrots and zucchini and takes only a minute or so to use.
Buy it: Amazon
11. Adjustable Rolling Pin; $16
You'll never roll out uneven dough again with this 4.8-star-rated accessory. This pin comes with four removable discs in different sizes that allow you to precisely roll the dough out in your desired thickness. It's perfect for pizza, tarts, homemade pasta, cookies, and more.
Buy it: Amazon
12. Stainless-Steel Odor Absorber; $9
This stainless-steel bar helps remove unwanted odors of garlic, onion, and other foods from your hands after cooking, all without needing water. Te molecules in the steel bind with the sulfur molecules in your hands, meaning that the smell should transfer off your hands to the metal. Best of all, it's portable, durable, and dishwasher safe.
Buy it: Amazon
Sign Up Today: Get exclusive deals, product news, reviews, and more with the Mental Floss Smart Shopping newsletter!