Go to Work in a London Treehouse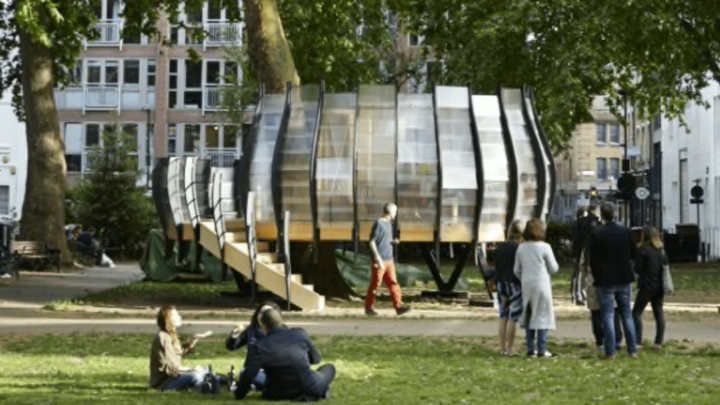 Jack Hobhouse / Jack Hobhouse
Brits who think that their cubicles just aren't whimsical enough have a new workspace option: a treehouse. The coworking space, dubbed TREExOFFICE, just debuted in a London park.
Backed by an environmental nonprofit and a local neighborhood council, the tree-office has eight workspaces with WiFi. Individual workspaces can be reserved for just under $25 (£15) for half a day, or the entire treehouse can be hired out to host a small meeting for $186 (£120). It's free to use on weekends, and all the profits go back to improving parks in the borough of Hackney. 
This is an office for someone who would really rather pretend they aren't in an office. The onion-shaped structure, designed by the artist Natalie Jeremijenko and the architects Tate Harmer, is made out of compressed paper and see-through plastic, and most of the wall space is taken up by operable windows. A transparent roof opens up the office to the sun (and of course, the trees). 
The tree office will be around until December, and, if popular, will serve as a prototype for other park coworking spaces around the area. (And maybe in other cities, please?)
Book your outdoor workday getaway here. The tree hosting the office space is also tweeting out some fun tree facts here. 
All images by Jack Hobhouse.