This Week in Comics: Tank Girl is back and Bruce Wayne is no longer Batman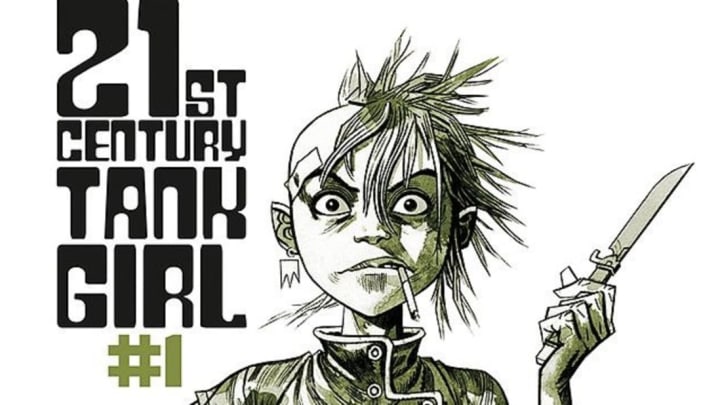 Jamie Hewlett/Titan Comics / Jamie Hewlett/Titan Comics
Every week I write about the most interesting new comics hitting comic shops, bookstores, digital, and the web. Feel free to comment below if there's a comic you've read recently that you want to talk about or an upcoming comic that you'd like me to consider highlighting.
21st Century Tank Girl #1
By Alan Martin, Jamie Hewlett, Warwick Johnson-Cadwell, Philip Bond, Jonathan Edwards, Brett Parson, Jim Mahfood, Craig Knowles
Titan Comics
2015 has seen Mad Max: Fury Road's Imperator Furiosa become the new post-apocalyptic It Girl of the 21st century, so it's fitting that this year also sees the return of Furiosa's visual predecessor, Tank Girl. Created in the post-Road Warrior 1980s by Alan Martin and Jamie Hewlett for a British anthology magazine called Deadline, Tank Girl quickly became a sensation and the perfect comic book distillation of punk rock sensibilities.
Set in post-apocalyptic Australia, it featured the bizarre, almost incoherent adventures of the hard-drinking, ass-kicking title character and her mutant kangaroo boyfriend. A film was made from the comic in 1995 that failed to capture what people loved about the comic, especially Hewlett's manic, detailed, and imaginative visual style (for comparison's sake, Mad Max: Fury Road was designed by Hewlett's contemporary Brendan McCarthy and its success is due in large part to this style).
Tank Girl turned Hewlett into a star but, since disowning the movie, he has stayed away from the character while writer Alan Martin has continuously revisited her in a number of iterations with different artists. Now, for the first time in 20 years, Martin and Hewlett have reunited for all new Tank Girl stories in this new three-issue mini-series, originally produced via Kickstarter. Granted, Hewlett only draws a short story in this collection while other recent Tank Girl artists like Jim Mahfood and Philip Bond fill out the rest of the comic, but it's significant to see a brand new take on the character by her co-creator.
Batman #41/ Detective Comics #41
By Scott Snyder, Greg Capullo, Danny Miki, FCO Plascencia/ Francis Manapul, Brian Buccellato, Fernando Blanco
DC Comics
Now that DC's big Convergence crossover has ended, all their books are coming back from hiatus, some with a drastically new status quo. None may be more dramatic than Batman. The conclusion of the last storyline, "Endgame," saw the death of Bruce Wayne and the idea of Batman as the people of Gotham City know it. Yes, characters like Bruce Wayne die all the time in comics, but the real interesting thing here is who is taking on the mantle of the bat: Jim Gordon.
In a bold new era of Batcomics, the Gotham City Police Department now has its own Batman, suited in weaponized armor that makes him look like a cross between CHAPPIE and The Tick. We'll see this era begin in both Batman #41 and Detective Comics #41 this week. Both books come from the same pre-hiatus creative teams, although Detective's Francis Manapul will now focus on co-writing with Brian Buccellato, handing art duties over to Fernando Blanco. Detective will focus on how the GCPD works with this new Batman and will finally be bringing fan favorite Renee Montoya into the spotlight in the new continuity (back before DC's reboot in 2011, Montoya was a star of Gotham Central and even took on the role of masked hero The Question).
Here's a preview of Batman #41 and one for Detective Comics #41.
SuperMutant Magic Academy
By Jillian Tamaki
Drawn & Quarterly 
As much as I try to stay on top of things, I think I missed the official release of Jillian Tamaki's SuperMutant Magic Academy by at least a month. Tamaki is coming off a big year with the young adult graphic novel This One Summer (co-authored with her cousin Mariko) that is still winning awards like the prestigious Caldecott Honor. That's enough to make her next book one of this year's most anticipated releases, but because it's a collection of her popular and award-winning webcomic, it's a big deal.
SuperMutant Magic Academy is formatted as a series of one-off gag strips that build the story of a group of teens and their time in boarding school. While the mutant and magic aspect of the comic is certainly there (there's one girl who looks like a lizard, another with horns, and one boy who seems to be immortal), it's mostly incidental to the everyday teen angst surrounding same-sex crushes, art projects, and friendship drama. Tamaki handles it all with a glib sense of humor and a cast of characters that feel very real despite their supernatural trappings.
Those familiar with Tamaki's gorgeous, detailed illustration style on This One Summer will notice that she employs a much looser, more immediate cartooning style here, but one that still uses relatable and realistic gestures and expressions to convey the right amount of teenage ennui and deadpan comedy.
Here's more information from the publisher.
Weirdworld #1
By Jason Aaron, Mike Del Mundo and Marco D'Alfonso
Marvel Comics
While DC's Convergence event has finished, Marvel's similarly multiverse-affecting Secret Wars event is still going on and we're seeing lots of related mini-series hitting the stands this month. In Secret Wars, the Marvel Universe has been effectively destroyed and all that stands in its place is a patchwork planet called Battleworld, pieced together by an omniscient Doctor Doom from salvaged pieces of Marvel continuity, past and present. These disparate pieces are set side-by-side in various countries, fiefdoms, and neighborhoods with names like Arcadia, New Quack City, Mutopia and…Westchester. The event gives Marvel creative teams the opportunity to not only put current characters into a whole new context but to also mine the vaults of Marvel lore and bring back anything they've ever wanted to play with. Hence, Weirdworld.
Inspired by the little known 1977 series by Doug Moench and Mike Ploog, Weirdworld is the sword and sorcery sector of Battleworld. This new mini-series stars a character named Arkon, a vaguely Conan-like character who first appeared in Avengers #75 back in 1970. Writer Jason Aaron (Thor, Star Wars) has dredged up a number of forgotten fantasy characters from '70s-era Marvel to throw into this world, many as easter eggs peppered throughout the series. Aaron is working with artist Mike Del Mundo, whose hallucinogenic, painterly style gives this the feel of a Frank Frazetta cover from that decade.
Long Distance #1
By Thom Zahler
IDW Publishing 
Thom Zahler's new four-issue comic book series Long Distance began its life as a pitch for a TV sitcom through a Project Greenlight-like reality show called Situation Comedy back in 2004. The sitcom never happened but, Zahler, being a cartoonist who writes for IDW's My Little Pony and his own popular superhero rom-com webcomic Love and Capes, naturally decided to adapt his own story into a comic.
Telling a story about a long-distance romance, Zahler had to make a number of updates to accommodate the advances in technology in the ten years since he first wrote the story. There is now a lot of texting and Twitter incorporated, which fits the comic book marriage of words and pictures.
The series explores the romance of a Midwestern couple who meet in an airport during a layover and immediately hit it off. He is an advertising artist in Columbus, Ohio and she is a research scientist in Chicago. After their chance meeting they decide to make a go of the long-distance thing despite the obvious downsides that their friends warn them about. The first issue is all meet-cute without much will-they-or-won't-they conflict but, admittedly, Zahler is looking to avoid that cliche and instead follow the ups and downs of such a relationship and the way today's various methods of communication help or hurt it.