28 Books in Our TBR Piles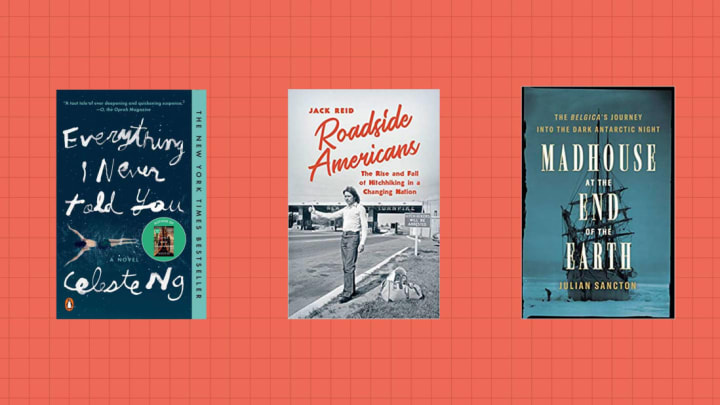 Ever wondered what's in our to-be-read piles? Here are the books that Mental Floss staffers plan to finish ... someday. / Crown/University of North Carolina Press/Penguin Books
This article contains affiliate links to products selected by our editors. Mental Floss may receive a commission for purchases made through these links.
Few things on a shelf are as special as a TBR pile. These towering stacks of books do more than just collect dust—they contain all the weird, interesting, and maybe even inspirational fiction and nonfiction stories that could change your life forever ... if only you found the time to read them.
Everyone's got a TBR pile, including the staffers here at Mental Floss. And as you might imagine, ours get pretty high. From oral histories to books about ghosts and fish owls, the novels we've got waiting in the wings run the gamut. Here are some of our favorites that we can't wait to dive into … you know, eventually.
1. Secrets of the Force: The Complete, Uncensored, Unauthorized Oral History of Star Wars // Edward Gross and Mark A. Altman; $25
St. Martin's Press/Amazon
With so much written about Star Wars, why pick up this hefty door-stopper? I trust that Edward Gross and Mark A. Altman, who did a superb job with their two-volume Star Trek oral history, The Fifty-Year Mission, have excavated new details and brought balance to the glut of information about George Lucas's space saga. A quick browse confirms it: I never knew that costumers added 8 inches of height to the already imposing 7-foot, 4-inch frame of Chewbacca actor Peter Mayhew, or that John Williams's original theme for the Jawas wound up in 1978's Superman: The Movie. With first-hand accounts from virtually every major player, including Lucas himself, this might be the last word on the history of the nine-part saga. —Jake Rossen, Senior Staff Writer
Buy it: Amazon
2. Roadside Americans: The Rise and Fall of Hitchhiking in a Changing Nation // Jack Reid; $30
University of North Carolina Press/Amazon
It's common knowledge at this point that hitchhiking is no longer a cultural custom but a risky proposition. But there was a time when hitching a ride was as acceptable as walking, and that story is also the story of an obsolete America. Reid's account of the rise and fall of this cross-country adventure has gotten a thumbs up from reviewers, so I'm planning on going along for the ride. —J.R.
Buy it: Amazon
3. The Falcon Thief: A True Tale of Adventure, Treachery, and the Hunt for the Perfect Bird // Joshua Hammer; $13
Simon & Schuster/Amazon
As Erin, our editor-in-chief, prepared to move apartments, she added two books to my TBR stack. The first is The Falcon Thief by former Smithsonian writer Joshua Hammer. I admit that I get this one confused with The Feather Thief, another true story about bird-related crime—but I have a feeling that The Falcon Thief will be just as riveting in its tale of a rare-bird smuggler and the detectives determined to stop him. —Kat Long, Science Editor
Buy it: Amazon
4. Madhouse at the End of the Earth: The Belgica's Journey into the Dark Antarctic Night // Julian Sancton; $16
Crown/Amazon
Book number two from Erin is this polar tale by Julian Sancton, which recounts the Belgica expedition—considered the first in the early 20th-century "heroic age" of Antarctic explorations. Led by a peripatetic Belgian captain, Adrien de Gerlache, the crew includes Frederick Cook—who would later challenge Robert Peary as the first man to reach the North Pole—and Roald Amundsen, who would become the first to reach the South Pole. But in 1897, when the Belgica arrives in Antarctica, their futures don't look so bright. —K.L.
Buy it: Amazon
5. Personal History // Katharine Graham; $14
Alfred A. Knopf/Amazon
The 2017 drama The Post, about The Washington Post's decision to publish the Pentagon Papers in the 1970s, is based on this autobiography of the paper's publisher. I didn't love Meryl Streep's portrayal of Katharine Graham as an indecisive and reluctant executive, but the movie did push me toward adding Graham's memoir—which won the Pulitzer Prize for biography in 1998—to my TBR stack. —K.L.
Buy it: Amazon
6. Sidetracks: Explorations of a Romantic Biographer // Richard Holmes; $20
Vintage/Amazon
Holmes is best known for his biographies of Romantic poets, but I love reading his books about writing the biographies. In addition to The Age of Wonder (about the intersection of science and art in the Romantic era), which is one of my all-time favorite books, Holmes has released a trio of memoirs about his process. Sidetracks: Explorations of a Romantic Biographer is the second in the series, and promises more insight into his adventurous pursuit of literary truths. —K.L.
Buy it: Amazon
7. Crown and Country: A History of England Through the Monarchy // David Starkey; $19
HarperCollins Publishers/Amazon
Once I found out I was in the Jeopardy! contestant pool, I began assessing my trivia strengths and weaknesses. There's a Texas-sized hole in my knowledge of UK history (filled with American chauvinism and Cheez Whiz), and this book was recommended as an engaging, comprehensive run-through of more than a millennium of monarchs. I actually have started the book, and find it cogent and engaging, but it turns out there's a lot of English history. The sheer heft of Starkey's tome can be intimidating, but I know that if I do get the call to be on Jeopardy!, I'll start powering through my Edwards and Henrys once more. —Jon Mayer, Managing Video Producer
Buy it: Amazon
8. Everything I Never Told You // Celeste Ng; $15
Penguin Press/Amazon
Unlike some Mental Floss editors who will remain nameless, our editor-in-chief Erin McCarthy has never steered me wrong with a book rec. So when she told me Celeste Ng's Everything I Never Told You was a moving family story with a captivating authorial voice, I grabbed it with every intention to plow right through it. Then, somehow, I found myself on a rare non-fiction kick. Maybe the stressful state of the world has left me with an appetite to escape into other real worlds, I don't know. I do know that when I'm craving fiction again, I'll start with Ng. —J.M.
Buy it: Amazon
9. Horse Girls: Recovering, Aspiring, and Devoted Riders Redefine the Iconic Bond // Edited by Halimah Marcus; $14
Harper Perennial/Amazon
As a horse girl who's never appreciated the stereotypical "horse girl" trope, I can't wait to dive into this anthology. I know I'll see myself represented in the pages—a brief skim of the intro already revealed the book's editor once had a horse named Dave, which happens to be the name of my childhood horse, who I still have and love. Each essay, some penned by writers I already admire, promises to add new depths to the many, many ways to be a horse girl. —Kerry Wolfe, Staff Editor
Buy it: Amazon
10. Where Bigfoot Walks: Crossing the Dark Divide // Robert Michael Pyle; $18
Counterpoint/Amazon
I first put this book on my mental TBR pile last fall after watching The Dark Divide (2020), a movie based on Robert Michael Pyle's tales of his trek across a Washington wilderness in search of Bigfoot. Pyle's book is more than a Guggenheim Fellowship-funded mission to find the legendary cryptid—it's a detailed look at the landscape, written by a biologist who knows it well. With my first-ever trip to the Pacific Northwest coming up, I figure it's time to get more familiar with the area's wildlife—both common and legendary. —K.W.
Buy it: Amazon
11. Forever and a Death // Donald E. Westlake; $10
Hard Case Crime/Amazon
Hard Case Crime is exactly the type of throwback publisher I can get behind. The company specializes in reviving the hard-boiled crime genre that filled the spinner racks of the '40s and '50s, going so far as to recreate the hand-painted covers and gleefully cheesy taglines that the pulpy stories were known for. Forever and a Death (great title) is one of their most interesting offerings—it's written by the late Donald E. Westlake, who was responsible for the Parker series under the pseudonym Richard Stark, and is based on an unused James Bond movie script he penned back in the mid-'90s. —Jay Serafino, Special Projects Editor
Buy it: Amazon
12. Robert E. Howard's Conan the Cimmerian Barbarian // Robert E. Howard; $30
Pulp-Lit Productions/Amazon
In a past life, I like to imagine myself as editor-in-chief of the highest of the low-brow pulp magazines on the market. And in that life—much like this one—I would always be on the lookout for a new story from Robert E. Howard. The man behind Conan the Barbarian was an interesting sort—he was a Texas-born college dropout who helped create the sword-and-sorcery genre all before passing away at the age of 30. (Think J.R.R. Tolkien without the stuffy university airs about him.) And this book seems like a perfect encapsulation of Howard's career; it collects all the Conan stories he wrote for Weird Tales magazine during his lifetime and comes in at a barbarian-worthy 684 pages. —J.S.
Buy it: Amazon
13. The Starless Sea // Erin Morgenstern; $15
Doubleday/Amazon
After reading Erin Morgenstern's magical 2011 debut novel, The Night Circus, I jumped to pre-order her second book, The Starless Sea, when I found out it would be released in late 2019. But I still have yet to read the story about young graduate student Zachary Ezra Rawlins uncovering a peculiar book containing a story from his childhood. The adventures Zachary embarks upon seem to be as fantastical and otherworldly as Morgenstern is known for. —Elaine Selna, Commerce Writer
Buy it: Amazon
14. Conversations with Friends // Sally Rooney; $14
Hogarth/Amazon
During the early days of the pandemic, Hulu announced the premiere of its limited series Normal People. As a "read the book before watching the series" kind of gal, I picked up Sally Rooney's 2018 novel about two Irish teenagers navigating love while figuring who they are as they become adults. Now that her debut novel, Conversations With Friends, is about to be turned into a series, maybe I'll get around to reading through this before the show premieres. —E.S.
Buy it: Amazon
15. American Gods // Neil Gaiman; $12
William Morrow Publishing/Amazon
Working at Mental Floss, there are book titles and concepts that just stick in your head. As a fan of mythology, American Gods is one of those. The story brings Norse legends to life in a modern context in a quest to save the country's soul. I know I'll love it, though I'm ashamed to say it will be my first Neil Gaiman book. I don't know whether it is the pressure to have already read such a prolific writer's work or the daunting 560 pages looming ahead, but American Gods is still sitting on my bedside table, waiting. —E.S.
Buy it: Amazon
16. Transcendent Kingdom // Yaa Gyasi; $15
Vintage/Amazon
Over quarantine, I read Yaa Gyasi's debut novel, Homegoing, and was absolutely blown away by it—so her follow-up, Transcendent Kingdom, went on my mental TBR pile almost immediately. I'll definitely be picking it up once my physical TBR pile (currently four books deep!) dwindles a bit. —Erin McCarthy, Editor-in-Chief
Buy it: Amazon
17. Lies My Teacher Told Me // James W. Loewen; $14
New Press/Amazon
James W. Loewen's highly praised debunking of history textbooks feels like essential reading for the editor of a site that covers a lot of that particular subject. This one has been in my TBR pile for a bit while I've been on a fiction kick, but I'm looking forward to digging in and relearning what I was taught in history class soon. —E.M.
Buy it: Amazon
18. Owls of the Eastern Ice // Jonathan C. Slaght; $12
Picador Press/Amazon
For whatever reason, I have a bit of a thing for books about birds: Most recently, I read The Feather Thief and The Falcon Thief, which combine two of my favorite subjects (natural history and true crime!). I'm currently reading Migrations, a novel about a woman tracking Arctic terns. And I couldn't resist picking up Slaght's Owls of the Eastern Ice when I saw that it was available in paperback. I had never heard of the Blakiston's fish owl before, but as soon as I found out about it, I needed to know more. I'm planning to tackle it during the dog days of summer in hopes that it will transport me (mentally, anyway) to much chillier climates. —E.M.
Buy it: Amazon
19. Mr. Wilson's Cabinet of Wonder // Lawrence Weschler; $10
Vintage Books/Amazon
This 1996 Pulitzer Prize finalist is Lawrence Weschler's very interactive investigation of David Wilson's Museum of Jurassic Technology, where some exhibits seem fishy enough to warrant investigation. In an age when we're primed to trust anything written on a tidy museum placard, the book reminds us not only that museums weren't always hallowed halls of pure truth, but that some of them still might not be. (Or, at least, that's what the book seems to be about. It's mainly on my TBR list because the subtitle mentions "pronged ants, horned humans, [and] mice on toast.") —Ellen Gutoskey, Staff Writer
Buy it: Amazon
20. This Is How You Lose the Time War // Amal El-Mohtar, Max Gladstone; $13
Gallery/Saga Press/Amazon
I learned about this book because Vanity Fair's Joanna Robinson interviewed co-author Amal El-Mohtar about it on a Loki-centric episode of Robinson's Still Watching podcast. It's a multiple award-winning epistolary novella that follows the star-crossed relationship between two time travelers from opposing ends of a multiverse (which, to anyone who's seen Loki, explains why it made sense to discuss alongside the show). Even if you don't normally go for sci-fi works, or epistolary works, or novellas, it's basically impossible to listen to El-Mohtar talk about This Is How You Lose the Time War without adding it to your TBR list. —E.G.
Buy it: Amazon
21. Inside the Dream Palace // Sherill Tippins; $12
Mariner Books/Amazon
As the most iconic hotbed for art and music possibly of all time, the Chelsea Hotel deserves a book devoted entirely to telling its story from the ground up. So thank you, Sherill Tippins, for writing one. I haven't read it yet because once I do, I'll no longer be able to look forward to reading it. —E.G.
Buy it: Amazon
22. My Year of Rest and Relaxation // Ottessa Moshfegh; $14
Penguin Books/Amazon
A Mental Floss video editor who will remain nameless described this novel as something to the effect of "I like morbid, but this was dark even for me," which I consider the highest possible praise you can give a book and also took as the perfect way to test the limits of my own affinity for dark humor. I'm waiting for ideal reading conditions (i.e. when the sun starts setting at 4 p.m.) so I can really indulge in the bleakness. —E.G.
Buy it: Amazon
23. How to Do Nothing: Resisting the Attention Economy // Jennifer Odell; $16
Melville House/Amazon
How to Do Nothing sounds like the perfect antidote to our chronically online culture. The book encourages readers to step away from the devices demanding our attention—not because they waste time, but because they leave us with no room to think or breathe. I haven't gotten around to reading my copy yet, probably because I've been too busy checking my phone to read consistently. That's all the more reason why I should unplug and let Jennifer Odell tell me to give my brain a break. —Michele Debczak, Senior Staff Writer
Buy it: Amazon
24. Ghostland: An American History in Haunted Places // Colin Dickey; $33
Viking/Amazon
My to-be-read pile extends into the notes app on my phone. I don't remember when I wrote this particular title down, but after a quick Google search, I can see why I did. Colin Dickey's Ghostland combines my love of history and supernatural myths. He explores the sites of allegedly haunted places across the country, including houses, hospitals, and hotels. The book may not provide any evidence for ghosts, but an examination of the real effect they have on the American psyche sounds just as fascinating to me. —M.D.
Buy it: Amazon
25. Crying in H Mart // Michelle Zauner; $16
Knopf/Amazon
This book was birthed from the viral New Yorker essay about food, identity, and grief. Michelle Zauner, frontwoman of indie rock band Japanese Breakfast, writes about losing her mother and grappling with her Korean-American identity. Everyone I know has read this, but I haven't done so quite yet because I'm 1000-percent sure it will make me cry and I'm not quite emotionally ready for that. —Sarah Kim, Commerce Writer
Buy it: Amazon
26. The White Boy Shuffle // Paul Beatty; $15
Picador/Amazon
Paul Beatty's The Sellout was probably my favorite book the year I got it. I enjoyed it so much that I ordered his debut novel, but over time I've yet to actually sit down and read this one. I'm a generally emotionless reader (books rarely make me express outward emotion), but Beatty somehow manages to make me laugh out loud all the time. —S.K.
Buy it: Amazon
27. The Death and Life of Great American Cities // Jane Jacobs; $15
Vintage/Amazon
I'm really interested in cities right now—specifically, how they operate and who they really work for. This book came out in 1961 and is still considered a foundational text in the field of urban planning and development, especially because Jacobs advocated for walkable cities and the importance of sidewalks for making cities feel safer and more integrated on a social level. It was recommended to me by a few friends of mine who are urban planners, and although it's currently collecting dust on my nightstand (which isn't a good look, I know), I plan on giving it some love soon. —Shayna Murphy, Associate Editor
Buy it: Amazon
28. Blood Orchid: An Unnatural History of America // Charles Bowden; $15
University of Texas Press/Amazon
As part of my cities kick, I've also been digging books that take a more critical look at them. Charlie LeDuff's book, Detroit: An American Autopsy, is one of the most powerful books I've ever read, especially because of the way LeDuff blends reporting on the social and economic issues in Detroit with his own recollections of growing up there. I'm always on the lookout for nonfiction that strikes a similar chord, and knowing this, a friend recommended I give this book a go. I'm familiar with Charles Bowden's work as a journalist, and fully expect this to be an incredible read. —S.M.
Buy it: Amazon
Sign Up Today: Get exclusive deals, product news, reviews, and more with the Mental Floss Smart Shopping newsletter!