This Instant Pot Sale on Amazon Can Help You Save On The Brand's Most Popular Models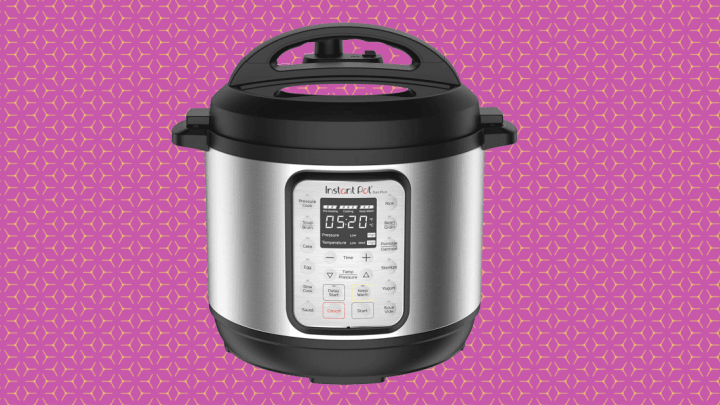 Instant Pot/Amazon / Instant Pot/Amazon
This article contains affiliate links to products selected by our editors. Mental Floss may receive a commission for purchases made through these links.
Instant Pots are incredibly versatile and can help you make bread, jams, and even lip balm. However, because the brand sells more than 25 different types of multi-cookers, figuring out which one to buy (and how to save on it, as most cost well over $100) can be tricky. Fortunately, two of the most popular models—the Instant Pot Duo and Instant Pot Duo Plus—are on sale on Amazon right now for a sweet discount.
Buy the Instant Pot Duo 7-in-1 for $70 on Amazon (Save $20.04)
Originally priced at $90, the six-quart version of the Duo is on sale for roughly $70, so you'll save about 22 percent. This model, which the brand claims can help reduce cooking time by up to 70 percent, has a 4.7-star rating on Amazon and more than 167,000 positive reviews. This 7-in-1 multi-cooker has built-in functions to pressure cook, slow cook, sauté meats and veggies, make rice and yogurt, and more. It's also pre-programmed with 13 different settings, so you can make everything from soup to ribs with the push of a button. If you've never used an Instant Pot before, the Duo is probably your best option because it's so easy to use, according to Amazon reviewers. This is also one of the lowest prices it's been at all year (including Prime Day), so this is a great time to give it a try.
Buy the Instant Pot Duo Plus 9-in-1 from $80 on Amazon (Save $20.04)
For most folks, the Duo will deliver everything needed in a multi-cooker. Think of the Duo Plus as the next step in the line's evolution. Originally priced from $100, this model is on sale starting from $80 in the three-quart, six-quart, and eight-quart sizes, so you can save up to 20 percent depending on which one you choose. Over 39,000 Amazon shoppers give the Duo Plus kudos (and contributed to its 4.7-star rating on the site). It's like a souped-up version of the Duo, offering all the standard features of its predecessor, in addition to a couple new ones: sous vide and sterilize.
These new modes give you greater customization and control than you might have with the Duo, allowing you to sterilize jars and baby bottles and prepare foods like fish and meats in the sous vide style (which means food is cooked slowly in vacuum-sealed bags and warm water to lock in flavor). The Duo Plus also has many of the same one-touch buttons as the Duo, but has two new buttons, which let you bake a cake and prepare soft- or hard-boiled eggs.
Thanks to this Instant Pot sale on Amazon, you can shop the Duo and Duo Plus models in a range of sizes, with prices starting at well under $100. If you want to air fry more often, you can save on another one of the brand's Duo models, the 11-in-one Duo Crisp, which is on sale for $150 in the eight-quart version, which is 25 percent less than usual.
Sign Up Today: Get exclusive deals, product news, reviews, and more with the Mental Floss Smart Shopping newsletter!