Can You Match the Fictional High School to the TV Show It's From?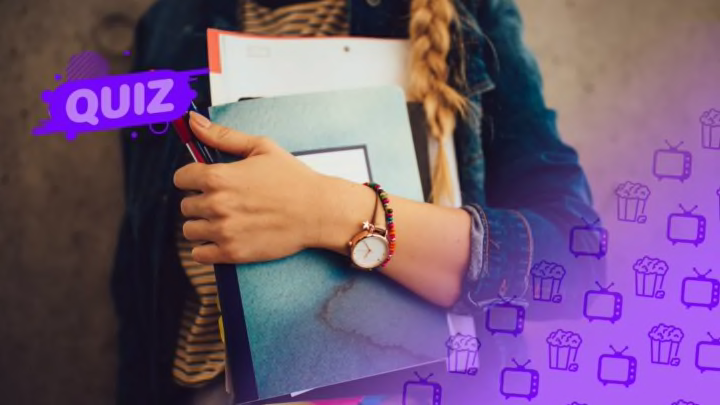 wundervisuals/Getty Images (teen holding books); notbad/Shutterstock and SurfsUp/Shutterstock (TV and popcorn graphics)
1. Lawndale High School
A) Doug
B) Daria
C) The Proud Family
2. Westbridge High School
A) Sabrina the Teenage Witch
B) Full House
C) What I Like About You
3. Sunnydale High School
A) Buffy the Vampire Slayer
B) Veronica Mars
C) Everwood
4. Belleview High School
A) Drake & Josh
B) Sister, Sister
C) My So-Called Life
5. Capone High School
A) Clarissa Explains It All
B) Kenan & Kel
C) That '70s Show
6. Pacific Coast Academy
A) Zoey 101
B) Hannah Montana
C) The O.C.
7. Constance Billard School for Girls
A) 7th Heaven
B) Derry Girls
C) Gossip Girl
8. Dalton Academy
A) Glee
B) Gilmore Girls
C) The Fresh Prince of Bel-Air
9. Bayside High School
A) Saved by the Bell
B) Boy meets World
C) The Wonder Years
10. Jefferson High School
A) Family Ties
B) The Brady Bunch
C) Happy Days
11. Capeside High School
A) Dawson's Creek
B) Freaks and Geeks
C) Pretty Little Liars
12. Dillon High School
A) Friday Night Lights
B) One Tree Hill
C) Awkward
Justin Dodd/Mental Floss
Answers: 1:B; 2:A; 3:A; 4:A; 5:B; 6:A; 7:C; 8:A; 9:A; 10:C; 11:A; 12:A