ANIMALS
Katmai National Park Kicks Off Fat Bear Week 2021 With a New Bracket of Chunky Competitors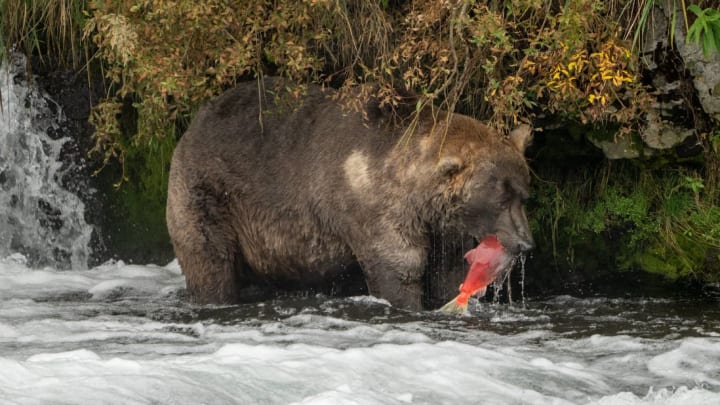 Bear 480, "Otis," in his "after" picture for Fat Bear Week 2021. / Katmai National Park and Preserve, Flickr // Public Domain
The event wildlife fans have been waiting for all year has finally arrived. On Wednesday, September 29, Katmai National Park and Preserve in Alaska kicked off its seventh-annual Fat Bear Week tournament—and the competition looks as fierce as ever. Whether you're a longtime voter or you're hearing about it for the first time, there are some important things to know before participating in Fat Bear Week 2021.
Fat Bear Week started as Fat Bear Tuesday in 2014. Katmai park ranger Mike Fitz and his colleagues came up with the idea after reading wildlife webcam viewers' comments celebrating the bears' pre-hibernation transformation from spring to autumn. March Madness-style brackets featuring before-and-after photos of the bears were published to Facebook, and followers could vote on which bear they thought was fattest. Since 2015, the competition has been a week-long event.
Fat Bear Week has since moved off Facebook so more people can participate. To cast your vote in the 2021 brackets, you can head to Explore.org. Bears 634 ("Popeye"), 435 ("Holly"), 402, and 131 were knocked out in the early days of the tournament. Voting will open every day at 9 a.m. Pacific Time until October 5, when the most corpulent contender will be decided.
In an interview with Mental Floss earlier this year, Mike Fitz named last year's winner—747—as the bear to beat. "I'm looking forward to seeing whether or not 747 can defend his title," Fitz said. "He's a giant bear, he's the largest bear I've ever seen." He weighed 1400 pounds in 2020, and this year he's estimated to be just as large.
According to the organizers of Fat Bear Week, the heaviest bear doesn't always claim the top honor. Fans may vote for the bear that gained the most weight over the year, or the bear they like the most. A good photo that shows off their hibernation-ready bod in all its chunky glory also doesn't hurt. To make sure your voice is heard in this year's competition, you can cast your vote here.