Jenna Fischer Opens Up About Facing 'Sexist' Hate While Playing Pam on The Office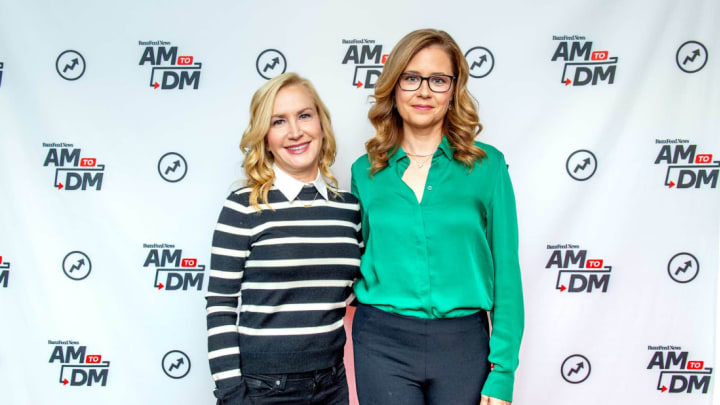 Angela Kinsey and Jenna Fischer host the The Office Ladies podcast. / Roy Rochlin/Getty Images
When playing one of the main characters on an extremely popular TV show, actors can expect to get some unwarranted backlash. Fandoms are passionate about what goes on in their favorite fictional worlds—and sometimes, that passion turns into hate. When Jenna Fischer played Pam Beesly on The Office, she experienced just this.
Jim Halpert (John Krasinski) and Pam Beesly are one of the most iconic couples in sitcom history, and fans of The Office definitely had strong opinions while watching their romantic relationship unfold. Many have expressed how disappointed they were in Jim's actions, while others became annoyed with Pam in the later seasons.
Why was Pam from The Office criticized?
In May 2021, Fischer opened about the negative experience she had earlier this year during an episode of Office Ladies, the podcast she hosts with former co-star Angela Kinsey. She recalled how her character Pam received hatred even when Jim was the one messing up.
According to People, the two hosts recapped the season 5 episode "Weight Loss, Part 2," discussing how mad people were that Pam decided to go to art school. Fischer said:
"I just want to say that when Pam went to art school for only three months when she was not yet married and didn't have children, people came down real hard on her because of Jim's feelings."
Fischer went on to talk about Jim and Pam's relationship in season 9, when Jim then went after his dreams like Pam did earlier. But only that time, Jim and Pam had kids to look after. She continued:
"Then, when Jim invested in a business without telling Pam, and left his family, and left Pam alone to care for their two children while he chased his dreams, people came down on Pam again for not being supportive enough of Jim. So in both of these instances I just want to say I noticed a lot of hate for Pam. Do I want to call it sexist? I do."
Unfortunately, for some people, it's hard to separate fiction from reality when they are so invested in a TV show. This is certainly the case for The Office, as there are so many characters and relationships to root for.