10 of the Best Sales From Amazon's Epic Deals Page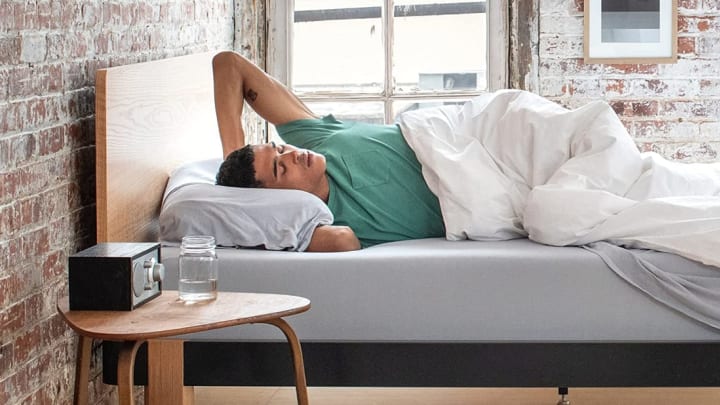 Nod by Tuft & Needle/Amazon / Nod by Tuft & Needle/Amazon
This article contains affiliate links to products selected by our editors. Mental Floss may receive a commission for purchases made through these links.
Black Friday and Cyber Monday usually get circled as the best shopping days of the year, but what if you want a great deal on a cast-iron pan or some noise-canceling headphones right now? Then you've got to head to Amazon's Epic Deals page, which presents new discounts on top-rated brands every day in the lead-up to the holiday shopping season. Below we've picked our favorite products currently on sale on the page.
1. Le Creuset 3.5-Quart Enameled Cast-Iron Signature Sauteuse Oven; $180 (Save $120)
Le Creuset/Amazon
This 3.5-quart sauteuse oven from Le Creuset is ideal for heating soups and side dishes, and it's built sturdy enough to last for the long haul. It currently sports a 4.9-star rating from users, with many agreeing that the (somewhat) high price tag is worth it for such a high-quality kitchen staple.
Buy it: Amazon
2. LEVOIT Air Purifier; $180 (Save $40)
LEVOIT/Amazon
According to the company, the LEVOIT air purifier comes packed with a three-stage HEPA filter that's designed to "capture 99.97 percent of airborne particles 0.3 microns in size, such as dust, smoke, pollen, odor." This 4.8-star-rated purifier can change the air in a 406-square-foot room five times in a single hour and only emits 24db of sound, which is equal to a whisper [PDF].
Buy it: Amazon
3. Fire TV Stick with Alexa Voice Remote; $28 (Save $12)
Amazon
If you don't own a smart TV, this Fire TV Stick will transform your set into one by letting you stream from any platform in one place. It even comes with buttons for specific streaming services, so logging on to Netflix and Disney+ is just a tap away. If you're looking for a streaming device with an audio soundbar, make sure to check out the Roku Streambar, which is also discounted 24 percent.
Buy it: Amazon
4. Bed Head Wave Artist Ceramic Deep Hair Waver; $21 (Save $9)
Helen of Troy/Amazon
Bed Head's Wave Artist waver helps your hair get dramatic volume while keeping the frizz to a minimum. The device also features multiple heat levels, dual voltage, and auto-shut-off.
Buy it: Amazon
5. Sony WH-1000XM4 Wireless Noise-Canceling Headphones; $248 (Save $102)
Sony/Amazon
These over-ear headphones from Sony have five built-in microphones, 30 hours of battery life, and a noise-cancellation feature that will pause your music whenever you're speaking. The headphones have earned a 4.7-star rating from Amazon users, with one saying, "The experience is AMAZING so far with sound quality, noise cancellation, [build] quality, and battery life. I'd strongly recommend this product and can gladly say that this is one of the best headphones out there."
Buy it: Amazon
6. Instant Pot Duo Plus 6-Quart 9-in-1 Electric Pressure Cooker; $90 (Save $30)
Double Insight - FOB CNBIJ/Amazon
The Instant Pot Duo Plus lets you prepare a variety of dishes like rice, yogurt, and oatmeal 70-percent faster than traditional methods. Though it says it's 9-in-1, it actually has 15 programs you can try out, so there are even more options to explore.
Buy it: Amazon
7. Cricut Blue Maker; $249 (Save $120)
DIY enthusiasts swear by this cutting machine that has over 14,000 reviews and a 4.8-star rating. You can cut over 300 different materials and display over 500 sewing designs with this gadget. The Cricut offers countless ways to craft, with one review saying you can, "Decorate your house, make cards, get ready for holidays. Send someone a thoughtful card or tell them to get lost, all wth one machine!"
Buy it: Amazon
8. Foreo Luna Mini 2; $71 (Save $48)
FOREO Inc./Amazon
The Swedish facial brush, the Foreo Luna Mini 2, has eight different intensities you can choose from to help massage and clean your skin. The company claims it eliminates blackheads and reduces pores visibility when used twice daily for one minute.
Buy it: Amazon
9. Kindle Paperwhite 8GB, Ad-Supported; $80 (Save $50)
Amazon
Kindle Paperwhites are great gifts to give, but they can be expensive. Now you can save 38 percent, or $50, on this waterproof gadget with 8GB of data.
Buy it: Amazon
10. Tuft & Needle Adaptive Foam 8-Inch Twin Mattress; $248 (Save $28)
Nod by Tuft & Needle/Amazon
Mattresses are notorious for their beefy price tags, so finding a deal on them is crucial. Tuft & Needle is one of the most trusted brands on Amazon, with mattresses usually attaining around a 4.5-star rating from reviewers. And this adaptive foam mattress, aptly known as "Nod," uses open-cell foam to create a breathable yet supportive sleep experience.
Buy it: Amazon
Sign Up Today: Get exclusive deals, product news, reviews, and more with the Mental Floss Smart Shopping newsletter!