No Mercy: 15 Gifts for Cobra Kai Fans
When Cobra Kai premiered on YouTube Red in 2018, no one was sure how contemporary audiences would respond to a continuation of the high school karate rivalry that began with 1984's The Karate Kid. But thanks to some sharp writing and the charm of returning stars Ralph Macchio and William Zabka, Cobra Kai turned into a surprise hit that got even bigger when it migrated to Netflix with its third season in 2020.
If someone in your gift-giving orbit is a fan of this martial arts soap opera, take a look at some products that will make them happier than taking first place at the All Valley.
1. Cobra Kai Dojo Tin Sign; $7
Is there a problem, Mr. Lawrence? Endorse the Sensei Kreese philosophy of no mercy with this 8-inch-by-12-inch tin sign that makes all your enemies aware of your ruthless nature.
Buy it: Amazon
2. Cobra Kai Headband; $30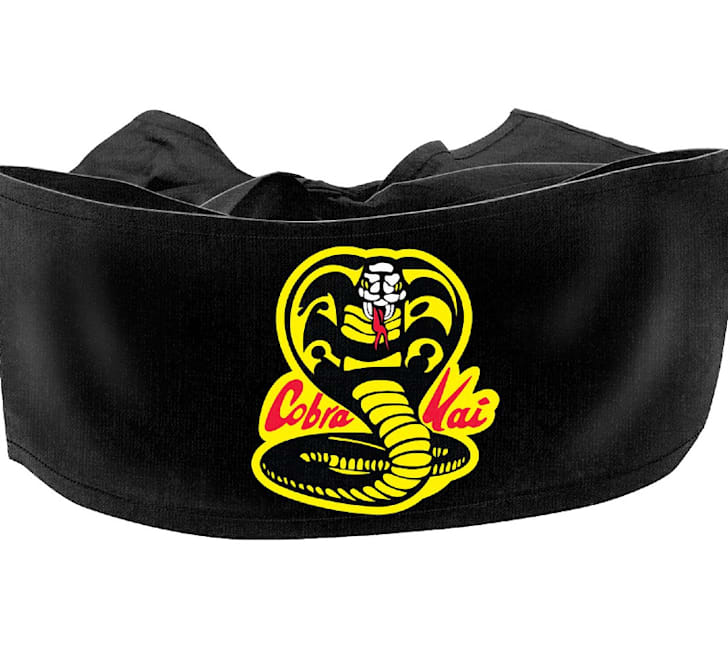 Beating up Miyagi-do nerds works up a sweat. To keep it out of your eyes, take advantage of this rad Cobra Kai headband. In addition to being practical, it lets the world know you're not anyone to be messed with.
Buy it: 80sTees.com
3. Cobra Kai Johnny Lawrence Funko Pop!; $19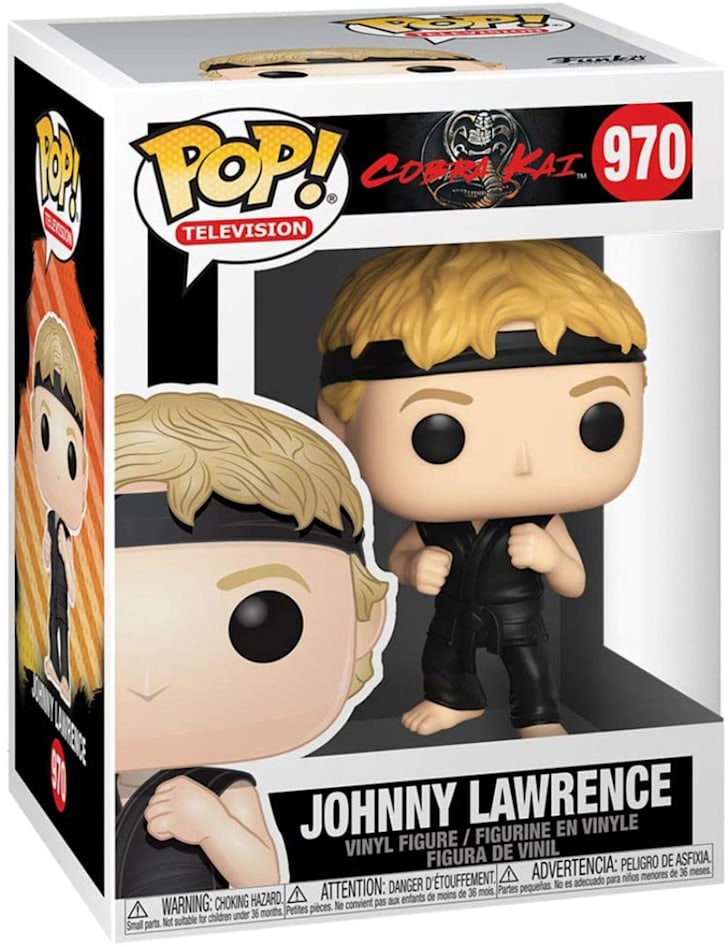 Johnny might not be anyone's idea of a hero, but he's joined Funko's impressive line-up of superstars. This Pop! makes for a perfect desk accessory.
Buy it: Amazon
4. The Karate Kid Tournament 2-Pack; $70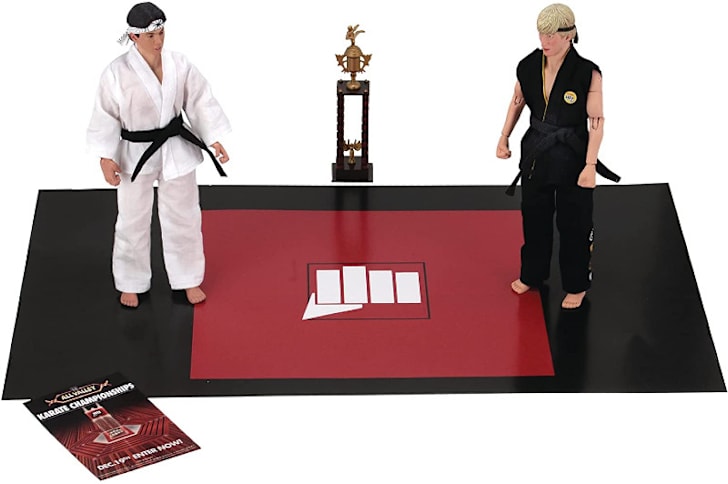 Relive the bout that launched the franchise with this two-pack action figure set from NECA. Daniel LaRusso and Johnny Lawrence square off at the All Valley tournament on an official tarp and with the trophy on the line. Who gets the body bag? You decide.
Buy it: Amazon
5. Cobra Kai Daniel LaRusso Plush Pillow; $60

Snuggle up to the ageless likeness of Ralph Macchio with this plush pillow that features his iconic Daniel LaRusso character in full karate uniform. If you're team Cobra Kai, you can opt for a Johnny Lawrence or John Kreese plush.
Buy it: 80sTees.com
6. The Karate Kid Johnny Lawrence Action Figure; $40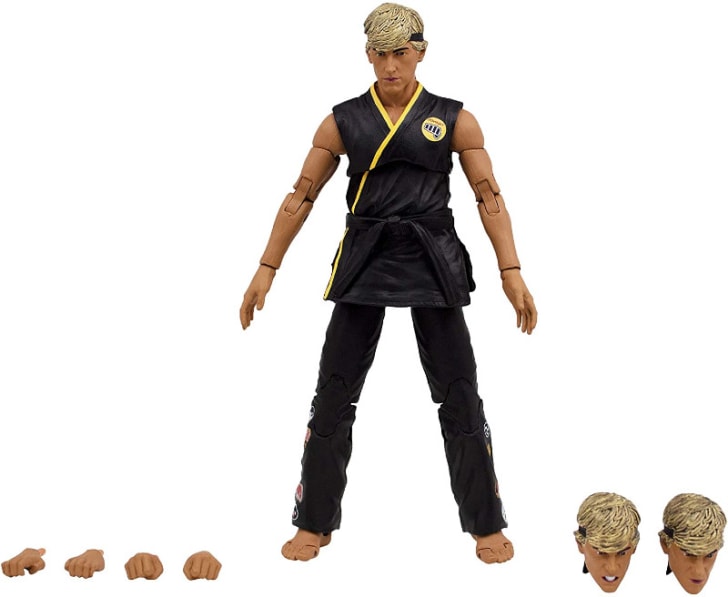 Need to kick the stuffing out of your Teenage Mutant Ninja Turtles? Let Johnny do the work for you with this 6-inch, fully articulated action figure from Icon Heroes. Vintage Johnny comes with a second head for a ferocious expression and multiple fists of fury.
Buy it: Amazon
7. The Karate Kid 3-Movie Collection (4K); $50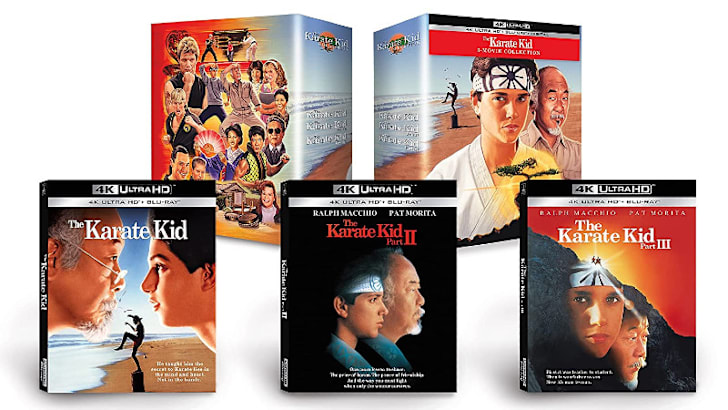 Relive the original trilogy with 1984's The Karate Kid, 1986's The Karate Kid Part II, and 1989's The Karate Kid Part III, which foreshadows Ralph Macchio's uncanny ability to play a character at least 15 years younger than his actual age. All three films have been remastered in 4K for optimal picture quality. (The set ships beginning December 7.)
Buy it: Amazon
8. Cobra Kai LaRusso Auto Group T-Shirt; $45 to $50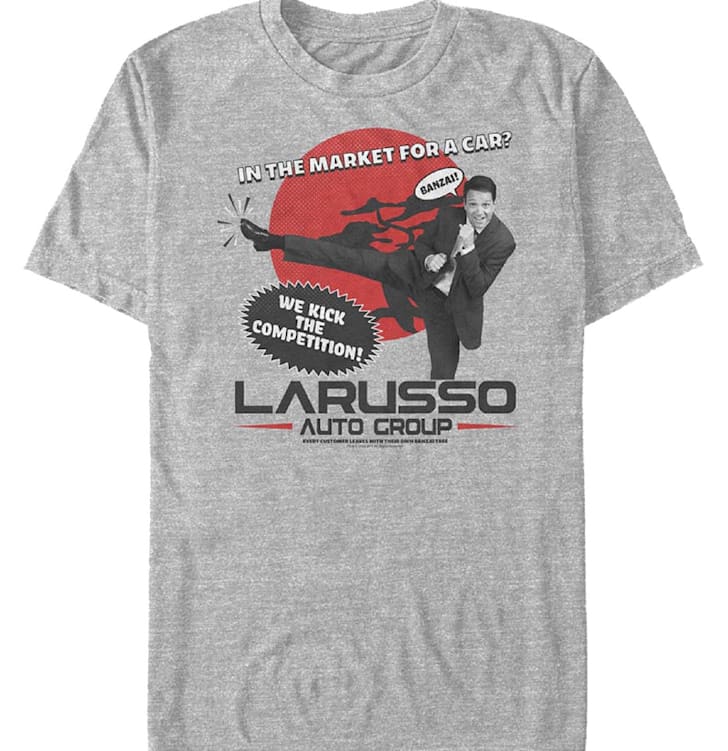 Leave it to Daniel-son to become a car salesman in middle age. Sport your love of LaRusso's dealership with this tee that promises to kick the competition.
Buy it: 80sTees.com
9. The Karate Kid Headband; $13

One of the most iconic accessories in film is the headband gifted by Mr. Miyagi to Daniel LaRusso. Now you, too, can radiate wisdom and '80s teen style with this headband from Ripple Junction.
Buy it: Amazon
10. The Karate Kid All Valley Tournament Poster; $18
Motivate yourself to train harder with this replica poster advertising the All Valley karate tournament, featuring the familiar fist logo.
Buy it: Amazon
11. Cobra Kai Fist 1984 T-Shirt; $40 to $42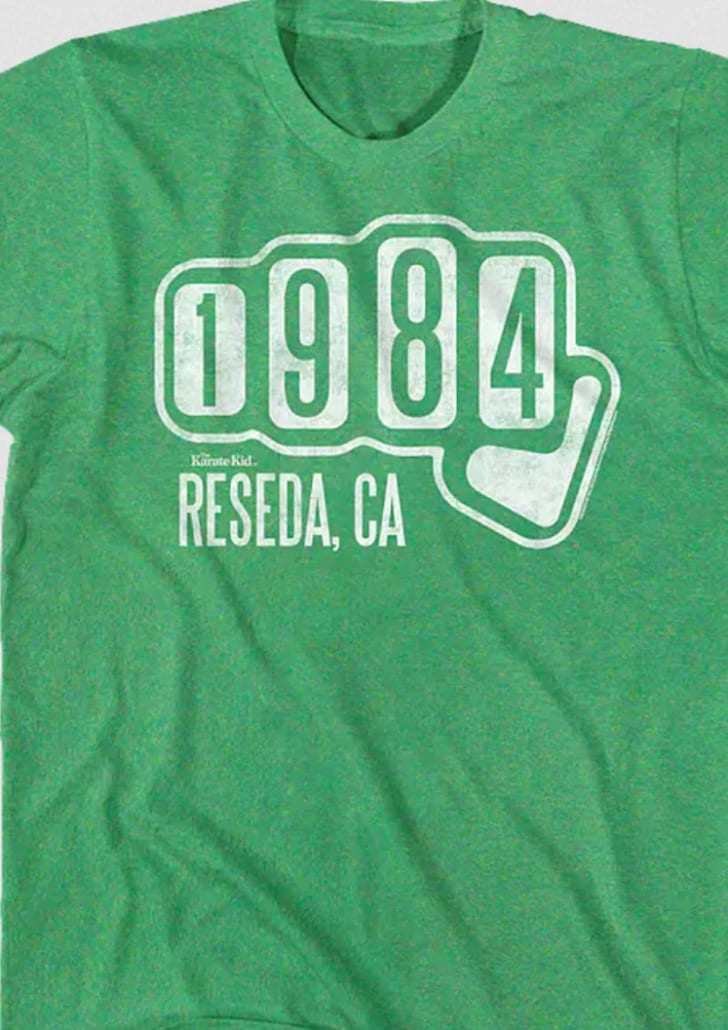 Love Cobra Kai but don't want to feel like a walking billboard for the show? Want to be more subversive about your fandom? Then rock this shirt that gives the year and location of the legendary All Valley tournament showdown that started it all and watch the knowing nods from strangers come your way.
Buy it: 80sTees.com
12. The Karate Kid Sumi Ink Crane Kick T-Shirt; $22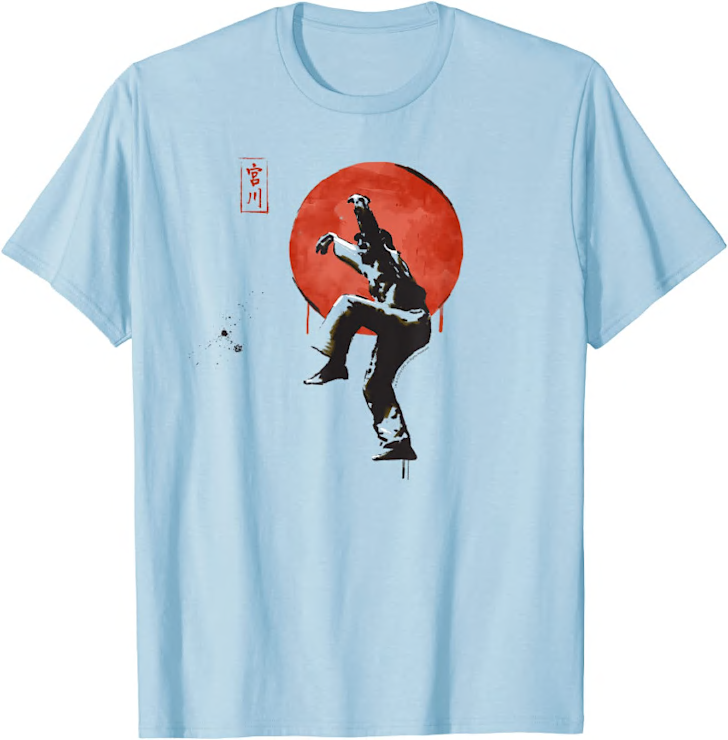 Rock Daniel's classic crane kick pose with this T-shirt from Ripple Junction, available in men's, women's, and youth sizes and a variety of colors. Was the kick legal or illegal in the tournament? Who cares? It was awesome.
Buy it: Amazon
13. Cobra Kai Jigsaw Puzzle; $20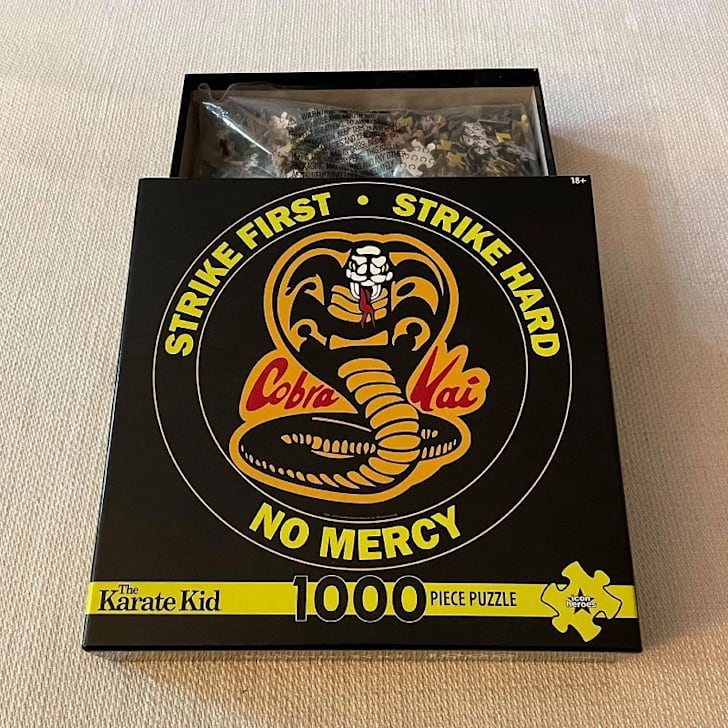 Just as Johnny Lawrence had to pick up the pieces of his life, so you must rearrange this puzzle from Icon Heroes to depict the classic Cobra Kai logo.
Buy it: Amazon
14. Cobra Kai Eagle Fang Karate T-Shirt; $16 to $27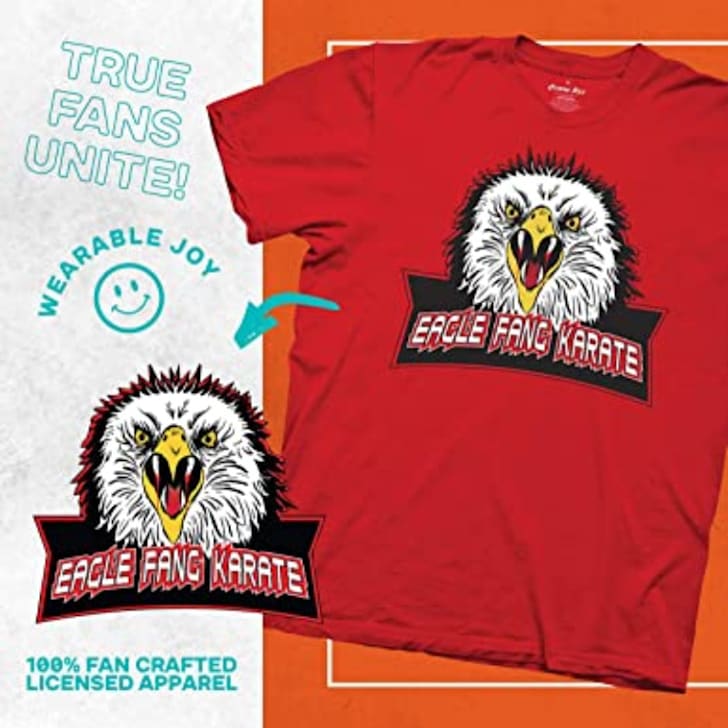 After turning his back on Cobra Kai, Johnny had to reinvent himself once more and had the idea for a gnarly new logo—Eagle Fang Karate.
Buy it: Amazon
15. Bonsai Starter Kit; $20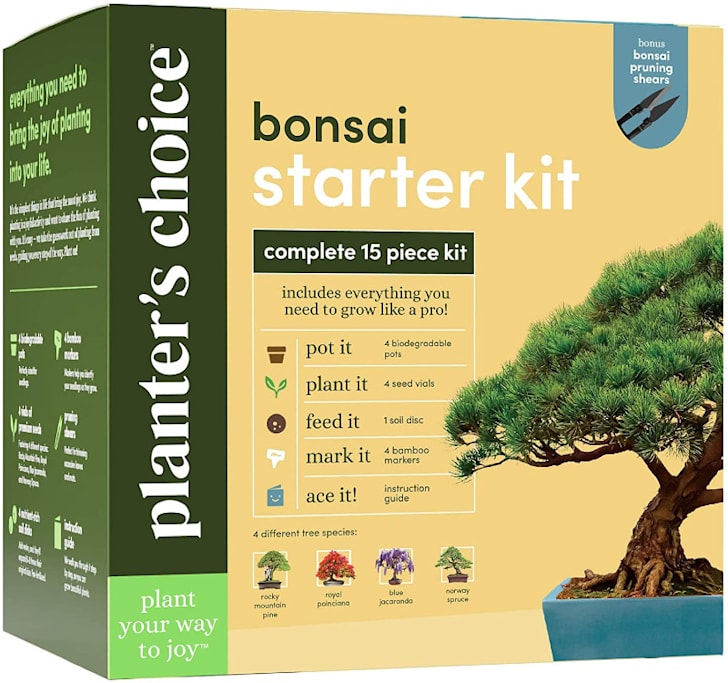 Learn the Miyagi philosophy just as Daniel LaRusso did—by caring for a small bonsai tree. This kit from Planter's Choice comes with everything you need to sprout a tree and have it branch out before the fifth season of Cobra Kai hits in 2022.
Buy it: Amazon
Sign Up Today: Get exclusive deals, product news, reviews, and more with the Mental Floss Smart Shopping newsletter!