George R.R. Martin Is in Regular Contact With House of the Dragon Boss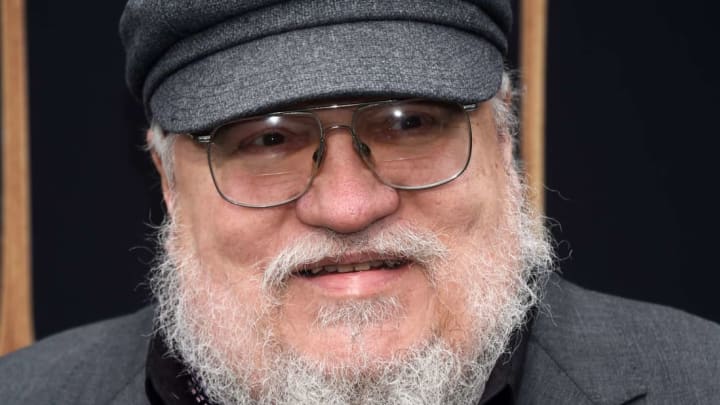 Game of Thrones creator George R. R. Martin. / Amanda Edwards/Getty Images
HBO is hard at work on House of the Dragon, its follow-up to Game of Thrones. The new show is set 200 years before the story we know, and will detail a brutal civil war known as the Dance of the Dragons, where different factions of the Targaryen family fought each other at the height of their power.
The series is based on George R.R. Martin's book Fire & Blood, and it sounds like HBO has picked the right showrunner in Ryan Condal. While appearing on an episode of Dune Pod, Condal detailed how far along production is on the first season, what he and Martin talk about, and where his show fits into the larger Game of Thrones universe.
House of the Dragon Filming Is in "the Home-ish Stretch"
Condal revealed that he and his team are entering the final stages of filming. "We're in the home-ish stretch for production on House of the Dragon … which is very exciting because it's been a very long production," he said. "We started in the middle of April, so it's been a very long, very complicated production with multiple units … We have two full units shooting basically every day now … There's so much crew on this show I don't know how anything else is produced in London."
And what are the names of the two units? "Fire" and "Blood," obviously.
As the trailer for House of the Dragon shows, the series is going to look opulent right out of the gate—and that's before the actual dragons are added in. There will likely be a long post-production period, but as Condal revealed, he and his team also got extra time to write the scripts:
We had an extended pre-production during COVID. COVID happened during the writing period, which was actually kind of the best time for it to happen, cause it just meant we had that many more months to get the scripts right…So we got extra time with the scripts, which I think was really helpful. We got through that third and fourth iteration of the scripts…We got a lot of design time, and all the conceptual stuff we got [more time] with.
George R.R. Martin and Ryan Condal Keep in Close Contact
Condal also has a secret weapon on his side: access to A Song of Ice and Fire author George R.R. Martin. Condal and Martin are old friends—that's part of why Condal got the job—and Condal knows Martin's work inside and out.
But it still doesn't hurt to check on things with the man who originated this world. "George has been really involved and also very generous with his time," Condal said. "It's basically like if you were making The Lord of the Rings but Tolkien was around … When you make a choice, you're like, 'Well, I told George and he said that was cool, so come at me, Reddit.'"
A lot of their communication is through text or, more rarely, phone calls, so it's not like Martin is actually flying out to set and supervising things. He's at home, presumably working on The Winds of Winter. Or at least that's what fans are hoping.
There Are "Plans" for a Game of Thrones Cinematic Universe
House of the Dragon is the first Game of Thrones prequel HBO is making, but it isn't necessarily the last. There's been talk about a whole host of spinoff shows in various stages of development, but there's no guarantee that any will actually make it to the air.
Still, you have to wonder if this is HBO's way of aping Marvel and making its own Game of Thrones cinematic universe. Condal says talk that like is mostly above his pay grade:
"Figuring out what the future of the giant Thrones universe still kind of remains to be seen. Certainly there are plans…I'm sure all that stuff is going on…Our show is really in a way the early Iron Man movie or the early Thor movie, where they're still figuring out what this thing is going to look like…Remember that this is really, really, really early on. But it's in fantastic hands."
In the meantime, fans will have to wait for House of the Dragons to drop. It's due out sometime in 2022.
Do you love television? Do you spend most weekends lounging on the couch binge-watching your favorite TV shows? Would you like to learn some incredibly fascinating facts about the best series of the past 20 years and the people who made them? Then pick up our new book, The Curious Viewer: A Miscellany of Streaming Bingeable Shows from the Last 20 Years, available now