21 Star Wars Books and Comics Coming in December 2021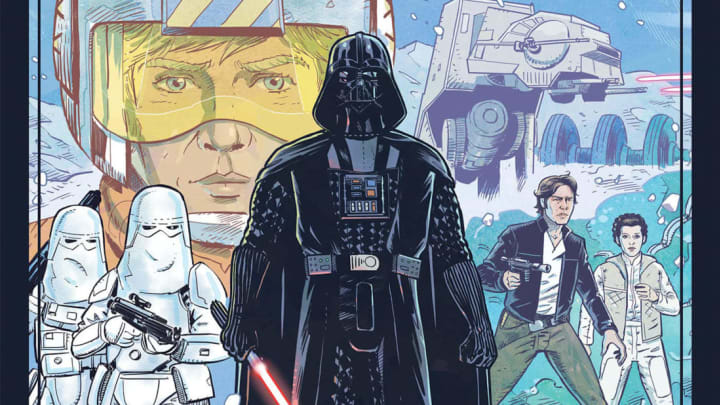 IDW/Amazon / IDW/Amazon
This article contains affiliate links to products selected by our editors. Mental Floss may receive a commission for purchases made through these links.
With the Christmas and winter holiday season upon us, every Star Wars fan is writing their list and checking it twice. And that's especially true if you're in the market for a book or comic set in the Star Wars universe.
This December, Marvel Comics's highly anticipated Crimson Reign miniseries debuts in the second week of the month, bringing readers along on an adventure with Qi'ra, the crime boss fans were introduced to in Solo: A Star Wars Story.
The Book of Boba Fett, premieres on December 29 on Disney+, and if you've ever wondered how you can be more like the famed bounty hunter, you'll want to pick up the self-help book Be More Boba Fett: Always Get the Job Done.
That's only a taste of what's releasing. Check out the list below for the 21 Star Wars books and comics coming in December.
Wednesday, December 1
Bounty Hunters #18 by Ethan Sacks (writer) and Ramon Bachs (artist) 
The High Republic Adventures #11 by Daniel José Older (writer) and Harvey Tolibao (artist)
Darth Vader (2020) #18 by Greg Pak (writer) and Raffaele Ienco (artist) 
Wednesday, December 8
Crimson Reign #1 by Charles Soule (writer) and Steven Cummings (artist)
Star Wars (2020) #19 by Charles Soule (writer) and Marco Castiello (artist) 
The High Republic #12 by Cavan Scott (writer) and Georges Jeanty (artist) 
Darth Vader (2020) #19 by Greg Pak (writer) and Guiu Vilanova (artist)
Wednesday, December 15
The High Republic Adventures Annual 2021 Claudia Gray, Justina Ireland, Daniel José Older, Cavan Scott, and Charles Soule (writers) and Sam Beck, Jesse Lonegran, Jason Loo, Yael Nathan, and Stefano Simeone (artists)
The High Republic: Trail of Shadows #3 by Daniel José Older (writer) and David Wachter (artist)
Bounty Hunters #19 by Ethan Sacks (writer) and Ramon Bachs (artist)
Wednesday, December 22
Doctor Aphra (2020) #17 by Alyssa Wong (writer) and Minkyu Jung (artist)
Wednesday, December 29
Star Wars (2020) #20 by Charles Soule (writer) and Marco Castiello (artist) 
Graphic Novels
Tuesday, December 7
The High Republic Vol 2: The Heart of the Drengir by Cavan Scott (writer) and Georges Jeanty & Ario Anindito (artists)
Tuesday, December 14
Attack of the Clones Graphic Novel Adaptation by Alessandro Ferrari
Doctor Aphra (2020) Vol. 3: War of the Bounty Hunters by Alyssa Wong (writer) and Minkyu Jung (artist)
Tuesday, December 21
Star Wars Adventures (2020) Vol. 01: The Light and the Dark by Michael Moreci and Katie Cook (writers)
Star Wars Adventures: The Weapon of a Jedi by Alec Worley and Jason Fry (writers) and Ruairí Coleman (art)
Darth Vader (2020) Vol. 3: War of the Bounty Hunters by Greg Pak (writer) and Guiu Vilanova and Raffaele Ienco (artists)
Tuesday, December 28
Star Wars (2020) Vol. 03: War of the Bounty Hunters by Charles Soule (writer) and Ramon Rosanas (artist) 
Reference Books
Tuesday, December 21
Be More Boba Fett: Always Get the Job Done by Christian Blauvelt
Jedi Artifacts by Insight Editions