15 Galentine's Day Gifts To Give Your Best Friend To Show How Much You Care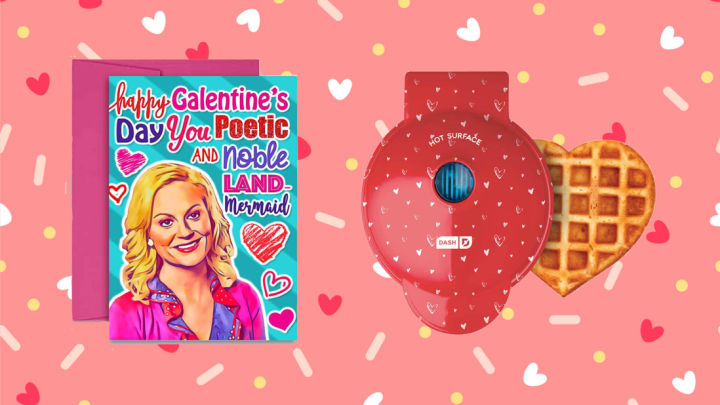 Amazon/Elysart/iStock/Getty Images / Amazon/Elysart/iStock/Getty Images
This article contains affiliate links to products selected by our editors. Mental Floss may receive a commission for purchases made through these links.
Romantic partners often exchange chocolates, bouquets, and heartfelt cards for Valentine's Day, which happens on February 14. However, there wasn't a special day for those who want to celebrate their platonic love for their friends until the second season of Parks and Recreation, when the main character, Leslie Knope (played by the hilarious Amy Poehler), invented Galentine's Day for "ladies celebrating ladies." Many fans and friends now celebrate it on February 13, so in honor of this unofficial holiday, we've collected 15 different gifts for you to give your best friend this year to show how much you genuinely love them.
1. Long-Distance Friendship Lamp; From $125
John Harrison and Vanessa Whalen/Uncommon Goods
Though many of us have friends that live in different cities, states, or countries, it can be hard to feel as connected to them as you were when you lived near each other. These long-distance friendship lamps can help let your friend know you're thinking of them. When you touch yours, theirs will light up. If you're part of a friend group that's spread out, you can connect multiple lamps and assign colors to each person.
Buy it: Uncommon Goods
2. Leslie Knope-Inspired Galentine's Day Card; $7
ChronicallyFunny/Amazon
We couldn't have a list about Galentine's Day without paying homage to the creator herself. Even if your friend isn't a fan of Parks and Recreation, they can still enjoy the card's vibrant colors and unique design. The inside is blank, so you can tell your friend how much they mean to you, like how Leslie loves overly complimenting her best friend, Ann Perkins (played by Rashida Jones).
Buy it: Amazon
3. Cloth & Paper Penspiration and Planning + Stationery Box; From $50 Per Month
Cloth & Paper/Cratejoy
Whether your friend is a stationery nut or you want to encourage them to write more snail mail to you, Cloth & Paper's Penspiration and Planning + Stationery Box is a great subscription box to consider gifting. Each month, your friend will receive pens, pencils, and other useful office supplies like sticky notes, inserts, and more to create the ultimate writing toolkit.
Buy it: Cratejoy
4. Nevertheless, She Persisted Puzzle; $18
Uncommon Goods
Treat your gal pal to this puzzle, honoring fearless women just like yourselves. This 1000-piece puzzle features 24 trail-blazing women, including Marie Curie and Malala Yousafzai, along some of their most impactful quotes like, "The truth will set you free, but first it will piss you off," attributed to political activist Gloria Steinem.
Buy it: Uncommon Goods
5. Why You're My Bestie Fill in the Love Book; $10
Knock Knock/Amazon
There are many ways to say, "I love you," but what about customizing the experience with a memory book just for best friends? The Why You're My Bestie fill-in-the-blank book has 112 pages of prompts like, "When we're old, let's ___," all ready for you to complete in honor of your friend.
Buy it: Amazon
6. Chocolate Heart Pizza & Mallet; $40
Neil Edley/Uncommon Goods
Whether your bestie is going through a breakup, needs to smash something, or just loves chocolate with a side of fun, this edible heart with a mallet is sure to make them smile. Culinary creative Neil Edley designed this 12-ounce heart "pizza" as a fun alternative to the regular box of chocolates, and we'd say he delivered.
Buy it: Uncommon Goods
7. Birthdate Co. Candle; $38
Birthdate Co.
Commemorate the day your best friend was born with a Birthdate Co. candle. On the website, you can choose between a candle with their astrological sign or their date of birth. Both candles feature tarot, astrological, and numerological information, in addition to scent notes designed to complement the personality.
Buy it: Birthdate Co.
8. Dash Mini Heart-Shaped Waffle Maker; $17
Dash/Amazon
Foodies who want to have a new way of enjoying breakfast will find celebrating Galentine's Day this year a bit more fun with a mini heart-shaped waffle maker. The 4-inch waffle maker can cook individual-sized waffles that are perfect for brunch at home with friends. Your friend can even make hash browns, cookies, and more with this adorable gadget.
Buy it: Amazon
9. The Nature Walk Bouquet Kit; $90
Poppy Flowers/The Sill
When it comes to Valentine's Day, giving flowers is a time-honored tradition, but for Galentine's Day, take that idea and turn it into a DIY project for your friend. This Nature Walk Bouquet Kit was made in collaboration with Poppy Flowers and includes fresh-cut stems, plant food, and a glass vase for your friend to display their creation.
Buy it: The Sill
10. Amazon Explore Costa Rican Toucan Rescue Ranch Virtual Visit; $8 for a group Session
Central American Tours/Amazon
Travel to Costa Rica with your friend without buying a plane ticket. Enjoy a virtual afternoon visit to the Toucan Rescue Ranch through Amazon Explore, where you'll interact with animals like macaws, spider monkeys, sloths, and, of course, toucans. Together, you and your friend can learn about the ranch's history and rehabilitation efforts even if you live in opposite parts of the world.
Buy it: Amazon
11. Tiled Margot Monogram Mug; $14
Anthropologie
Mugs are great gifts, especially for coffee and tea lovers. If you're thinking about giving one to your friend for Galentine's Day, make it more special by choosing a monogrammed option that displays their first initial on the front. This monogrammed mug is inspired by French bistro tiles and features gilded embellishments that'll make it truly stand out as a one-of-a-kind gift.
Buy it: Anthropologie
12. TheraBox; From $31 Per month
Therabox/Cratejoy
Show your best friend that you care for their well-being with a subscription box that's all about self-care. TheraBox was designed in partnership with therapists to help promote happiness and reduce stress. Each box comes with a happiness activity and six to eight wellness items, including skincare products, aromatherapy items, and more.
Buy it: Cratejoy
13. The Comfy Original; $45
The Comfy/Amazon
Even though it's February, there are still a few more weeks of winter, and The Comfy Original is a great way to keep your friend warm and comfortable through this time. This Shark Tank product is made with a fluffy Sherpa lining that'll keep your friend feeling cozy until the first flowers of spring start to bloom.
Buy it: Amazon
14. Finders Seekers; From $25 Per month
Finders Seekers Mysteries/Cratejoy
Everyone loves a good mystery, and with the Finders Seekers subscription box, your friend can solve a new puzzle each month. Through the box, your friend can discover a new city by finding clues and unraveling the mystery that lies within.
Buy it: Cratejoy
15. Santune Embroidery Starter Kit, Set of 3; $18
Santune/Amazon
This embroidery starter kit is the perfect gift for those who love to take on DIY crafting projects or just relish learning a new skill. The kit includes an embroidery hoop, six needles, three thread packs, three patterns, and two instruction manuals. You can even turn this into an activity to do together by getting yourself a kit while you're at it.
Buy it: Amazon
Sign Up Today: Get exclusive deals, product news, reviews, and more with the Mental Floss Smart Shopping newsletter!