A Godzilla Monsterverse TV Show Is Coming to Apple TV+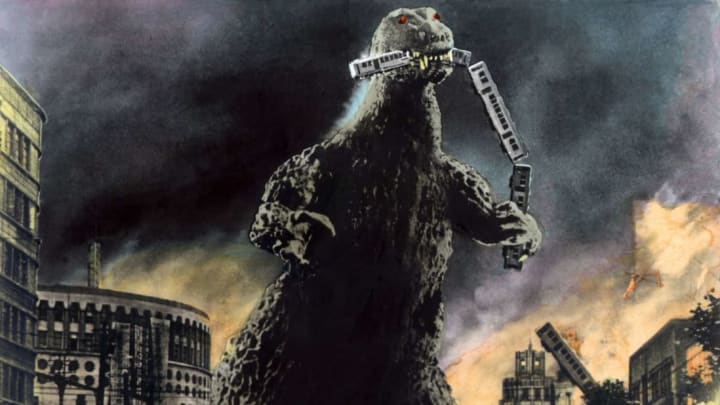 FilmPublicityArchive/United Archives via Getty Images / FilmPublicityArchive/United Archives via Getty Images
The MCU is definitely king when it comes to cinematic universes, but Legendary's Monsterverse isn't doing too shabby. Between 2014's Godzilla, 2017's Kong: Skull Island, 2019's Godzilla: King of the Monsters, and 2021's Godzilla vs. Kong, the franchise has raked in almost $2 billion globally. And now it's expanding with a streaming series on Apple TV+.
There's no title yet, but according to The Hollywood Reporter, it's set after "the thunderous battle between Godzilla and the Titans that leveled San Francisco," and explores how the world reacts after "the shocking new reality that monsters are real." The series will follow "one family's journey to uncover its buried secrets and a legacy linking them to the secret organization known as Monarch."
Monarch, introduced in the 2014 Godzilla movie, is an organization dedicated to studying Godzilla-like creatures, known as Massive Unidentified Terrestrial Organisms (MUTOs) or Titans in the jargon of this particular cinematic universe, or "Monsterverse." 
Godzilla and the other kaiju in the Monsterverse get their own show
The new show is created by Chris Black, who worked on shows like Star Trek Enterprise and Outcast, and Matt Fraction, best known for writing a lot of Hawkeye comics. Fraction's work was so influential on the recent Disney+ show that he got a consulting producer credit.
Although Legendary manages the Monsterverse, Godzilla (and a lot of his kaiju friends) was originally created by Toho. Hiro Matsuoka and Takemasa Arita of Toho Co. Ltd. are on board as executive producers.
The Godzilla show joins Foundation, See, and Invasion on Apple TV+'s growing list of fantasy and sci-fi shows. We don't know when it might premiere yet.