Maps from the Game of Thrones Books and Other Fantasy Works Are on Display in a Museum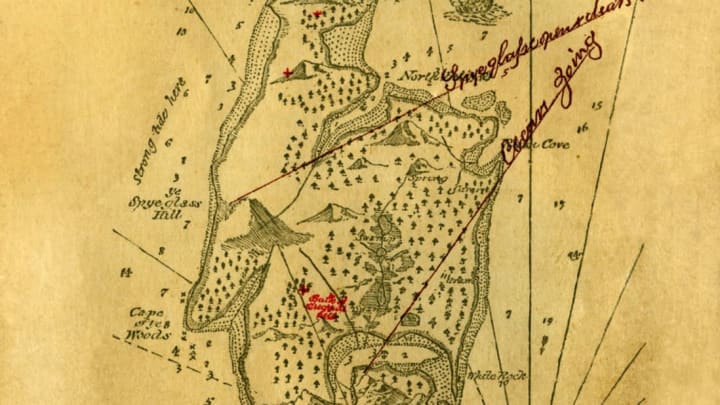 A map from the book Treasure Island by Robert Louis Stevenson. / Culture Club/Getty Images
Every fantasy fan knows the pleasure of cracking open a new book and looking at the world map. They're a beloved part of J.R.R. Tolkien's The Lord of the Rings series, and the map enthusiasm hasn't died down since. Maps of Middle-earth, Westeros, and other imagined lands can be as engrossing as the stories themselves.
Literary map enthusiasts don't have to track down various fantasy tomes to view these incredible illustrations. The Huntington Library, Art Museum, and Botanical Gardens in San Marino, California, has opened a new exhibit called "Mapping Fiction." On display are some 70 items from the museum's collection, including elaborate maps that accompanied early editions of The Lord of the Rings trilogy, George R.R. Martin's A Game of Thrones, Robert Louis Stevenson's Treasure Island, and more. The exhibit also includes hand-drawn (and unpublished) diagrams Octavia E. Butler drew for her Parable series.
James Joyce's Ulysses Inspires Exhibition of Literary Maps
That said, the inspiration behind the exhibit doesn't have anything to do with Tolkien or Martin; it's all about Ulysses, James Joyce's landmark 1920 novel about a man's journey through the city of Dublin over the course of a day. Joyce didn't want his book published with any maps of Dublin, but the exhibit will have several inspired by the book; visitors will see Dublin not as it is, but how it "uniquely exists in Joyce's novel," according to the museum.
"Joyce adamantly did not want Ulysses published with a schema, a map of Dublin, any type of explanation really," curator of literary collections Karla Nielsen said in a statement. "His resistance provoked me to think about how maps function when inset into a print novel. How do they influence how readers imagine the narrative?"
And the hits just keep on coming. According to Artnet, the exhibit also has early editions of Miguel de Cervantes's El Ingenioso Hidalgo Don Quixote de la Mancha, Jonathan Swift's Gulliver's Travels, and Jules Verne's Around the World in 80 Days. You can see some pictures on the museum's website.
"Mapping Fiction" will be on display through May 22.