Recreate The Book of Boba Fett With LEGO's New Mandalorian Starfighter Set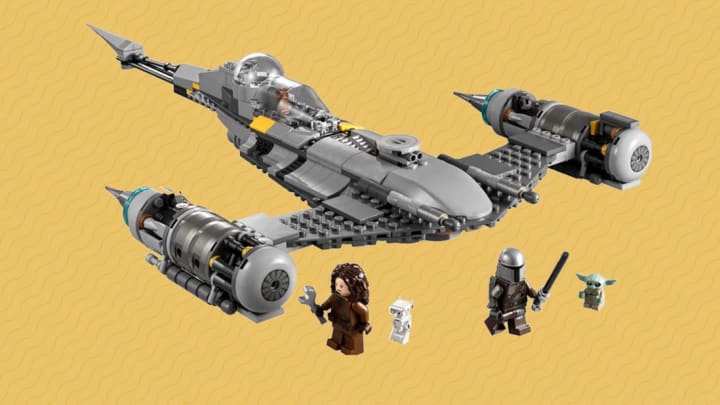 LEGO/Amazon / LEGO/Amazon
This article contains affiliate links to products selected by our editors. Mental Floss may receive a commission for purchases made through these links.
Many Star Wars fans will be familiar with the Disney+ show The Mandalorian. More recently, the franchise has expanded to add a new spin-off about another famous bounty hunter: Boba Fett. The show The Book of Boba Fett premiered on the streaming platform just before the end of 2021.
Though The Book of Boba Fett is obviously about Boba Fett and his origin story as he tries to establish himself in the greater galaxy, other people from the Star Wars universe turn up in many episodes. Now, LEGO is letting you recreate scenes from the show. Its new set—now available for pre-order on Amazon for $60—features some very familiar characters.
LEGO/Amazon
The Mandalorian's N-1 Starfighter set features 412-pieces and comes with minifigures of beloved characters, including the Mandalorian himself, who has a darksaber and a jetpack. There's also the skilled engineer and manager of Tatooine's Hangar 3-5 in the Mos Eisley Spaceport, Peli Motto, with a wrench. In addition, there are tiny versions of Grogu, also known as Baby Yoda, and a BD Droid. The N-1 Starfighter is equipped with a cockpit for one of the minifigures, a passenger seat for Grogu, a cargo area, a shooter, and plenty of details to feel like the ship came from the famous desert planet. It also comes with an instruction manual so you can avoid getting lost in the brick-building process.
Head over to Amazon to pre-order your The Book of Boba Fett Mandalorian Starfighter set so it can arrive on time on June 1.
Sign Up Today: Get exclusive deals, product news, reviews, and more with the Mental Floss Smart Shopping newsletter!