The Most Interesting Comics of the Week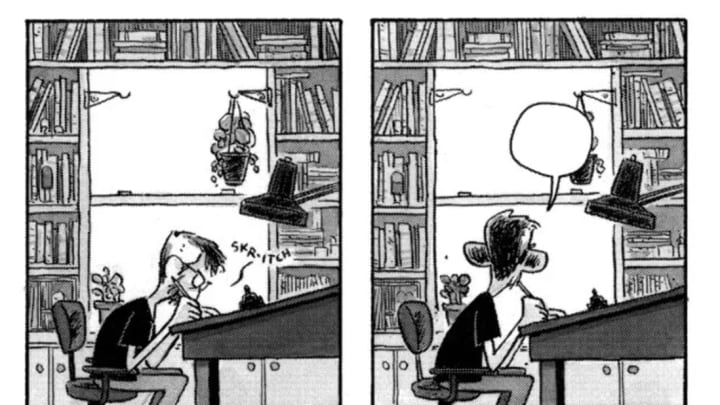 Dustin Harbin/Koyama Press / Dustin Harbin/Koyama Press
Every week I write about the most interesting new comics hitting comic shops, bookstores, digital, and the web. Feel free to comment below if there's a comic you've read recently that you want to talk about or an upcoming comic that you'd like me to consider highlighting.
Diary Comics
By Dustin Harbin
Koyama Press
Daily autobiographical comics are a popular exercise for cartoonists looking to hone their drawing and storytelling skills through good ol' practice. The problem often is that, with the time it takes sitting at the drafting table making comics, most cartoonists are not exactly getting outside and living thrilling, eventful lives. The ones that are most successful at this genre, people like Kate Beaton (Hark! A Vagrant) or James Kolchaka (American Elf) find insightful or unique ways to depict the small moments to which we can all relate.
Dustin Harbin was inspired by Beaton's own diary comics when he started posting daily strips on his website in 2010. Like Beaton and Kolchaka, Harbin's interesting and insightful perspective on life is what makes these strips so enjoyable—his sharp, self-deprecating sense of humor also helps. (Full disclosure: I'm a friend of Harbin's and live in the same city, so some of my enjoyment of these comics may derive from my familiarity with the people and places he often references.)
Collected in one volume for the first time by artsy boutique publisher Koyama Press, Diary Comics shows how Harbin initially uses this format as a practice tool but eventually decides to think bigger. The early daily strips are rough and don't really convey Harbin's drawing and inking skills, but soon you see him slow down the frequency, allowing him to produce cartoons that look richer and go beyond just funny observations. This is most evident in the opening and closing sequences which are not only gorgeously drawn but which step back to offer some profound thoughts on what it means to observe and record one's own life while simultaneously trying to live it.
Diary Comics is available at many comic book shops this week. Here's more information from the publisher.
Don't Get Eaten By Anything
Dakota McFadzean
Conundrum Press
Dakota McFadzean has also been producing daily comics for a similar period of time as Dustin Harbin, starting back in 2009. He began creating daily diary comics and posting them online, but soon realized that autobio comics were not his thing and began producing daily newspaper-style gag strips. He decides to not even include those early diary strips in Don't Get Eaten By Anything, a large, hardcover collection of his strips from 2011-2013. Instead, you get a peek into the cartoonist's warped and sometimes nihilistic view of the world via some often darkly hilarious comics.  
The strips collected here veer from brilliant to head-scratchingly odd. You can see McFadzean revisit a lot of themes that interest him, like man's place in the universe, our connection to animals, and the history and mechanics of cartooning itself. He also has a number of go-to characters and "skits" that he keeps returning to, like God trying to navigate man's world (trying to close an annoying online pop-up ad or trying in vain to open a bag of potato chips); a high-strung man who asks advice of his low-key elephant friend; and a zoomed-back view of the earth with word balloons displaying dialogue (like from a driver irate over a red light) that accentuates our fleeting presence in this universe. These strips have earned McFadzean a Slate Cartoonist prize nomination and a Shuster Award.
Don't Get Eaten By Anything is being released by Conundrum Press and can be ordered at your local comic book shop or through the publisher's website.
The Princess and the Pony
By Kate Beaton
Arthur A. Levine Books 
The Princess and the Pony is actually a children's picture book rather than a comic book, but it is from Kate Beaton and is one of two major book releases from the webcomics superstar this year. Beaton first came to prominence for her hilariously cheeky comics about historical and literary figures, but since then she has shown she can do almost anything. Now she is dipping her toes into children's books.
Fans of her webcomic Hark! A Vagrant will recognize the fat, short-legged, wide-eyed pony as a much-loved and reoccurring drawing that has appeared in some of her earlier work. Here the pony is given to a young princess as a birthday gift from her parents even though she was hoping for a horse fit for a warrior. Parents just don't understand.
Here is a preview of the book on the Scholastic website.
Arclight #1
By Brandon Graham and Marian Churchland
Image Comics 
Still early in his career, Brandon Graham is well on his way to becoming one of the best world-building science fiction comic writers out there. Between his early work like King City and Multiple Warheads, which he drew himself, or his more recent re-imagining of Rob Liefeld's Prophet, in which he worked with a team of different artists, he has developed a definitive style that shows through no matter who is drawing his books. His Euro-manga visual influence, expansive landscapes, and sensual yet alien imagery, as well as his progressive social views on gender and sexuality, have made him a distinct voice in comics.
Now, Graham will expand his influence even further with an ambitious project called 8House, in which he builds his own universe of interconnected books set in a fantasy realm ruled by eight disparate ruling houses. Each book, published as a mini-series, will see Graham either working with another artist or handing both writing and art duties to another team who will execute on his vision. In the first 8House book hitting comic shops this week, Arclight, Graham is writing for his wife, up-and-coming artist Marian Churchland. Together they tell an understated, ethereal story of Sir Arclight and her lady (the ruling class in this world are all women) whose mind has been trapped in an alien body.