15 Books Incoming College Freshmen Had to Read This Summer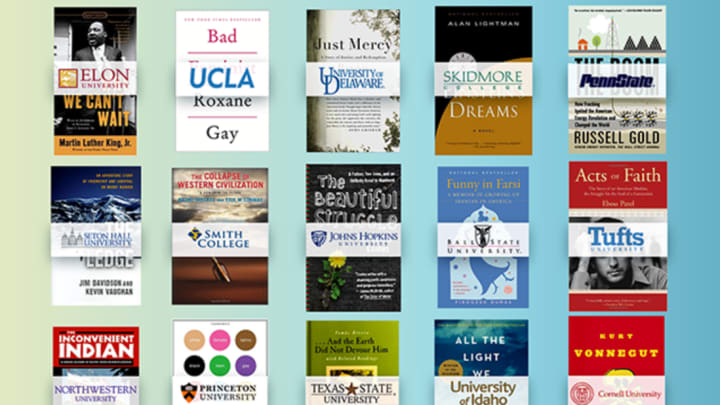 chloe effron / chloe effron
Duke University recently made headlines after some of its incoming freshmen refused to read the college's required common reading assignment. The book in question was Fun Home: a graphic (and, well, occasionally graphic) novel by Alison Bechdel that explores themes of sexuality, mental health, and family relationships.
"The book is a quick read but not an easy one; it made me uncomfortable at times, which I think is one of the most telling reasons why it's so important for students to read," Ibaca Anand, a student who helped university administrators select Fun Home, told Duke Today.
So far, no students from other schools have publicly come forward with similar protests. However, the entire debate raises the question: What other books are the rest of the country's incoming freshmen reading, and why were they chosen? Just in time for back-to-school season, here's a sampling of summer reading assignments from colleges across the country.
1. Elon University //
by Martin Luther King, Jr.
King writes about the non-violent movement against racial segregation in this seminal 1963 work. "The book is a timeless classic, the sort of work that everyone should read at least once," Elon University's website states. "The book's messages resonate strongly with modern events/conditions happening all around us, both in our local community and around the world."
2. University of California-Los Angeles //
by Roxane Gay
Gay is as well known for her prolific social media presence as she is for her second book, Bad Feminist—a buzzy collection of essays that explore the challenges of being a feminist in today's contradictory, pop culture-saturated world. According to university chancellor Gene D. Block, the book will "provide the university community with a platform for engaging in critical dialogue and discussion around a variety of topics including politics, American culture, race, gender, sexual orientation, perceptions of feminism, etc."  
3. University of Delaware // Just Mercy  by Bryan Stevenson
Bryan Stevenson, an attorney who hails from Milton, Delaware, founded the Equal Justice Initiative—a nonprofit that provides legal services to impoverished, wrongly convicted, and marginalized clients. Just Mercy details the case of Walter McMillian, a young Southern man who was exonerated from Death Row after Stevenson helped prove his innocence. Stevenson's book "challenges us to consider what justice truly is," says the University of Delaware's website. 
4. Skidmore College //
by Alan Lightman
Alan Lightman, who teaches physics and writing at M.I.T., fuses together science and the humanities in his collection of stories depicting a young Albert Einstein fine-tuning his theory of relativity. "Together these essays provide a sense of the breadth and depth of thinking made possible by an education in the liberal arts," says Janet Casey, a professor of English at Skidmore College. 
5. Penn State //
by Russell Gold
Written by Wall Street Journal investigative reporter Russell Gold, The Boom chronicles the rise of hydraulic fracturing, or "fracking," in America. "Fracking is an issue very relevant to Pennsylvania communities, and we thought it would be good to engage students, faculty and staff about something that's going on right within our home state," says Barry Bram, special assistant to Damon Sims, the university's vice president of student affairs. 
6. Seton Hall University //
by Jim Davidson and Kevin Vaughan
The Ledge—a harrowing true story of one mountain climber's near-death experience—is all about survival. "College students need both grit (the ability to tough it out) and resiliency (the ability to bounce back from adversity) if they expect to persist and graduate," states a prompt for the university's summer reading essay contest, which instructs students to describe a personal situation that required profound inner strength. 
7. Smith College //
by Naomi Oreskes and Erik Conway
Imagine this: The year is 2393, and the world has been ravaged by climate change. In The Collapse of Western Civilization, Oreskes and Conway paint a picture of how this hypothetical situation could occur. They also urge contemporary readers to take action and prevent it. This book is "a timely and thought-provoking novel about the effects of climate change, a topic of pressing importance for us all," Smith College's website writes.
8. Johns Hopkins University //
by Ta-Nehisi Coates
Last spring, Coates served as the inaugural speaker for JHU's brand-new "Forum on Race in America"—the very same week riots tore across Baltimore following Freddie Gray's death.
However, Hopkins didn't choose the thought leader's latest memoir based on timeliness alone. He's also a local boy. "Ta-Nehisi Coates grew up in Baltimore and his book is an account of his experiences as a boy growing up in our city," says Johns Hopkins University. 
9. Ball State University // Funny in Farsi by Firoozeh Dumas
Dumas immigrated to California from her native Iran when she was only 7 years old. Ball State freshmen are provided with discussion questions that instruct them to draw parallels between Dumas's story of assimilation and their own lives. They're also asked to research various facets of Iranian culture, including traditional gender roles, the nation's political history, and the religion of Islam. 
10. Tufts University //
by Eboo Patel
Patel founded the Interfaith Youth Core, a Chicago-based nonprofit that promotes interfaith dialogue and understanding through community service projects. Equal parts memoir and call-to-action, Patel's "personal story explores important questions of community, compassion, and commitment and resonates strongly with our core values of active citizenship and global engagement," writes Tufts University president Anthony P. Monaco.
This unvarnished look at the tumultuous history of Native people in North America "will help diminish the ignorance many of us have and focus on some important issues that don't normally come to the fore in media," says Professor Loren Ghiglione, the faculty chair of the 2015-16 One Book One Northwestern program. 
12. Princeton University // Whistling Vivaldi by Claude Steele
Stereotypes aren't truth—but they can shape our identities. In Whistling Vivaldi, renowned social psychologist Claude Steele takes a hard look at how judgments like "Women aren't good at math" or "African-American men are violent" harm us on both an individual and societal level. "Professor Steele describes a series of inventive experiments—including some involving Princeton students—that enabled him to develop and test his hypothesis about how negative stereotypes affect us in times of stress," says Christopher L. Eisgruber, Princeton University's president. "All of us, no matter what our backgrounds may be, will recognize ourselves in some of Professor Steele's examples."
13. Texas State University //
by Tomás Rivera
Rivera's memoir details the abuses, triumphs, and sorrows he experienced as a child of migrant farm workers in south Texas. The book helps kick off a year-long Texas State University initiative, "Bridged Through Stories," which encourages students to learn more about the shared heritage of the United States and Mexico. 
14. University of Idaho //
by Anthony Doerr
Doerr's dual narrative tells the tale of a blind French girl, Marie-Laure, and a German orphan named Werner who meet in Nazi-occupied France during World War II. The university doesn't specify why, exactly, it chose this book as its 2015 Common Read. It can't hurt, though, that Doerr was Idaho's writer-in-residence from 2007-2010. Another plus: The book won the 2015 Pulitzer Prize for Fiction.
15. Cornell University //
by Kurt Vonnegut
Kurt Vonnegut was a Cornell student before he dropped out of college in 1943 to enlist in the Army. While fighting in World War II, he was captured by German soldiers. The bombing of Dresden inspired his most famous work, Slaughterhouse-Five—the same book that Cornell's incoming freshmen read this past summer.
"Vonnegut's eminence, his reflections on the ideals and challenges of a generation, and his Cornell roots make Slaughterhouse-Five an exceptional selection for our reading project this coming year," senior vice provost for undergraduate education, Laura Brown, told the Cornell Chronicle.