"Pinky" the Rare Pink Dolphin Spotted Again in Louisiana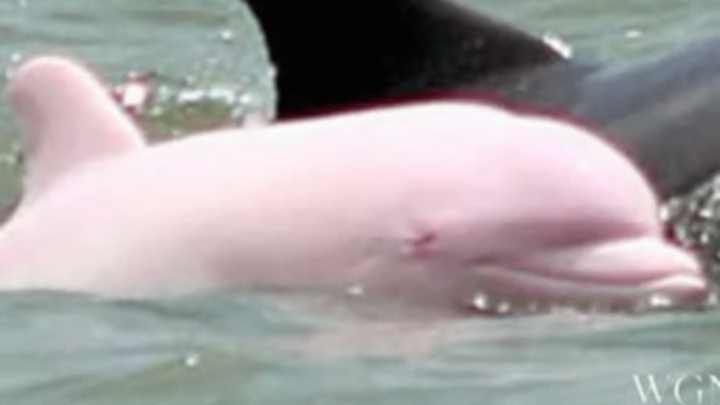 Screenshot via WGNO / Screenshot via WGNO
A boat captain in Louisiana has discovered the ultimate antidote to your end-of-summer blues: this pink dolphin, spotted in the Calcasieu River's ship channel for the first time since 2007.
Affectionately nicknamed "Pinky," the bottlenose dolphin was initially spotted swimming alongside her mother by Captain Erik Rue. Today, Pinky is fully grown and has been making her presence known up and down the Calcasieu during solo swims and, occasionally, outings with her pod. "We've seen her a lot in the last few weeks," Rue told local ABC affiliate WGNO. "She looks happy and healthy."
Pinky, whose unusual coloring is most likely caused by a rare genetic condition, may also be pregnant; Rue says he recently saw her mating.
Just to recap: Pinky is real, and there may soon be mini-Pinkys frolicking around Louisiana's waters. Still not cheered up? This is probably a good time to remind you that narwhals are also a thing that exist.
[h/t WGNO]