The Most Interesting Comics of the Week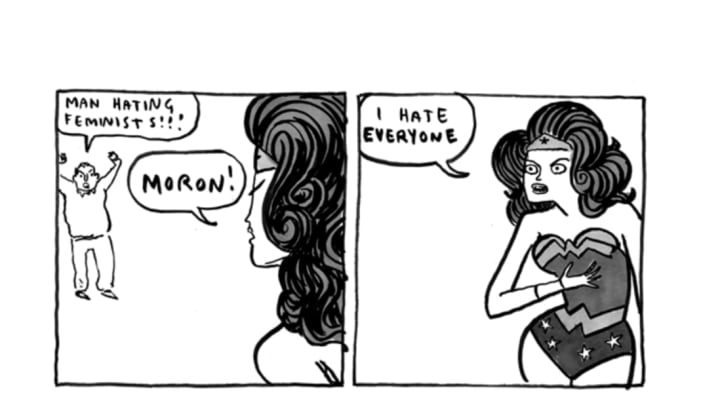 Kate Beaton/Drawn & Quarterly / Kate Beaton/Drawn & Quarterly
Every week I write about the most interesting new comics hitting comic shops, bookstores, digital, and the web. Feel free to comment below if there's a comic you've read recently that you want to talk about, or an upcoming comic that you'd like me to consider highlighting.
Step Aside, Pops
By Kate Beaton
Drawn & Quarterly
Kate Beaton's wildly popular webcomic Hark! A Vagrant is known for its smart and cheeky retellings of moments from history and literature. As one of the best cartoonists working right now, she is free to make comics about anything she wants, and in her new book, Step Aside, Pops, Beaton does her thing with some lower-brow subject matter.
Her Wonder Woman is a jaded, chain-smoking feminist, and her Lois Lane is a driven reporter who has no time for Superman's shenanigans. They are not only hilarious, but they also serve as smart jabs at the disservice female characters have been getting from their corporate owners over the years.
Of course, there is plenty of the stuff Beaton is known for as well: comics that give us droll takes on Napoleon, Wuthering Heights, Chopin, and more. While Beaton is probably the most popular cartoonist to ever emerge from webcomics, she doesn't always get enough credit for the quality of her actual drawings, which she often publishes in an admittedly loose and spontaneous form. The works collected here show how skilled she is at capturing perfect facial expressions and gestures, and how confident and perfect her line work has gotten. 
Find out more about this book here.
Captain America: White #1
By Jeph Loeb and Tim Sale
Marvel Comics
In the early 2000s, Jeph Loeb and Tim Sale revisited the defining moments of three Marvel superheroes in three color-coded mini-series that became classics on their own. Daredevil: Yellow, Spider-Man: Blue, and Hulk: Gray were thoughtful and beautifully illustrated stories tailored to nostalgic comic book fans. The fourth installment of the series, Captain America: White, never materialized, though a "zero" issue was released in 2008 to preview the non-existent book. Seven years later, to the delight of Loeb/Sale fans, it's finally here.
With a black Captain America (Sam Wilson, formerly the Falcon) having taken over for Steve Rogers in the main comic, the title of this book now signifies something it probably wasn't originally intended to. Captain America: White is indeed about the white Captain America, Steve Rogers, who reflects back on his relationship with his WWII sidekick Bucky. 
Regardless of any awkwardness the name now carries with it, this is a book that a lot of people have been waiting a long time for. The first issue of this five-issue series also contains the original zero issue material. Here's a preview.
Tokyo Ghost
By Rick Remender, Sean Gordon Murphy and Matt Hollingsworth
Image Comics
Our growing dependence on the internet has become a go-to for science fiction writers. Previous dystopian futures were ravaged by our reckless relationships with oil, nuclear weapons, or artificial intelligence. Now those are giving way to smart phone addiction and the cloud. In Tokyo Ghost, Debbie Decay is possibly the last person in New Los Angeles to completely shun technology. Her boyfriend Led Dent, meanwhile, is completely enraptured by it and is ambivalent toward Debbie's attempts to bring him back from the technological brink. Their last hope is to escape the Blade Runner-like hell that is L.A. and flee to Tokyo, which has become a walled-off, technology-free utopia.
A love story at its heart, Tokyo Ghost is primarily a visual spectacle of neon signs, muscle cars, violent decapitations, and short shorts. This spectacle is thanks to artist Sean Gordon Murphy (along with colorist Matt Hollingsworth) who has gained mainstream comics appeal over the past few years. The story comes from writer Rick Remender, whose successful career writing books like Uncanny X-Force for Marvel has allowed him to launch a number of creator-owned books like this at Image Comics.
Despite its social commentary on our overly connected lives, Tokyo Ghost is a throwback in a lot of ways. There are visual links to films like Blade Runner and The Road Warrior and to comics like Judge Dredd, Akira and Howard Chaykin's American Flagg!
Flop to the Top
By Drew Weing and Eleanor Davis
Toon Books
Husband and wife cartoonists Drew Weing and Eleanor Davis are big deals when working on their own, and it's a rare treat whenever they work together on a book. Weing is known for Set to Sea and his current all-ages webcomic The Creepy Casefiles of Margo Magoo. Davis is the author of critically acclaimed graphic novels Stinky and How To Be Happy. In their latest book, published by children's graphic novel publisher Toon Books, the couple collaborate by not only writing the story but by creating the art together as well.
The cute and contemporary premise of Flop to the Top is that young Wanda is obsessed with being famous, so much so that she refers to her brother and sister as "fans." One day, a selfie she takes with her droopy-faced dog gets 20 million "likes" on social media, but its her dog, and not Wanda, that becomes famous. 
Parents looking for graphic novels for their early readers would be wise to give this book a shot and to peruse some of Toon Books' other offerings.
Virgil
By Steve Orlando, J.D. Faith
Image Comics
Something we haven't seen much of in mainstream media is a revenge tale where the manly hero is driven to avenge his male lover. That's exactly what Steve Orlando and J.D. Faith have done with Virgil, a graphic novel released in stores last week.
Set in Jamaica, Virgil is about a closeted policeman who is brutally attacked along with his other gay friends. His boyfriend is abducted and he is outed in the local newspapers, leaving him with nothing left to lose as he seeks to exact his revenge. Steve Orlando, currently the writer for DC Comics' Midnighter, the publisher's first ongoing series featuring a gay male lead, refers to this book as "queersploitation" because it follows in the footsteps of raw "blaxploitation" films like Shaft. Newcomer J.D. Faith might be the breakout star, bringing a striking, almost Alex Toth-like approach to lighting and shadow.