Man Builds Hut With Heated Floors From Scratch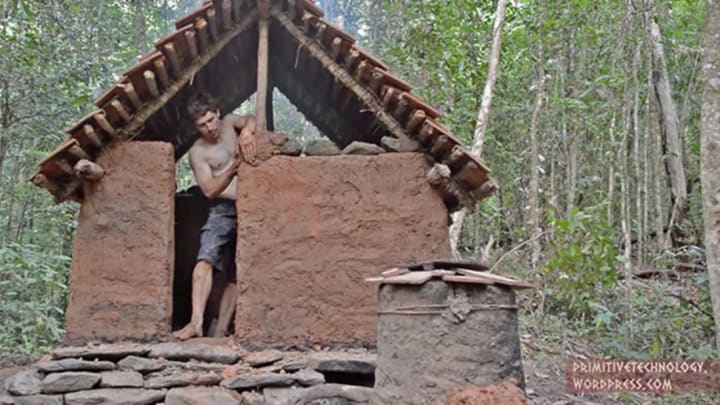 YouTube / Primitive Technology / YouTube / Primitive Technology
Back in May, an Australian fellow on YouTube going by the name "Primitive Technology" posted a video showing how he made a wattle-and-daub hut from scratch. When I say "from scratch," the first thing he shows is himself creating a stone axe in the woods, and then he goes on to harvest everything he needs to build the hut from the forest. It's utterly brilliant, hypnotic, and most interestingly, silent—he never speaks.
So now, "Primitive Technology" has outdone himself. In his latest video (below), he builds a hut with a tiled roof, heated floors (!), and a swinging door. He builds all the tiles himself, fires them in a kiln he builds himself, and apparently films the whole thing himself. Again, he remains silent. You don't need language to understand what he's doing—he shows you.
According to his blog post on the new hut, the build took 102 days, though that included a 36-day rainy period during which he couldn't continue work. Enjoy 120 days of hard work compressed into 14 minutes of video—and think of this the next time you're doing a home improvement project.
If you enjoyed that, his other videos are roughly as good, though this is the first long-form video he's done in HD.