Map of Literature Traces the Geography of Reading Since Ancient Times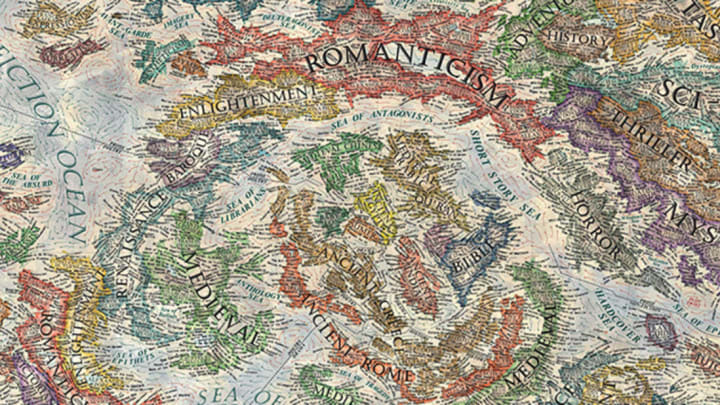 Martin Vargic, ©Penguin / Martin Vargic, ©Penguin
In Martin Vargic's imagination, the history of Western literature looks a lot like Scandinavia. His Map of Literature sketches the geography of writing across time periods and styles, assigning landmasses to genres and movements in books dating back to ancient times.
The 17-year-old has just released a book, Vargic's Miscellany of Curious Maps: Mapping Out the Modern World—out from publisher Michael Joseph in the UK now, and arriving the U.S. in December. More than 70 infographic maps included in the book span topics ranging from sports to average penis length to the number of tractors per capita.
Image Credit: ©Penguin
Vargic, a Slovakian student who previously created the Map of the Internet 1.0, among other viral infographics, is inspired by old National Geographic maps, and his maps have the familiar feel of the kind of posters that might hang in a school classroom. 
Click to enlarge.
In the Map of Literature, literary movements become continents, authors become regions, and their works become cities. To reach the Hunchback of Notre-Dame in the land of Victor Hugo, for instance, you'd have to sail the Sea of Antagonists and cross through Alexander Dumas country. Karl Marx gets his own little island off the mainland of Modern Philosophy. Nearby, there's Popular Non-Fiction, home to both Oprah and Dave Eggers. Walt Whitman Island is located in the middle of the Sea of Sonnets. The map is a captivating reminder of the wide world of literature, and how much even the most avid reader probably has yet to explore.
[h/t: Vox]