3 Pieces of Music Jane Austen Hand Copied Into Her Personal Collection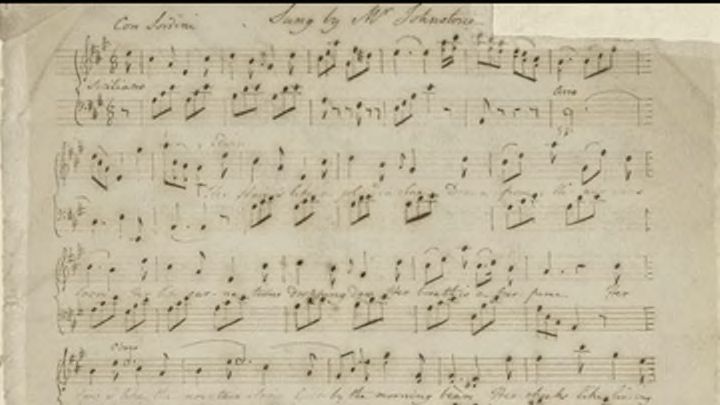 Jane Austen's House Museum via The Internet Archive / Jane Austen's House Museum via The Internet Archive
The background of Jane Austen's novels are filled with music. Elizabeth Bennet plays the piano for Mr. Darcy, and they joke about her skill compared to his sister's. "Without music, life would be a blank to me," one of Jane Austen's characters rants in Emma. And of course, what would a dance be without music?
Like many well-off women of her day, Jane Austen was a capable musician, able to entertain guests and family members in an age before radio or television with her singing and skills at the piano. She and other members of her family collected sheet music, copying popular tunes into their own personal albums. Thanks to a University of Southampton digitization project, the sheet music copied by Jane and the rest of the Austens is now available online; the 18-album collection contains more than 600 pieces.
"Jane Austen's novels are full of musical scenes, and this collection will help literature scholars and Austen fans to better understand the real musical environment that fed the novelist's imagination," Jeanice Brooks, the University of Southampton music professor who led the digitization project, explains in a press release. Here are three highlights of the collection that feature Jane's handwriting.
1. "DECK THE HALLS"
Jane Austen's House Museum
The familiar Christmas tune comes from the Welsh song "Nos Galan." The English words to the song (substantially different from the Welsh) were first published in a London songbook called Welsh Melodies with Welsh and English Poetry, decades after Austen's death, but the melody is the same as the one Jane would have played.
2. LES DEUX SAVOYARDS
This comedic French opera by Nicolas Dalayrac was extremely popular in the 1790s. It tells the tale of two boys who make their living showing their pet marmot at fairs. The boys were played by female sopranos.
3. JANE'S KEYBOARD MUSIC
This volume of solo keyboard music contains a flyleaf signed by "Miss Jane Austen." It's a compilation of music published between 1785 and 1795 (when Jane was between 9 and 20 years old), including anthologies like "Fourteen Favorite Sonatinas for the Harpsichord Piano Forte."
The whole digitized collection of the Austen family's music is on the Internet Archive.