Want to Recycle Your Christmas Tree? Feed It to an Elephant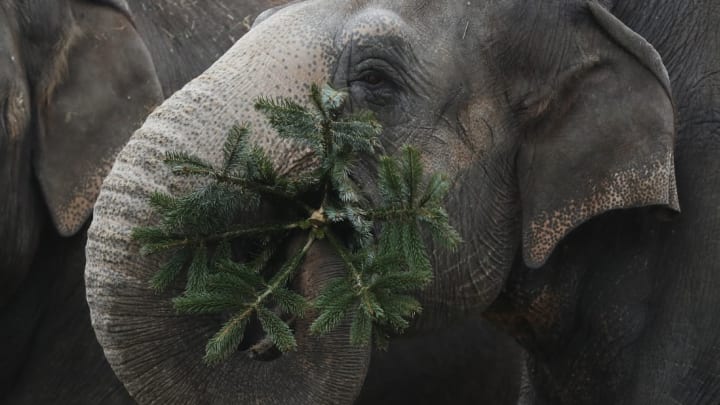 Sean Gallup/Getty Images / Sean Gallup/Getty Images
When the holiday season finally comes to a close, people get creative with the surplus of dead Christmas trees. One San Francisco-based artist transformed brittle shrubs into hanging installation pieces. Others use pine needles for mulch, or repurpose trees into bird sanctuaries. For the average person, sticking it into a wood chipper or "treecycling" it as part of a community program are all eco-friendly ways to say goodbye to this year's Douglas fir. None of these solutions, however, are as cute as the waste-cutting strategy employed by some zoos around the world: giving them to elephants.
Each year, zookeepers at Tierpark Berlin—a facility that bills itself as "Europe's largest adventure animal park"—feed the elephants unsold pine trees. The plants are reportedly pesticide-free, and they serve as a good (albeit prickly) supplement to the pachyderms' usual winter diets.
A bit closer to home, the residents of The Elephant Sanctuary in Hohenwald, Tennessee rely on local residents to take part in their annual Christmas Tree Drive. In addition to being nutrient-rich, the tree's needles are said to help aid in an elephant's digestion. But beyond all that, it's pretty adorable to watch.