The 6 Most Interesting Comics of the Week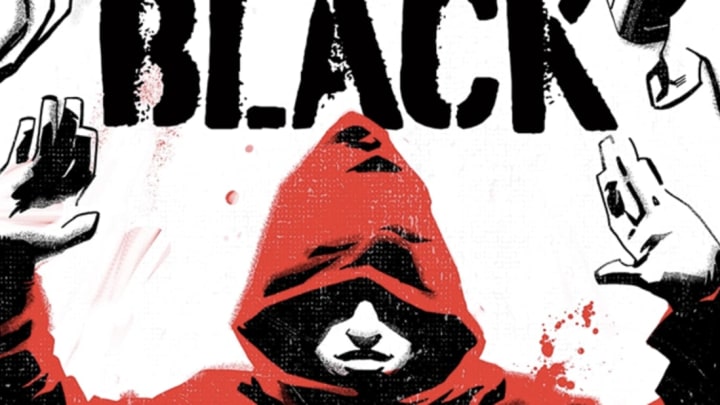 Khary Randolph / Khary Randolph
Every week I write about the most interesting new comics hitting comic shops, bookstores, digital, and the web. Feel free to comment below if there's a comic you've read recently that you want to talk about or an upcoming comic that you'd like me to consider highlighting.
By Brian Michael Bendis and Sara Pichelli
Marvel Comics
One of the perceived goals of Marvel's huge Secret Wars event is to give a "soft reboot" to their publishing line, allowing for alternate universe characters to ease into the main continuity. Because Secret Wars means the death of Marvel's Ultimate Universe, it allows Miles Morales a permanent spot in the canon. Since his first appearance in 2011 as the new Ultimate Spider-man (replacing Peter Parker when he was killed by the Green Goblin), the teenager has been a popular character and the first in Marvel's attempts to bring diversity to their headline heroes.
In the post-Secret Wars, "All New, All Different" Marvel universe, Peter Parker is still Spider-man, but, now in his 30s, he acts as the elder Spidey to Miles's more classic teenage Spidey in Spider-man. Brian Michael Bendis, who wrote every issue of Ultimate Spider-man, retains creative control in this new series along with artist Sara Pichelli, who co-created the character with him.
By Kwanza Osajyefo, Tim Smith III, Jamal Igle, and Khary Randolph
Kickstarter
A Kickstarter campaign launched February 1 will run for the duration of Black History Month to fund a new graphic novel that takes place in a world where only black people have superpowers. When a young man named Kareem Jenkins survives being gunned down by police, his superpowers—and the biggest secret in the world—are revealed.
Written by Kwanza Osajyefo—a former editor at DC Comics and an instrumental player in their first digital comic initiatives—and co-created by digital designer Tim Smith III, Black will be a 120-page graphic novel released in six digital installments, starting later this year assuming they reach their funding goal (which, as of this writing, looks like a sure bet).
2011 Inkpot Award-winning artist Jamal Igle (no stranger to successful Kickstarters with his creator-owned Molly Danger) and cover artist Khary Randolph (Teenage Mutant Ninja Turtles, The Boondocks) will provide the visuals, making this an exciting ensemble of black comics creators who are telling a story they'd probably not be able to tell with the "Big Two" publishers.
While Marvel and DC are going to great lengths to diversify their characters, there's been a slower growth in diversity among the creators themselves. Even in the generally much more diverse world of indie comics, it seems like black creators are not getting their books noticed. This project, however, is off to a great start on its way to reaching its goal. If you'd like to support it, please go here.
By Various
Humanoids
Comics tend to be divided across three international boundaries: North American comics, Japanese manga, and European bande dessinée. Even though they all influence each other, it's rare to see a book that brings together creators from all three sectors. That's what esteemed European publisher Humanoids is doing with The Tipping Point, an interesting anthology that enlists 13 creators from across three different continents to tell stories that "explore the key moment when a clear-cut split occurs, a mutation, a personal revolt or a large-scale revolution that tips us from one world into another, from one life to an entirely new one." Anyone who appreciates comics from an artistic standpoint will drool over the lineup for this book, which includes Paul Pope, Eddie Campbell, Boulet, Naoki Urasawa, Taiyô Matsumoto, Bastien Vivès, John Cassady and more.
It should be noted that the diversity of this lineup falls short at including any women. Coming on top of the controversy from France's Angoulême festival, where 30 male cartoonists—and not a single woman—were nominated for a lifetime achievement award, this is an unfortunate oversight for a book looking to celebrate the world's greatest comic creators. Still, you can't say this isn't a great lineup. If you happen to be a huge fan of all of them, there is a $500 "Ultra-Deluxe Limited Slipcase" edition that contains bookplates signed by each artist.
By Mark Russell, Ben Caldwell and Mark Morales
DC Comics
Last year, DC Comics launched a string of new titles that looked and read quite differently from the typical "DC House Style" they've operated with in the past decade or so. In an effort to reach younger readers, they brought in some creators from outside of their usual stable of talent and tried out a handful of books that offered a different spin. Maybe the best and by far the most unusual of these titles was Prez by Mark Russell and Ben Caldwell. Revisiting a short-lived comic from the 1970s about a teenage boy who becomes President of the United States, this new Prez is set in the near future and is about a teenage girl who winds up as a write-in candidate in the presidential election after becoming Internet famous thanks to an embarrassing video involving a corn dog and a deep fryer.
In an election year where a reality TV star is leading the polls, this story doesn't seem as outrageous as it was intended to be, but it is downright funny, with some looney social-political commentary like the cartoon dog mascot for the "Pharmaduke" pharmaceutical corporation and Carl, the robotic "End-of-Life Bear" who gives out hugs and marijuana for terminally ill patients. Being so unlike what the typical DC Comic buyer might expect, this six-issue series didn't exactly burn up the sales chart, but hopefully it will get a second look with a collected edition hitting bookstores this week.
5. #HourlyComicsDay
Sarah Becan
February 1 was annual Hourly Comics Day, where cartoonists all over the world draw a short comic for every hour that they are awake and then post them to social media under the #hourlycomicsday hashtag. Most cartoonists treat it like a 24-hour journal, so you get a lot of material about the struggle to make hourly comics, and the immediacy of it gives you a great peek into their process.
Peruse the Twitter hashtag to find many examples.
Starting on January 28, mental_floss was delighted to premier a brand-new comic from indie cartoonist Jen Vaughn as it was being created on location at the Angoulême comics festival in France. Vaughn's Jenlagged gave us a peek into her travels, her love of bande dessinée, and her encounters with other cartoonists at the event. The final installment went live today and the finished comic will be made available for free on Comixology later this month.