This Farm House Is Covered With Recycled CDs That Capture the Sun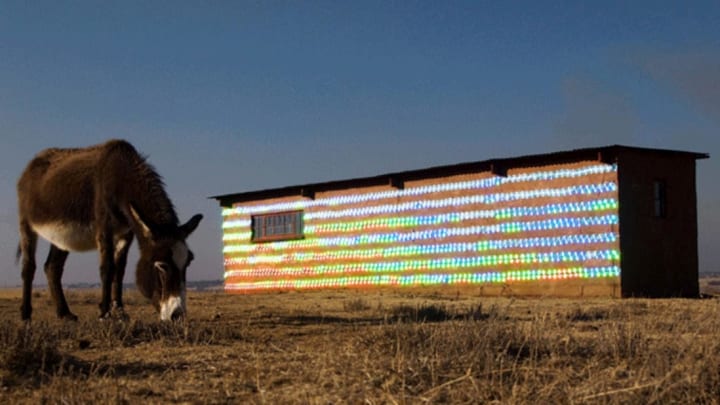 r1 / r1
With the rise of digital music, physical CDs have all but lost their value. One South Africa-based artist decided to gather up 1000 recycled discs and give them a new purpose, by incorporating them into his latest art installation.
r1 created Sound of Light by attaching the old CDs to the outside of an abandoned farm house. The artist chose a location in an open, desolate landscape and positioned most of the CDs along the west-facing wall so they would reflect the light of the setting sun. When describing the project on his website, r1 wrote, "The artwork interacts in liaison with the light of the sun. When the sun reflects on the CDs, they redirect a spectrum of dynamic neon-like colors that changes as one moves position … it mirrors back a magnificent 'sound' of color."
Sadly, the art piece only existed long enough to capture a single sunset. The CDs were taken down the day after they were installed. You can observe r1's artistic process in the video below. 
Images Courtesy of r1.
[h/t Inhabitat]