The 4 Most Interesting Comics of the Week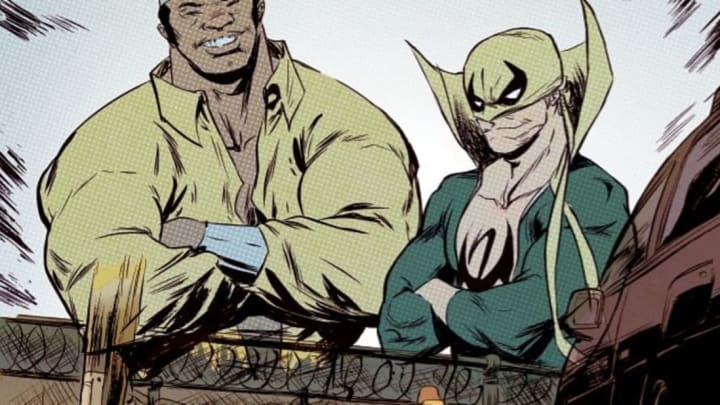 Sanford Greene // Marvel Comics / Sanford Greene // Marvel Comics
Every week I write about the most interesting new comics hitting comic shops, bookstores, digital, and the web. Feel free to comment below if there's a comic you've read recently that you want to talk about or an upcoming comic that you'd like me to consider highlighting.
By David Walker, Sanford Greene and Lee Loughridge
Marvel Comics
Sanford Greene // Marvel Comics
Luke Cage and Danny Rand (a.k.a. Power Man and Iron Fist) are, along with Cage's wife Jessica Jones, the backbone of Marvel's new Netflix-verse of original programming. The pair have a long history together dating back to the late 1970s, when their flailing individual series were combined in order to stave off cancelation.
In recent years, the two characters have operated mostly separately—Danny in his own Iron Fist book, and Luke as the leader of The Mighty Avengers. This new Power Man & Iron Fist series comes with the added visibility provided by Cage's appearance in Jessica Jones and his own upcoming show, but it is also led by an exciting creative team who are at a pivotal breakout point in their careers.
Writer David Walker took critics and fans by surprise with his 2014 comic adaption of Shaft for Dynamite Comics, which led to a job writing DC's new Cyborg series. Sanford Greene, like Walker, has been working in comics for a number of years, but his star has been on the rise recently, especially after a turn on the Secret Wars tie-in Runaways. Both men are black, which is worth noting because comics publishers have a history of claiming diversity among their characters while still hiring white, male creators to work the books.
By Eleanor Davis
Youth in Decline
Elanor Davis // Youth in Decline
Youth in Decline's anthology Frontier dedicates each issue to one indie creator to tell a single-issue story, and their latest showcases one of its biggest contributors to date. Eleanor Davis is the New York Times bestselling author of 2014's How To Be Happy. She is an accomplished and versatile cartoonist who has created award-winning comics for children as well as thought-provoking and challenging comics for adults.
"BDSM" in Frontier #11 tells a short story about two adult film actresses and deals with some thorny issues surrounding sexual submissiveness. Victoria and Lexa meet while filming an S&M video, and their attraction is apparent even as it blossoms in front of an all-male film crew who instruct them to degrade and hurt each other. Davis's minimalist black-and-white art packs a lot of "acting" into each spare pen drawing, and the reader knows exactly what Vic and Lexa are really feeling even when they are trying not to show it.
Frontier #11 is available only through Youth in Decline's website. For fans of up-and-coming indie cartoonists, it's worth subscribing to this anthology because they have some really exciting contributors coming up.
By Mariko Tamaki, Philip Sevy and Michael Atiyeh
Dark Horse Comics
Dark Horse Comics
Tomb Raider continues to be a multimedia hit twenty years after the first video game turned its main character, Lara Croft, into a cultural icon. The newest game, Rise of the Tomb Raider, came out this past November, and Dark Horse has been steadily releasing tie-in comics. These have featured an impressive lineup of talented female writers, which is fitting for a character that has evolved from her original iteration as eye candy for boys into a legitimate feminist icon for girls.
Corinna Bechko, Rhianna Pratchett, and Gail Simone have all written for the comic, and this new series boasts a highly interesting and exciting choice: Mariko Tamaki, the award-winning writer of young adult graphic novels like Skim and This One Summer.
Tamaki is joined by artist Philip Sevy, a relative newcomer who brings some dynamic layouts. This issue sees Croft get caught up in search of a mushroom that can grant immortality (it may sound silly but it is played pretty straight in the comic). Tamara picks up some threads from the Rise of the Tomb Raider video game and builds on what Simone, Bechko, and Pratchet have been doing in the previous comics.
By Patti LaBoucane-Benson, Kelly Mellings and John Rauch
Anansi
Anansi
In The Outside Circle, Pete and his brother Joey are Canadian Aboriginals who are victims of a system that leaves them prone to the dangers of drug addiction and gang violence. When Pete is sent to jail for killing his mother's abusive boyfriend in an act of self-defense, he sets into motion a series of events that lead both his and his brother's life to ruin. As Joey ends up in a group home, Pete works his way towards rehabilitation through a traditional Native healing circle.
The fictional hardships Pete and Joey experience are based on years of true stories that writer Patti LaBoucane-Benson has encountered over the years working at the Native Counseling Services of Alberta. LaBoucane-Benson is Métis (Métis are indigenous Canadians of mixed First Nations and European ancestry), and this book is a result of her PhD study of a healing program for Aboriginal men. An academic study turned into a comic may not sound like exciting reading, but The Outside Circle holds together pretty well as a work of fiction thanks to the accomplished artwork of Kelly Mellings and John Rauch. The Outside Circle was released last year but may not have appeared in your local comic shop. It continues to be available on Amazon and elsewhere online.