11 Geeky and Unusual Blankets to Keep You Warm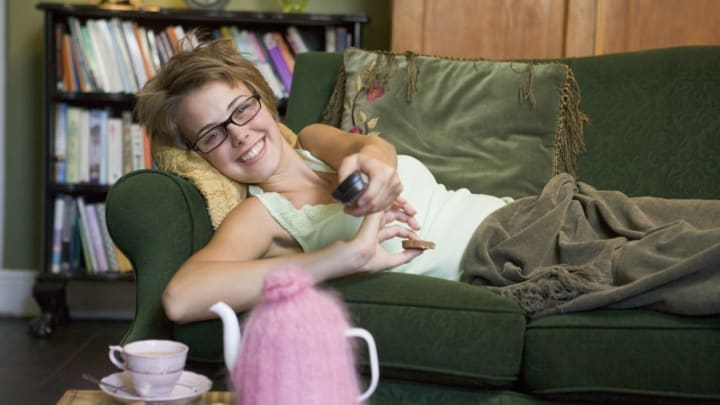 iStock / iStock
This article contains affiliate links to products selected by our editors. Mental Floss may receive a commission for purchases made through these links.
Wrap yourself up in one of these quirky blankets.
Mental Floss has affiliate relationships with certain retailers and may receive a small percentage of any sale. But we only get commission on items you buy and don't return, so we're only happy if you're happy. Thanks for helping us pay the bills!
1. STAR WARS; $20.99
Star Wars blanket /
This 45-by-60 inch polyester throw—which features a storm trooper, Yoda, R2-D2, and Darth Vader—is the perfect blanket for the young Jedi in your life.
Find It: Amazon
2. POCKET BLANKET; $30
Despite being 63 inches long, this blanket can be folded up to fit in the palm of your hand—making it great for impromptu picnics and beach hangs. It's water-repellent and puncture-proof to keep you safe from whatever twigs or puddles lie underneath.
Find It: Amazon
3. BLAH BLAH BLAH; $199.99
Curl up with this Scottish lambswool blanket and tune out the world. The woven blanket is covered in connected "blahs" that honor the times you just stop paying attention. It's also reversible: One side is white and the other black.
Find It: Uncommon Goods
4. TORTILLA BABY BLANKET SET; $48
Make yourself a little baby burrito with this clever tortilla-themed swaddling blanket and hat.
Find It: Uncommon Goods
5. ALICE IN WONDERLAND PAGE; $75
Before you get wrapped up in a good novel, wrap yourself up in this book blanket. This literary throw features Alice and the Cheshire Cat from Alice in Wonderland along with a passage from the title. It's made with cotton and acrylic yarn so it has a little stretch.
Find It: Uncommon Goods
6. HARRY POTTER MARAUDER'S MAP; $34.62
Solemnly swear you are up to no good while wrapped in this blanket that resembles the Marauder's Map that made its debut in Harry Potter and the Prisoner of Azkaban. Luckily, you don't need a wand or secret password for it to work.
Find It: Amazon
7. TARDIS; $29.95
This fleece blanket is shaped like the TARDIS from the beloved television show Doctor Who. It will go great with your TARDIS slippers, pajama pants, and mug.
Find It: Amazon
8. PERIODIC TABLE; $89.25
period table blanket /
How many times have you desperately needed to consult the periodic table in the middle of the night but had no way of doing so? Probably never, but you still might need this science-inspired throw. It's 75 percent cotton and 25 percent polyester and promises to keep you warmer than an exothermic reaction.
Find It: Zazzle
9. WESTEROS; $34.99
Westeros blanket /
Sleep under a map of the Seven Kingdoms (plus Braavos, the Flatlands, and more from across the Narrow Sea) from Game of Thrones. The polyester throw is perfect for staying warm while watching HBO (or planning an invasion).
Find It: Amazon
10. SPACE INVADERS; $33.97
This officially licensed fleece blanket is dedicated to the classic arcade game Space Invaders. It's delightfully retro and will look great next to your old Atari.
Find It: Amazon
11. STAR TREK; $17
Let the Enterprise shuttle you to sleep with this officially licensed polyester blanket. The print is only on one side, with a white underside.
Find It: Amazon