The 5 Most Interesting Comics of the Week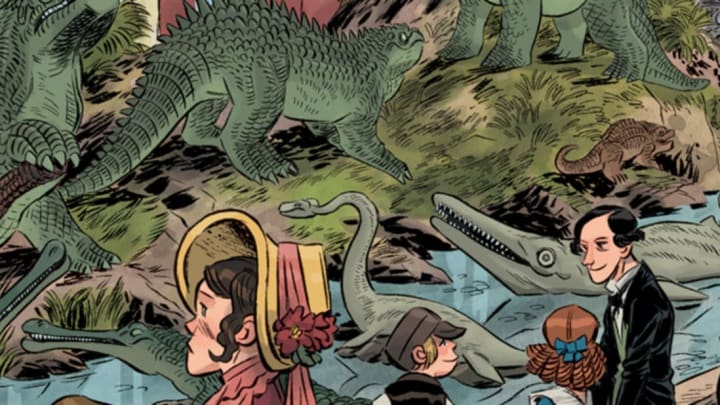 Joe Flood // First Second / Joe Flood // First Second
Every week I write about the most interesting new comics hitting comic shops, bookstores, digital, and the web. Feel free to comment below if there's a comic you've read recently that you want to talk about or an upcoming comic that you'd like me to consider highlighting.
By Brian Gordon
Andrews McNeel Publishing
Brian Gordon // Andrews McNeel Publishing
Parents of young kids who spend any considerable amount of time on social media have probably seen fellow parents share one of Brian Gordon's Fowl Language comics to their feed. His single-panel strips about the frustrating, soul-crushing joys of parenting feature a cute family of ducks whose dad is the put-upon hero, always trying his best, but often at his wit's end. The daddy duck is a stand-in for the author, a former illustrator for Hallmark greeting cards and creator of their popular Chuck & Beans comic. Brian Gordon went out on his own in 2013 with this webcomic that has garnered praise and has been shared all over Facebook by highly visible users like George Takei.
Gordon's gags appeal to a pretty mainstream category of young parents on Facebook who love sharing exasperating stories about their kids for others to relate to and commiserate with.
By MK Reed and Joe Flood/Maris Wicks
First Second
First Second
Comics can be a great educational tool for kids, especially when they're done right. First Second Books—who know what they're doing when it comes to educational and all-ages graphic novels—is starting a new series focused on teaching science to middle schoolers, and they've recruited some top-notch talent to work on them.
Maris Wicks is becoming a go-to cartoonist for science-related comics after previous books like Human Body Theater and Primates, her graphic novel (with writer Jim Ottaviano) on primatologists like Jane Goodall. In Coral Reefs: Cities of the Ocean, Wicks explores the biology and ecology of coral reefs with her color-infused charm. Writer MK Reed and artist Joe Flood take a similarly light and humorous look at the history of dinosaurs and the scientists who discovered them in Dinosaurs: Fossils and Feathers. These two books are the first entries in this new Science Comics series, with a third about volcanoes coming out later this year. They're made for kids but should be a delight for anyone curious about these subjects.
By Lee Bermejo, Jorge Corona, Khary Randolph, and Rob Haynes
DC Comics
DC Comics
If you don't normally read Batman comics, then you may not be aware of how many Robins there are out there. As of this writing, there are at least four young men who have all worn a Robin costume at one point or another. DC Comics recently decided to double down on the Robin quantity while also balancing the lack of diversity with a new series called We Are Robin, in which the Robin moniker gets taken up by a legion of semi-organized Gotham City teens. At the center of the huge cast is Duke, a young orphan whose parents went missing during The Joker's most recent attack on the city. While he is parentless like Robins of the past, Duke doesn't look like your typical boy wonder, and neither do the other Robins in this book—which include young men and women of various races and ethnicities. A notable absence from the book is Batman himself, whose presumed death has left a vacuum that these kids feel the need to fill.
Writer Lee Bermejo uses a texting motif throughout to keep his large cast in communication with each other, and regular series artist Jorge Corona brings a nice exaggerated style of cartooning that helps give it a slightly different look and feel than most other DC comics. This first collected volume of We Are Robin hits stores this week.
By James Kochalka
First Second
James Kochalka // First Second
I wish I could have my kids write this review because Glorkian Warrior is their jam these days. James Kochalka's unabashedly silly series has been a big hit in my household, and I previously recommended it in a list of comics to give to early readers. The third and final volume, The Mustache of Destiny, introduces the Junior-Junior Glorkian Warriors, a flying mustache, and a cup of coffee that our hero thinks can talk. Plus, we finally meet the previously mentioned but never-before-seen Glorkian Super Grandma.
Kochalka is best known for his influential diary webcomic American Elf, which he produced on a daily basis from 1998 until 2012. He tends to balance adult fare like the comic-turned-animated series SuperF*ckers with kid stuff like this series. He has a great handle on what gives kids the uncontrollable giggles, and he shows that off in these hilariously off-kilter books.
By Keiichi Arawi
Vertical
Keiichi Arawi // Vertical
Nichigou (translated as "Everyday" or "My Ordinary Life") is a Japanese manga comedy about the day-to-day events of an ensemble of middle school students that is peppered with random moments of the surreal (like a talking cat and an android named "Nano").
Originally serialized in Japan in 2006, the popular manga was made into an equally popular anime in 2011. This first English adaption arrives in the U.S. about 5 years later than originally planned, after its first two U.S. licensors went out of business during the U.S. manga downsizing of that time period. It finally makes it to American bookstores thanks to highly regarded manga publisher Vertical, who plans to release all ten volumes of Nichigou.