25 Beautiful Postcard Sets to Send to Your Friends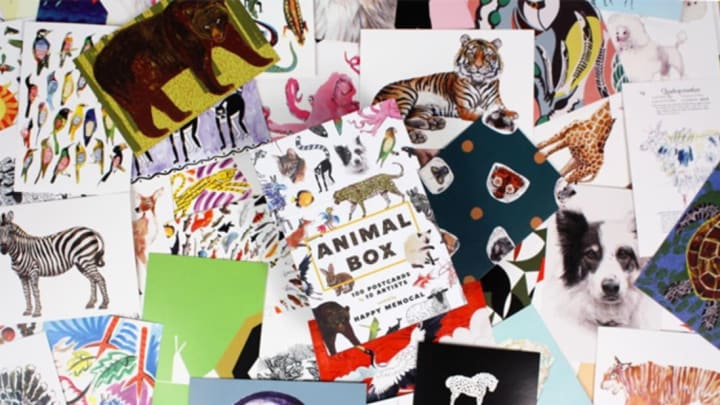 amazon / amazon
Postcards are great for sending to friends or hanging on your wall. Here are some extra-pretty postcards that put the tourist shop fare to shame.
1. CURIOUS FEAST; $15
Food lovers will definitely want to get their hands on this one. The box of 100 postcards features the artwork of 10 different (and seemingly hungry) artists. From paint to felt, the food takes on many forms. The set comes with a booklet about the artists and their creative possesses (as well as their favorite cooking style).
Find it: Amazon
2. ANIMAL KINGDOM POSTCARDS; $14
Running out of fridge space for all your coloring book creations? Now you can mail them straight to your friends with this beautiful postcard book. The pack comes with 50 loose postcards with illustrations of fauna that need your coloring skills.
Find it: Amazon
3. VERY HUNGRY CATERPILLAR; $14
For the younger crowd (or the young at heart), here's a simpler postcard-coloring option: This book of 30 postcards features the Very Hungry Caterpillar as well as other characters from Eric Carle's colorful world.
Find it: Amazon
4. V&A PATTERNS; $25
For the past 150 years, the Victoria and Albert Museum has been amassing a great collection of designs and patterns. This box holds 100 gorgeous postcards featuring patterns from the V&A, like William Morris wallpaper designs and Japanese kimono embroideries.
Find it: Amazon
5. EXPLICIT POSTCARDS; $10
These rude postcards read a lot like Happy Bunny wrote them. They say things like "Wish You Were Beer…" and "Flip Yourself Off, I'm Busy." Definitely skip sending these to your grandma, but they might be fun for your friends with thicker skin.
Find it: Amazon
6. WHERE'S THE PAIR?; $10 
All of these bears are similar, but two are exactly the same—can you find them? Each postcard in this 32-page book is easy to pull out, so you can send the challenges along to friends and family.
Find it: Amazon
7. BACKYARD BIRDING; $14
Each of these 100 postcards has art from The Sibley Field Guide to Birds. The beautiful watercolor illustrations by David Sibley are sure to be a hit with your mailman.
Find it: Amazon, Buy Olympia
8. ANIMAL BOX; $16
Illustrator Happy Menocal curated 100 works of animal art by 10 different artists for this fantastic postcard set, which would look great framed and hung in groups on your wall.
Find it: Amazon
9. PIXAR; $11
Lovers of Pixar movies will enjoy these postcards displaying artwork from the studio's shorts and full-length films. The set comes with 100 cards so you can share a little movie magic with everyone.
Find it: Amazon
10. WHERE'S WALDO?; $9 
This pack of 30 pull-out postcards prompts the viewer to the find famous bespectacled traveler. These are perfect for sending to friends—just don't be rude and circle Waldo before you send.
Find it: Amazon
11. DARTH VADER AND SON; $10 
What if, in an alternate reality, Darth Vader was actually a really attentive father? What would he and Luke do? Go for ice cream? Use the force to have tickle fights? You can find out with this set of 30 postcards. Each one features a comic by Jeffrey Brown showing the two having a ball.
Find it: Amazon
12. GRUMPY CAT; $10
Send some gloom to your friends and family with a postcard showing everyone's favorite grouchy feline. The set of 30 cranky postcards is sure to put a frown on everyone's face.
Find it: Amazon
13. FINGERPRINT ART; $10
Fingerprint art is a simple medium, but it yields some pretty cute stuff. Artist Marion Deuchars created 20 unique designs for this postcard set, including pandas, bats, and more. The alternate side also features a small fingerprint animal, which you unfortunately have to cover with a stamp.
Find it: Amazon
14. LITERARY POSTCARDS; $16 
Some of the greatest literary quotes of all time can now be found in postcard form. The 100 postcards show illustrated renditions of quotes from Oscar Wilde to Jane Austen.
Find it: Amazon
15. STAR WARS FRAMES; $21
Relive the classic Star Wars franchise with these 100 movie still postcards. The box doubles as a display case that can show off your favorite image.
Find it: Amazon
16. PENGUIN PUBLISHING COVERS; $16 
What at first seems like a book is actually a box carrying 100 postcards resembling the covers of classic books like The Great Gatsby and A Room of One's Own. Each one resembles a unique Penguin book jacket that's brimming with nostalgia.
Find it: Amazon
17. SCIENCE FICTION BOOK COVERS; $21
For more book cover fun, check out Penguin's science fiction selection. The postcards show covers from books by famous authors like H. G. Wells, Aldous Huxley, and Kurt Vonnegut. The selection of 100 postcards offers illustrations that are surreal, pulpy, and sometimes creepy.
Find it: Amazon
18. NATURAL CURIOSITIES; $7
This old-timey pack of postcards features vintage botanical illustrations by Ernst Haeckel. There are 20 designs in all, showing turtles, hummingbirds, and other organisms.
Find it: Amazon
19. NEW YORKER COVERS; $20
The New Yorker
is known for their creative and sometimes controversial covers. This postcard set celebrates the nearly 10 decades of magazines with 100 cards of New Yorker cover art. The art editor of the magazine, Françoise Mouly, selected the covers herself. 
Find it: Amazon
20. VINTAGE EDUCATIONAL CHARTS; $15
If you like the look of vintage educational charts, then this postcard box is for you. The 100 postcards are neatly organized into categories: anatomy, botany, zoology, and miscellany. All the images come from two European companies called Hagemann and Rossignol.
Find it: Amazon
21. ART DOGS; $18 
Enjoy a selection of dog images from artist Robynne Raye's 1000 Dog Portraits. The pack of 100 postcards showcases a plethora of different breeds, from dachshunds to Labrador retrievers. 
Find it: Amazon
22. 100 CATS; $25
Cat lovers don't have to feel left out: There's a postcard book for them, too. This pack of 100 postcards features photographs of felines by Astrid Harrisson.
Find it: Amazon
23. LOVELY CATS; $8
For something even more kitsch, try this pack of cat illustrations. Each one is more adorable than the last, with felines dressed up like princesses or sitting down for a bite of cake. There are 40 cards in all.
Find it: Amazon
24. PANTONE POSTCARDS; $15
These postcards are simple but bold, and perfect for the designers in your life. Each of the 100 cards comes with an official Pantone color.
Find it: Amazon
25. ADVENTURE TIME; $18
Lovers of the cult hit Adventure Time will be delighted to get one of these postcards in the mail. With 100 postcards to choose from, fans can enjoy images from the show, title cards, and original sketches and drawings. The selection is broken down into four books: gallery art, cartoon stills, title cards, and concept art. 
Find it: Amazon