The 4 Most Interesting Comics of the Week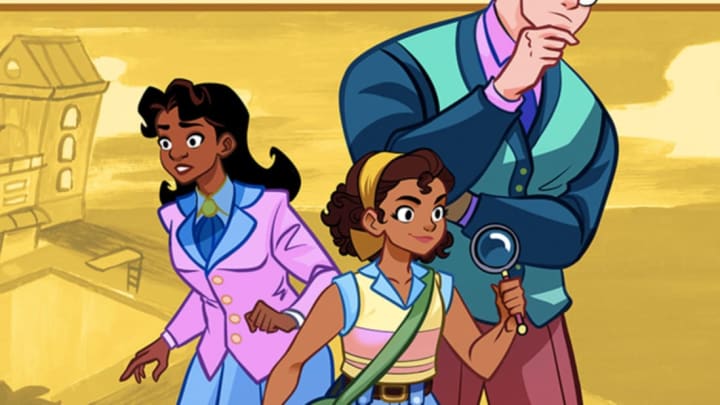 Brittney Williams // Boom! Box / Brittney Williams // Boom! Box
Every week I write about the most interesting new comics hitting comic shops, bookstores, digital, and the web. Feel free to comment below if there's a comic you've read recently that you want to talk about or an upcoming comic that you'd like me to consider highlighting.
By Chester Brown
Drawn & Quarterly
Chester Brown // Drawn & Quarterly
If you're familiar with Chester Brown's work, the inflammatory subtitle to his latest graphic novel—"Prostitution and Religious Obedience in the Bible"—makes it a sequel of sorts to his last book, Paying For It, an autobiographical account of his own experience with hiring prostitutes. It is also a follow-up to Brown's unfinished adaptations of the Gospel of Matthew he published in the '90s as backup features in his comics Yummy Fur and Underwater.
Brown is a supporter of sex workers' rights and he is also a skeptical Christian (born and raised in a Baptist household). He looks to tie these aspects of his life together by pointing out the considerable instances of prostitution described in the Bible. It goes a step further, however, when Brown takes all the stories he's illustrated here—which include those of Bathsheba, Tamar, Rahab, and Ruth—and points out that these were the only women included in Matthew's genealogy of Jesus. Brown uses this as a Da Vinci Code-like clue to explore a controversial theory about Mary, Jesus' mother.
This is a book that many will probably dismiss out of hand, but Brown is one of the greatest and most fearless cartoonists working in comics right now, and his quietly humorous approach to difficult material like this makes it easy to immerse oneself in. In addition to the comics, Brown closes the book with a nearly 100-page, hand-lettered afterword that references reading he had done on this subject and presents his true overall thesis: God actually rewards disobedience of His laws.
2. GOLDIE VANCE #1
By Hope Larson and Brittney Williams
Boom! Box
Brittney Williams // Boom! Box
In the new four-issue "girl detective" series Goldie Vance, the action takes place in a Florida resort during a slightly fantasized version of the 1960s. Guys are racing for pink slips and girls are lusting after astronauts, but the cast of this comic is much more diverse than you might expect given its period setting. The star of the book is a young woman who works as a valet in her father's hotel but also helps the resident detective solve a plethora of cases involving guests. Goldie is smart and plucky and is all about solving problems, whether it's the case of a missing necklace or the love lives of her fellow employees.
Hope Larson is the author of such acclaimed graphic novels as Mercury and the adaptation of A Wrinkle in Time. Larson has just been announced as the new writer of DC Comics' Batgirl series, so Goldie Vance almost acts a bridge into further monthly detective comics for her. She typically draws her own graphic novels, but this book also marks a move towards collaborating with another artist. Brittney Williams is the artist on Marvel's Hellcat series and draws in a delightful style reminiscent of pre-CGI Disney that pops with color and '60s pizzazz.
This book is the latest entry in Boom! Studios' all-ages imprint, Boom! Box, that already boasts such hits as Lumberjanes and Giant Days.
By Christopher Sebela, Robert Wilson IV, and Nick Filardi
Oni Press
Oni Press
Christopher Sebela and Robert Wilson IV have both had comics published by digital pioneer Monkeybrain. The two have teamed up for the first time for a new ongoing series called Heartthrob that is an unusual crime thriller/comedy/romance set in the 1970s. It follows Callie Boudreau, a young woman with a congenital heart defect who receives an experimental heart transplant and finds herself changed. She's more irritable, abrasive, and prone to stealing, all of which gets exacerbated after she gets fired from her job and dumped by her boyfriend. That's when Callie meets a cute guy in a bar who turns out to exist only in her head—or, actually, in her heart. He is the deceased previous owner of her new heart and also a thief who is now her disembodied companion and partner in crime.
This is a love story
angle that's akin to something like Fight Club with Callie as the dry and acerbic protagonist, liberated from caring about everything in her life and thumbing her nose at everyone around her.
By Faith Erin Hicks and Jordie Bellaire
First Second
First Second
The city in The Nameless City serves as the main character in Faith Erin Hicks' new three-book series about class and power struggles in a Tibetan-inspired fantasy world. Every few decades, this strategically well-situated city is conquered and renamed by one of the various surrounding kingdoms. Those who have grown up within its walls resent each invading army.
The story follows Rat, a street urchin adept at parkour-style roof-jumping who meets Kaidu, a newcomer to the city and a member of the city's latest conquerors, The Dao. The Dao are not only responsible for invading Rat's home but also for the deaths of her parents, making her budding friendship with Kaidu unlikely to say the least.
Coming out of the webcomic scene in the early 2000s, Faith Erin Hicks had a breakout hit in 2012 with her graphic novel Friends with Boys, which turned her into a big player in the world of young adult genre comics. Her manga-influenced artwork is most often seen in pure black and white, but here she is teaming up with Jordie Bellaire, the prolific colorist of a variety of comic series for Marvel and Image. With the setting being such an important part of the story, she brings a richness and vibrancy to Hicks' work that makes this book a joy to read.