Want to Save Your Employer Major Money? Book Work Trips in Advance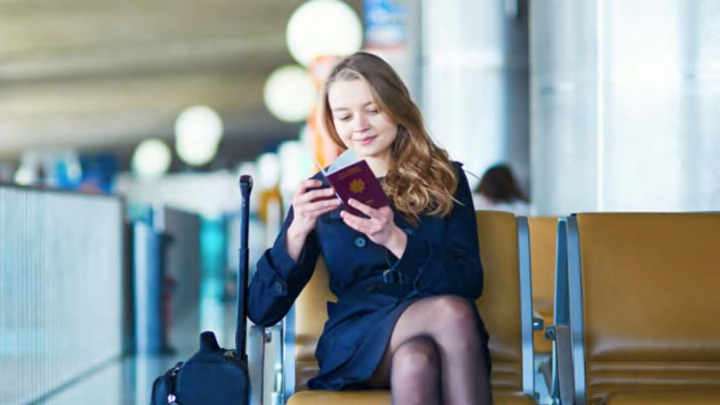 iStock / iStock
When you're traveling, a little foresight goes a long way—especially for your employer's wallet. Women seem to live by this adage more than their male co-workers, Fortune reports, and it's adding up. According to a new study published in the Harvard Business Review, women traveling for business book their plane tickets further in advance than men. In the end, they save their companies a ton of money.
Economics professors from Arizona State University and Ohio State University teamed up with data scientists from Carlson Wagonlit Travel, a business travel management company. They examined a database with 6.4 million flight bookings from 2014, and found that women employees typically buy their plane tickets about two days earlier than men.
Two days might not seem like a lot, but the small stretch of time still made a significant dent in the price of tickets. In the end, women spent an average of $113 less per ticket than men. (Note: Variables like route, seating class, and time weren't included in this figure. When these factors are accounted for, the price difference between men and women travelers is only $17.) The HBR article crunched the numbers, and found that a company with 21,000 traveling employees could save $1 million if everyone booked early tickets.
A few other interesting findings: According to Conde Nast Traveler, the study revealed that female business travelers ages 70 to 74 booked plane tickets the furthest in advance. Both men and women who traveled a lot for work (i.e. 20 or more trips per year) were less likely than others to plan ahead. And for both men and women, planning ahead decreased among younger travelers. (Men booked plane tickets later than women in all age groups.)
Why do women book tickets so far in advance? The researchers think that they anticipate the stress of traveling, and want to lower their anxiety levels by being prepared. As Conde Nast notes, one report backs this up: a 2015 study called "The Darker Side of Hypermobility" [PDF] stated that "In addition to work, home and family arrangements, pre-trip travel stress includes the potential disorientation of readying oneself to enter a different state of socio-spatial relations at the destination."
Bottom line? Book your plane ticket early when planning a work trip. Every little bit helps, especially since business travel expenses for U.S. companies are expected to top $318.9 billion this year.
[h/t Fortune]