Street Artists Set to Take Over Coney Island This Summer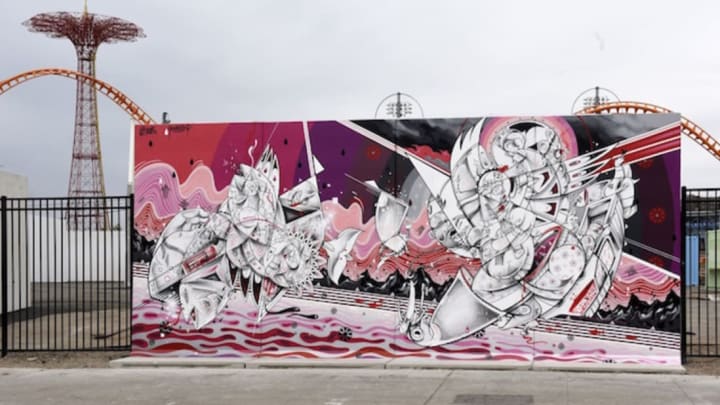 How & Nosm Coney Art Walls mural (2015)- Image via Martha Cooper / How & Nosm Coney Art Walls mural (2015)- Image via Martha Cooper
Already one of the most unique places in New York City, Coney Island is about to get a lot more colorful thanks to a group of street artists and the Coney Art Walls project. The outdoor street art museum, presented by Thor Equities, returns on May 28, with over 20 new murals painted by street artists from all over the world.
Coney Art Walls 2016—curated by Thor Equities CEO Joseph Sitt and former director of the Museum of Contemporary Art (MOCA) Jeffrey Deitch—will kick off with some veterans of the program returning to create new pieces as well as a new roster of talent. The 2016 lineup includes Nina Chanel Abney, John Ahearn, Timothy Curtis, D*Face, and more.
And it won't be the only attraction in the area. Greenwood Park will also set up shop, featuring local food vendors, according to Bedford and Bowery.
You'll have to wait until later this month to see the new murals take form, but Thor Equities has shared some images from the previous Coney Art Walls project with mental_floss, captured by legendary photojournalist and street art historian Martha Cooper. Check them out below.
BUFF MONSTER
EL SEED
EINE
RON ENGLISH
All images via Martha Cooper.