Kick Off Prime Day By Snagging a Bargain on Echo, Kindle, and More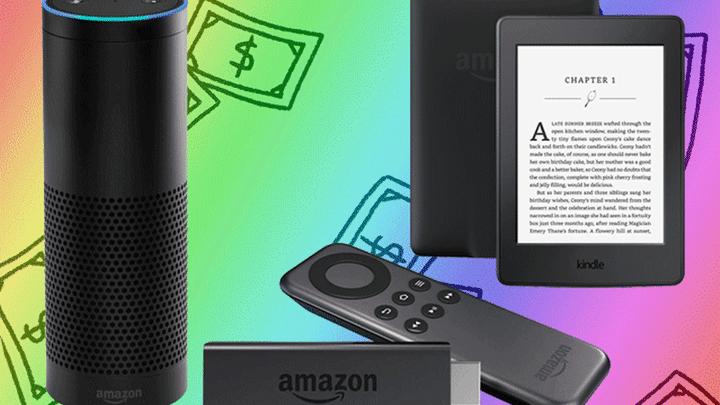 amazon / istock / amazon / istock
This article contains affiliate links to products selected by our editors. Mental Floss may receive a commission for purchases made through these links.
is off to a rollicking start. We'll be scouring Earth's Biggest Store for deals all day, but if you've been in the market for a Kindle, Fire, Echo, or any of Amazon's other devices, today's the day to make the leap. Some of these are limited-quantity Lightning Deals that will sell out once they're fully claimed, so if you've had your eye on an Echo or a Fire Tablet, snap it up before it's gone.
Mental Floss has affiliate relationships with certain retailers, including Amazon, and may receive a small percentage of any sale. But we only get commission on items you buy and don't return, so we're only happy if you're happy. Good luck deal hunting!
Amazon Echo for $129.99 (list price $179.99)
Kindle Paperwhite E-reader - Black, 6" High-Resolution Display (300 ppi) with Built-in Light, Wi-Fi - Includes Special Offers for $89.99 (list price $119.99)
Amazon Tap for $99.99 (list price $129.99)
Kindle Voyage E-reader, 6" High-Resolution Display (300 ppi) with Adaptive Built-in Light, PagePress Sensors, Wi-Fi - Includes Special Offers for $149.99 (list price $199.99)
All-New Kindle E-reader - Black, 6" Glare-Free Touchscreen Display, Wi-Fi - Includes Special Offers for $49.99 (list price $79.99)
Amazon Fire TV Stick for $24.99 (list price $39.99)
Fire TV Stick with Voice Remote for $34.99 (list price $49.99)
Fire Tablet, 7" Display, Wi-Fi, 8 GB - Includes Special Offers, Black for $33.33 (list price $49.99)
Fire Kids Edition Tablet, 7" Display, Wi-Fi, 8 GB, Blue Kid-Proof Case for $69.99 (list price $99.99)
Amazon Fire TV for $69.99 (list price $99.99)
Fire HD 10 Tablet, 10.1" HD Display, Wi-Fi, 16 GB - Includes Special Offers, Black for $149.99 (list price $229.99)