An Iconic Detroit Outdoor Art Project Is Being Dismantled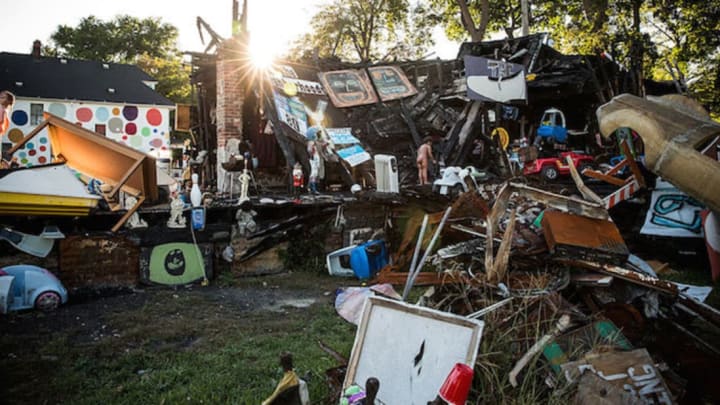 Getty Images / Getty Images
After three decades, the Heidelberg Project in Detroit, Michigan is coming to an end. The outdoor art initiative has been using houses as canvases and recycled and found objects as a medium since it was started in 1986 by artist Tyree Guyton. According to Artnet, it's Guyton who has decided that it is time for the public art piece and tourist attraction to be dismantled.
When the Heidelberg Project began, it was in part a response to the deteriorating conditions in some of the Detroit's neighborhoods. There have been a few arson and demolition attempts over the years as well as instances of vandalism, but the project has survived to become an iconic part of the city, with an estimated 200,000 people visiting Heidelberg Street to see it each year. "After 30 years, I've decided to take it apart piece-by-piece in a very methodical way, creating new realities as it comes apart," 60-year-old Guyton told the Detroit Free Press. "I gotta go in a new direction. I gotta do something I have not done before."
What has long been a largely solo endeavor (with some help from friends and volunteers) will evolve into a more community-based project, the Free Press reports. The dismantling will reportedly be a two-year process, with one of the Heidelberg homes—known as the Dotty Wotty House—possibly being converted into a museum. 
[h/t Artnews]
Images: Getty Images
Know of something you think we should cover? Email us at tips@mentalfloss.com.